Uncategorized
The Mad Men Fashion File, Episode 709 — The Church of Don Draper

Fire and brimstone, cigarettes and stilettos — in this episode of Mad Men, they're basically all the same. Biblical notions of justice and vengeance come raging through Don's life. There's often an eerie quality to the show that hints at ghosts or spirits—but this time around, it's a lot of saints and Satans… in satin.

The biggest, of course, is Diana, whose nickname is "Di" and whose new waitress look is starched and staunch, with a stiff white cap that looks like a Puritan's hat, or a nun's habit. When she strips down to her slip and curls up on Sally's psychedelic bedspread, the starkness is startling—and so is the contrast between Di's plain brown uniform and Sylvia's silver evening gown, complete with white satin gloves and gleaming jewelry.  Dr. Rosen wears a tux, so does Henry Francis in a previous scene. Don's other men now have their own uniform, huh?
Other women whose costumes recalled religious figures: Elaine and her nurse's hat (she, too, ends up in a dingy white slip with a man who kisses her forehead); Megan, at the apartment,  in her white bell-sleeve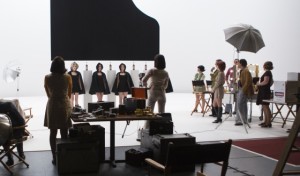 top that looks like angel wings; Marie-France and her monk-like brown cloth dress, complete with an over-the-collar cross necklace; the models on Pima Ryan's photo shoot wearing black hooded capes like leggy Grim Reapers. What's great is the subversion: Elaine and Diana look like nuns but comfort themselves through sex; Megan is clearly no angel; Marie-France clings to piety while mooching off her sister's "sinful" divorce; the models wear austere robes, but they're selling decadent liquor.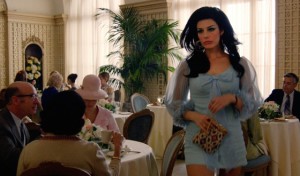 The outfits play right into the dialogue: Don telling Megan and Di what they "deserve"; Marie Calvet fuming, "you don't get to stand in judgement"; and Marie-France being called a sinner and a "ghoul." Each character has a few moments of living hell—and that's because of the words and the clothes.
Did the blue dress Megan wears to meet Harry Crane look familiar? That's because you've seen it before—when Megan picks Don up at the airport in Los Angeles. Back then, the dress symbolized glamor, success, and a new level of power for her. Now? It's wrinkled and paired with trying-too-hard eye makeup, and she's wearing it to meet a dumpy slime ball. Oy.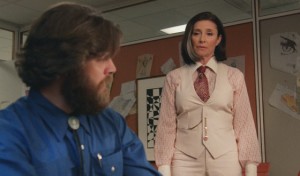 On another note, it was great to see the juxtaposition between Pima's slick suits and Stan's denim ensembles. Watching her seduce him was a bit like watching a City Slicker private eye tangle with a Wild West sheriff. Pima's dapper style was a bit louche. The pocket watch on a chain! The Sontag-esque hair streak! But watching Peggy navigate around her was hysterical. That green mini-dress with the white flowers is one of the coolest things she's ever worn: She donned it while staying in control, even while a successful woman dressed like a man tried to seize the moment and/or the money. Well done, Ms. Olson.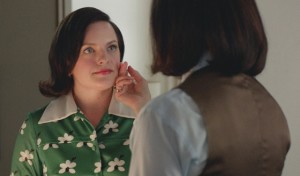 We'll end this one with the secretaries: Shirley says "I'm sorry" twice in sixty seconds, despite excelling at her job. But though her language is timid, her costume—a very short, very bold mini dress, worn with natural hair and heels—is very loud. I'm intrigued. Meanwhile, Meredith wins the Best Accessory award… for the can of Tab on her desk.  So retro.  So cool.
Read More