Uncategorized
The Mad Men Fashion File, Episode 708 – Mirror, Mirror
It's Season 7 and Don Draper is still selling fur, smoking Lucky Strikes, and having anonymous sex. He's still the office's creative overlord. And he's still kept awake by Rachel Menken.  Is that all there is? Hardly. Because here's the thing: Although situations seem familiar, they're actually kind of … the opposite. It's as if we're looking into a magic mirror, and seeing almost what we expect, but things have been flipped — they're stranger and scarier — and that's largely thanks to the costumes.
Let's start with Don's TWA stewardess, who arrives in an aqua dress—a similar shade to Diana's old-school waitress uniform—and strips down to matching underwear. She spills wine, which looks like blood, on the carpet, then tries to clean up the mess while undressed. Megan did a similar thing last year in her black bra and underwear. Now it's happening again… but with a blonde in blue panties, instead. (The lingering chandelier earring on the floor was a nice touch. Usually, men try to hide their mistresses' jewelry from their wives. This time, it was the other way around.)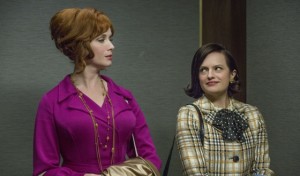 Then there was Peggy and Joan's vicious elevator spat, which had them resume their usual gripes—Peggy thinks Joan is too sexy; Joan wants Peggy to grow up—while wearing their usual type of armor. For Joan, that's a curve-hugging dress in deep hibiscus pink; for Peggy, it's a checked power suit with a black-and-white dotted bow. (Underneath, she wears a white-and-black dotted blouse—a mirror image in itself!)  But after Peggy said "you can't have it both ways," the women's costumes almost… swap.  Suddenly, Joan is wearing glasses and a bow-necked blouse of her own (in Peggy's signature blue-and-green color palette!) while Peggy sexes it up with an ice blue shift dress that might have made it to Paris… if she hadn't left her passport in the office. To quote a later conversation: "That's not a coincidence; it's a sign!" One more sign: When Peggy says, "you want a raise, stop acting like a secretary"? That mirrors Joan's famous quip to Peggy, "you want to be taken seriously, stop dressing like a little girl."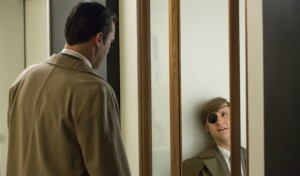 Did you catch the moment where Don's talking to Ken Cosgrove in the office phone cubby?  Their coats and suits mirror each other's, but Don has already "missed his plane"—his chance to run away with Rachel, perhaps?—while Ken still has a shot at writing his book in the country. When Ken says "the life not lived," he could be talking about them both, and they face each other like shadows of past possibilities. But Ken doesn't take his dream life, going instead through the corporate looking glass, switching places with his old self and becoming the ever-feared Client. This might be like when Anakin Skywalker chooses The Dark Side. We'll have to see.
And of course, Meredith's overgrown doll outfits continue to be hysterical… though they're also evocative of Sally Draper's early years, before she started smoking and wearing eyeliner.
Okay, we can talk '70s fashion now. We're a few years off from Studio 54, but glimmers of the decade's lush hedonism are already here—check out Don's date in the white silk pantsuit and matching fur!—and so are the foppish men's looks that Roger Sterling and Ted Chaough sport in the office. How many days until that mustache has its own Twitter account? I was particularly obsessed with three things: The orange Pucci dress worn by one of the visiting models, the blazing miniskirt on Shirley the secretary, and the Brooke Shields-esque brows on Cindy (Rainn Qualley) in the opening scene.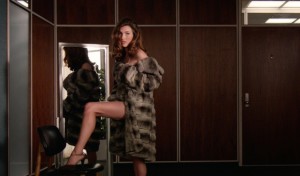 One last thing: This episode was dedicated to Mike Nichols, the visionary director of The Graduate. Does this photo of Anne Bancroft (Mrs. Robinson) taking off her mink leave you seeing double?  Yeah, me too.
Read More