Press
Matthew Weiner, Maggie Siff Talk Rachel's Return; Aaron Staton on Ken's Big Move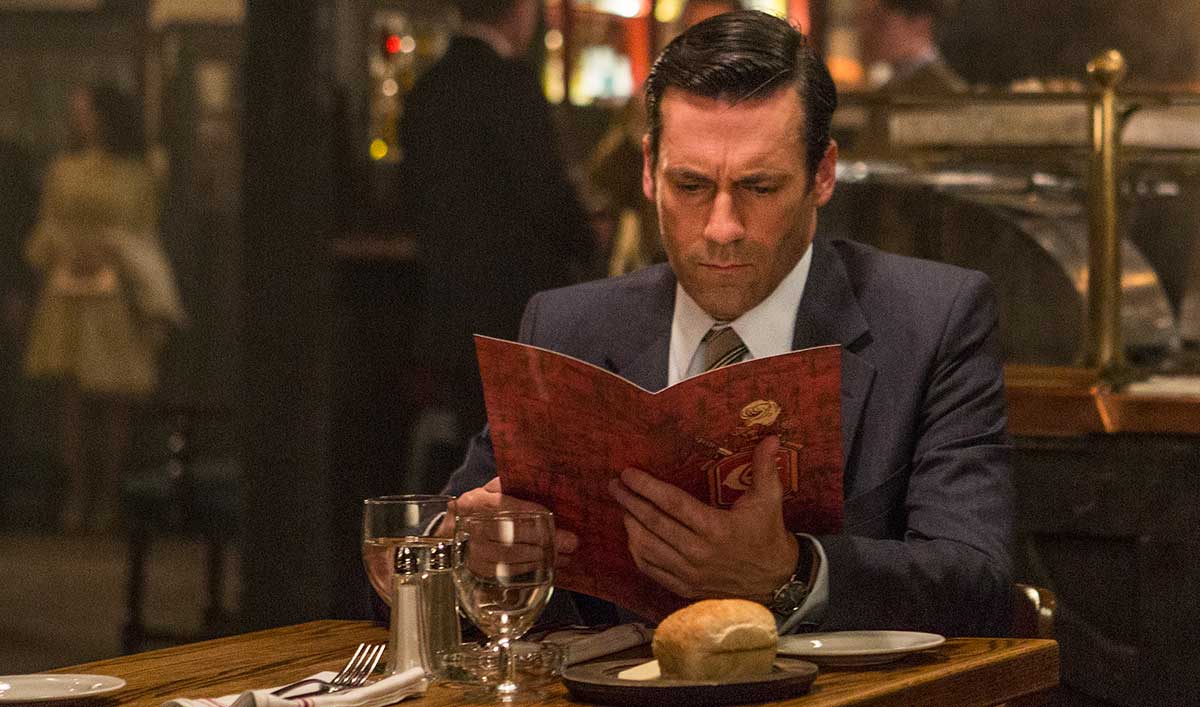 This week, Matthew Weiner and Maggie Siff are interviewed about Rachel Menken Katz's return, while Aaron Staton discusses Ken's firing and hiring. Plus, John Slattery's take on Roger's mustache and Elisabeth Moss on Peggy's date. Read on for more:
• Matthew Weiner breaks down the midseason premiere for Vulture and says he loves "the cosmic coincidence of Rachel coming into Don's life. I do believe that she's been on his mind."
• Talking to The Huffington Post about returning to the show, Maggie Siff says there's "something very satisfying about having your character addressed and included instead of never appearing again and floating off into the Mad Men ether."
• In Variety, Scott Hornbacher, who directed the midseason return, compliments Maggie Siff as Rachel, who was "beautiful and compelling and magnetic in the way she needed to be to get Don hooked in his dream state. The whole episode has somewhat of a dreamlike quality to it." Interviewed by Vanity Fair, Matthew Weiner admits to "a little Twilight Zone-ness" in the episode.

• After watching "Severance," Scott Hornbacher tells The Hollywood Reporter that "fans should feel sad, optimistic, wistful and entertained."
• Talking to USA Today, Aaron Staton reflects on his Mad Men experience: "To start out in that first season, we were all sort of a frat club — Pete included — and for all of us to grow up and end up with an eye out, it's really been a fun experience as an actor."
• Aaron Staton discusses Ken's new job with Esquire, noting that "life no longer is coming easily to Ken and this is the decision to completely abandon that, I think. He's like, 'You know what? It is what it is. What's going to make me happy now is to make these guys miserable.'"
• Speaking with The Hollywood Reporter, Aaron Staton adds, "I think he envisions taking any opportunity to just make things as hard as possible for them. I don't think he pictures a world where he just walks away from a pitch without commentary."
• Aaron Staton wants Ken to return to writing, he tells Yahoo TV: "I hope he makes his way back, because it seems like he's good at it, and it's something that, at least at one time, he was passionate about. So I like to think there's a world where, down the line, he makes his way back into it in some way."
• Aaron Staton tells Vulture that Ken has "always been a tick happier than the other guys in the office. Either because of circumstances, or because he cared differently. Not that he's less invested, but he invested a different portion of himself in the office."
• What's John Slattery's assessment of his introduction in the midseason premiere? "The 'stache, the sideburns, the velvet tux, in a sh*tty diner. It's a good entrance," he says, according to Vulture. Slattery also tells The Wall Street Journal, "I think that 'stache is hilarious. I look like Wilford Brimley."
• In a related note, Time declares that, in the episode, "all plot points paled in comparison to one new development: Roger Sterling's new handlebar mustache." Vanity Fair has more on the "exquisitely 70s mustache" and talks to the show's makeup department head, Lana Horochowski, about how it came to be.
• Speaking with Vulture about playing opposite My So-Called Life's Devon Gummersall, Elisabeth Moss says, "I was thrilled, and very, very excited I was able to play with him. He's so great on the show, he's perfect."
• Devon Gummersall talks to Vanity Fair about the other Mad Men parts he tried out for and how he's now "been on two of the most well-written shows on TV so I'm a happy camper. So what if it took me 20 years to find a second one?" Gummersall also chats with Yahoo TV, Vulture, Slate and Cosmopolitan.
• In addition to Devon Gummersall, The Huffington Post observes there were several actors "any teen TV lover might recognize."
• "Severance" also featured a Hollywood scion in Andie MacDowell's eldest daughter, Rainey Qualley, who played "the nubile ingenue whom Jon Hamm's Don Draper was undressing with his eyes on the season premiere of Mad Men," according to E! Online.
• Time spotlights the Richard Nixon speech — where the President was "laying out what was going on in Vietnam, as the war there raged on" — from Apr. 30, 1970 that Don was listening to.
• Vulture looks at the use of Peggy Lee's "Is That All There Is?" in the first episode back and notes, "It's hard to think of a song that better captures the dreamlike and quintessentially '60s malaise that's hung like a mist over the past seven seasons."
• E! Online spotlights January Jones' cover appearance on the May issue of the U.K. edition of Marie Claire, where she discusses "her favourite Betty Draper moments." Marie Claire also has a behind-the-scenes video of Jones' cover shoot.
• In Men's Journal, John Slattery says of Roger, "There isn't a lot of outward exhibition of Roger's insecurity. There are moments of reflection which don't necessarily concern his clothes. But he changes."
• Because of Mad Men, "my life has pretty much changed in every single way. Except for my friends and my family," Christina Hendricks says while talking to People.
• "You could write a dissertation on Joan—her ambition, her cold competence, her complicated brand of feminism—but let's take a moment, as Mad Men nears its ending, simply to consider one of her signature features: her hair. That hair," The Atlantic writes.
• Vulture catches up with the actors who played some of the show's "lost" characters ("among some of the best, most fully realized minor players TV has to offer") to find out what they think happened to them.
• HitFix ranks and discusses "every single Peggy Olson outfit" from Seasons 1 to 7.
• NPR collects the show's cleverest song choices since the series premiere, in an effort to "help try to answer to question of why the music in this show is so rewarding."
• The Guardian recaps the "most genius Mad Men literary moments."
• Slate posts a video chronology of Pete's receding hairline in order to "celebrate Pete's legendarily weasely character arc and a feat of hair styling and continuity."
• The Wall Street Journal details what Matthew Weiner kept from the Mad Men set and comments that it's "not surprising that he'd want to hold onto parts of the world he created."
• Talking to the Huffington Post, Elisabeth Moss describes Peggy as "incredibly flawed and naive and sort of stubborn, and she was not some sort of martyr of feminism. She was an incredibly flawed, vulnerable person, which made you identify with her."
• Janie Bryant talks to Forbes about Don's clothes, that his "color palette is all about masculinity, seduction and mystery. I always felt like all of those grey suits were like his armor."
• The Guardian looks at the '70's fashions that Mad Men's characters are now sporting, noting the "paisley, bell bottoms, white tights, go-go boots, fringing and a largely flammable wardrobe."
• For recaps and reviews of Season 7, Episode 8, "Severance," check out A.V. Club, Basket of Kisses, The Boston Globe, Entertainment Weekly, HitFix, The Hollywood Reporter, the New York Post, Orlando Sentinel, Rolling Stone, Slate, Time, TVLine, Vox, Vulture, Wired
To stay up-to-date with all the latest Mad Men news, sign up for the Mad Men Social Club.
Read More