Press
Jessica Paré Talks Megan, Don & Million Bucks; Elizabeth Reaser Speaks to Diana's Mystery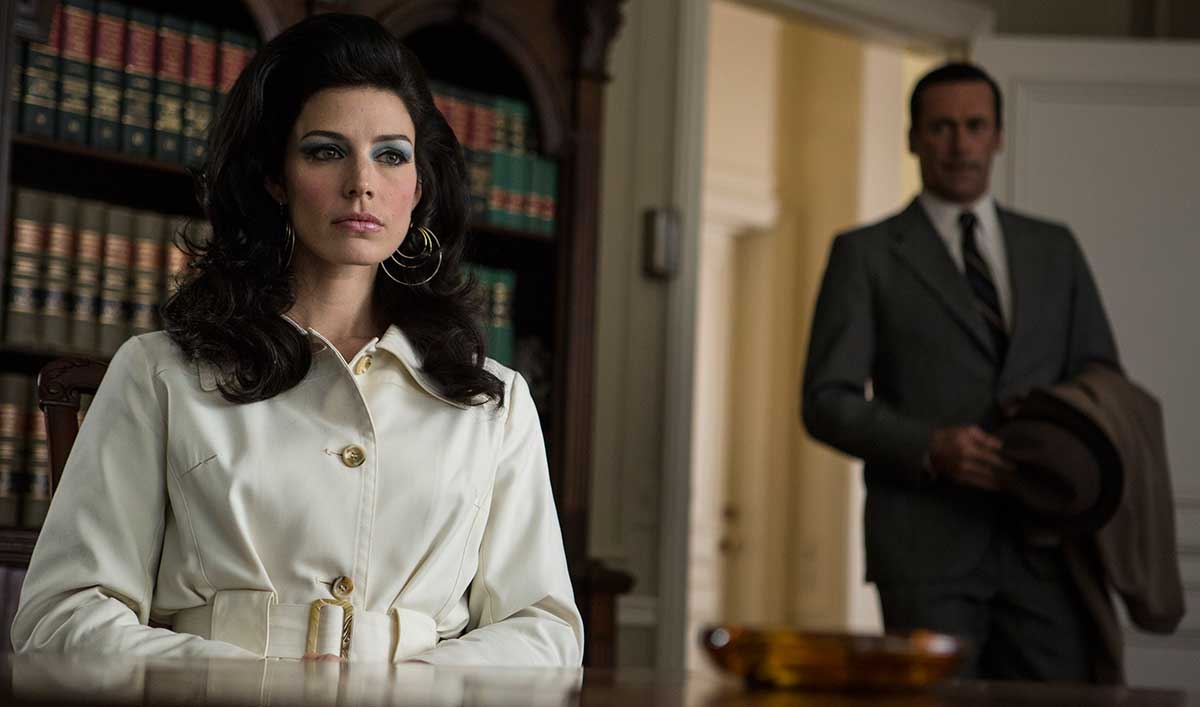 This week, Jessica Paré talks about Megan, Don and the million-dollar check, while Elizabeth Reaser speaks to the mystery of Diana. Plus, Variety interviews Michael Uppendahl about directing this week's episode, "New Business." Read on for more:
• The Hollywood Reporter interviews Jessica Paré, who calls Megan "a different kind of character. Certainly in the context of the show there's a lot of cynicism, a lot of pessimism and narcissistic behavior in so many of the characters. She's kind of a light in a darker landscape."
• Jessica Paré shares with Vulture that the scene with Megan, Don and the check was "cathartic. Every scene in this final chunk of episodes consistently felt like we were saying good-bye. Megan said something people had been hoping she would say, or see, anyway, for a while."
• Yahoo TV learns from Jessica Paré that Megan and Don's rift may have "started when Megan decides to go back to acting and give up copywriting [in Season 5's "Lady Lazarus"]. They were like a dream team. And she gives it up because it's not her passion."

• Elizabeth Reaser speaks with the New York Post and Vulture about Diana, telling the former that "Diana's got nothing left to lose. In some ways, she's a killer. She can take down Don Draper and not think twice about it."
• Michael Uppendahl talks to Variety about Don and Diana and how "it's a bit open to the audience to interpret to what her hold on him is. I have spent some time thinking about it myself and certainly while we were shooting it. But there is something to the beauty of her magnetism."
• Christina Hendricks chats with Indiewire about Joan's rare scenes with Don, calling them "fantastic scenes. So maybe it was good that there were just a few here and there because they were so special that I always loved doing scenes with Jon."
• Esquire interviews Jay R. Ferguson about Stan's job, how the "natural progression is to move to the next field, photography, which he's probably been working on for awhile—that's what the episode alludes to. And now he's being told he's not that good at it, and by someone he admires."
• The Hollywood Reporter plays "Canoodle, Marry, Kill" with members of the show's cast — and Jon Hamm reveals he would not kill Pete because Pete is "a misunderstood young man."
• Matthew Weiner, interviewed by KPCC's "The Frame," says, "I have always pushed myself, and the writers have always pushed me, and each other, and I push the writers to be that way. And it shows in the show. It shows right down to the actors' understanding."
• Elisabeth Moss, speaking with Los Angeles Magazine, says, "I avoid wearing anything retro at all. I mean, imagine if you played a doctor everyday. The last thing you'd want to wear on your day off would be scrubs, right?"
• Aaron Staton, interviewed by The Wall Street Journal, says the scene that hit him the hardest was Peggy breaking down after Julio says he's moving, calling it "just gut-punching, heart-wrenching – all of it."
• Time chats with Stephanie Drake, who says, "I think Meredith really cares about Don genuinely and she wants what's best for him. She is the best thing for him." Drake, speaking with The Hollywood Reporter, believes Meredith, in the future, will "stay a secretary. Hopefully she'll meet a nice guy. But I feel like Meredith could do whatever she sets her mind to. If she wants to be a copywriter, I don't see why not."
• The Washington Post posits, "If Mad Men is a series about how people — particularly Don, the protagonist — often fail to change, it's also a show about how the long accumulation of insults and life experience can lead to someone becoming radicalized."
• The Lincoln (Neb.) Journal Star praises Mad Men, which "has realistically portrayed the way a generation changed and evolved over the course of one of America's most tumultuous decades."
• Los Angeles Confidential gets the show's makeup artist to reveal how to "recreate the retro-inspired makeup and who wore her favorite look on the show."
• Vulture discusses the difference in nuance between the word "failure" and the French word used for it in "New Business," pointing out, "Megan has different ways of looking at her failed marriage: It's either a personal shortcoming, a total loss, or both."
• Zap2it defends Betty, contending that she "isn't so much a bad person as one who's stuck."
• Bustle considers Elizabeth Reaser's Diana to be "the female version of Don himself."
• The Guardian compiles a list of its favorite Mad Men characters, from Don and Duck to Ida Blankenship and Peggy.
• Bustle finds Peggy and Joan's relationship "one of the best and most interesting, though not always amicable" on the show and highlights the best moments between the two.
• Prompted by the elevator scene with Don, Diana, Sylvia and Arnold, VH1 looks at Mad Men's five essential elevator scenes: "From the sexy to the scary to the surprisingly hilarious, these are the elevator moments we'll always associate with the series."
• "Visually stylish (with the artiest opening credits since James Bond), intelligently written and sensually performed, it has become a show that people like to pretend is part of their lifestyle even if it isn't," The Guardian writes about Mad Men.
• Co.Create talks to Matthew Weiner to discover his "hard-won life lessons."
• Paste focuses on Mad Men's distinctive style and best looks, observing that the show's "fashionable aesthetic has remained a constant and practically an eleventh character."
• MSN offers Mad Men's 30 most memorable quotes, from "Don Draper's (Jon Hamm) wisdom to Peggy Olson's (Elisabeth Moss) wit, from Joan Harris' (Christina Hendricks) charm to Roger Sterling's (John Slattery) in-your-face dialogues."
• Mic checks out the songs that defined Mad Men, noting that they're "symbolic and engage viewers with the characters' emotions in a way that few other shows can accomplish."
• Christina Hendricks talks to The Telegraph about her "everyday indulgences."
• Honing in on Kiernan Shipka, Bustle says, "With the world at her fingertips, here are some suggestions for where she should go next."
• Marie Claire asks January Jones the TV shows she'd like to star in, noting, "And oh, how we wish we had a magic wand to make these happen…"
• For recaps and reviews of Season 7, Episode 9, "New Business," check out A.V. Club, Esquire, Forbes, Grantland, The Hollywood Reporter, Indiewire, Mashable, MStars, New York, New York Post, Rolling Stone, Slate, Time, Tom + Lorenzo, Variety and Vulture.
To stay up-to-date with all the latest Mad Men news, sign up for the Mad Men Social Club.
Read More