Press
THR Tells Mad Men's "Epic" Origin Story; Elisabeth Moss on Missing Peggy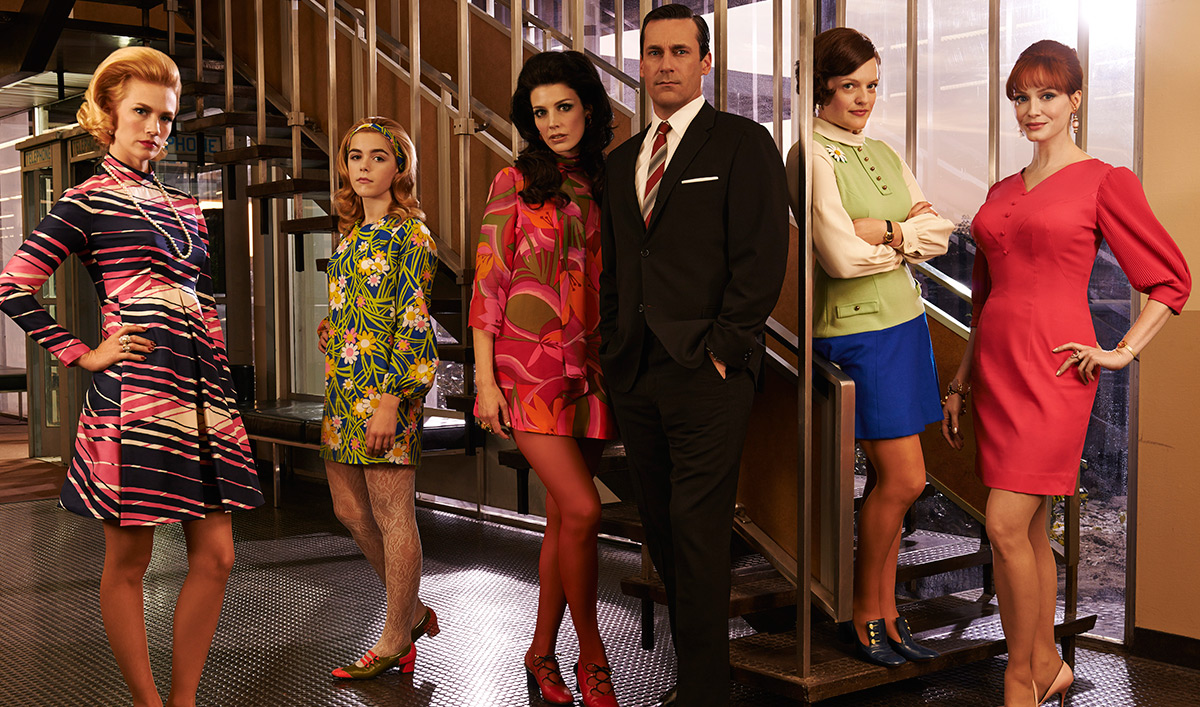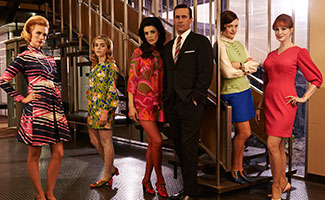 This week, The Hollywood Reporter tells the whole story of how Mad Men came to be, while Elisabeth Moss tells USA Today she misses Peggy. Plus, The Hollywood Reporter marks Jon Hamm's 44th birthday with a series of GIFs. Read on for more:
• The Hollywood Reporter tells what it calls "the uncensored, epic, never-told story behind Mad Men," quoting Matthew Weiner, the show's cast and crew and several AMC and Lionsgate TV executives. The Hollywood Reporter also features exclusive portraits of the cast.
• Talking to USA Today, Elisabeth Moss says, "I was feeling bad about not getting to play Peggy anymore. Because I really, really liked her a lot — she was a good friend of mine. As sad as that sounds."
• The Hollywood Reporter marks Jon Hamm's birthday this week by exhibiting a "few well-chosen GIFs that showcase his innumerable virtues."

• Janie Bryant talks to The New York Times about the Mad Men costumes on view at New York's Museum of the Moving Image in the "Matthew Weiner's Mad Men" exhibit that "brings the show's wardrobe, and the rest of its creative process, to life."
• The Los Angeles Times details the promotional events marking the end of Mad Men, calling it "an unforgettable send-off campaign."
• Fans can have a chance to eat like a mad man during NYC & Company's Mad Men Dining Week later this month, featuring a two-course lunch at more than 30 restaurants for $19.69. The Hollywood Reporter quips, "New York City's final farewell to Mad Men just got a whole lot tastier." And Ad Age wonders, "Did ad execs in Mad Men era actually eat when they went out to lunch?"
• John Slattery discloses to Vulture an unaired Mad Men scene, between Roger and Mona (played by Talia Balsam, Slattery's real-life wife) in Season 1, that he wishes had aired.
• Elisabeth Moss shares with InStyle that she liked Peggy becoming a boss, that it was "very cool to finally get to order people around, and finally say the things that have been said to me for so long. I feel like it was such a natural progression."
• Gothamist discovers the 10 films that Mad Men's cast and crew were required to watch.
• FashionBeans gives five reasons why "Don will continue to live on as a style hero long after season seven's finale."
• In preparation for the final episodes, Bustle rounds up "a list of books that have a certain Mad Men feel to them, whether they're about life at home, life on Madison Avenue, or somewhere in between."
• RadioTimes chooses Mad Men's "beguiling" opening credits as one of the best on TV.
• Bustle takes note of Mad Men's many guest stars over the years that are part of "millennial pop culture."
• January Jones talks to Entertainment Weekly about her new series, Fox's Last Man on Earth, saying, "I didn't want to do another TV show right away [after Mad Men], but it was just too good to pass up."
• The Huffington Post points out that Netflix's Unbreakable Kimmy Schmidt has several notable celebrity cameos, including Jon Hamm and Kiernan Shipka. Slate adds that Hamm is "the best cameo of the show."
• In a Mad Men tribute video at The Wall Street Journal, Sarah Silverman talks about turning down Jon Hamm's suggestion to audition for the part of Rachel Menken.
• InStyle features a video of Janie Bryant talking about "dressing the show's iconic characters, as well as the widespread influence of Mad Men."
• Uproxx takes a look at clips that all feature a first major Mad Men scene (such as Don and Betty's first fight), saying they're "a great reminder of how much the show and its characters, particularly Don Draper, have changed over the years."
• The Oregonian notes that Mad Men, and all of AMC's other shows, are now live on Sling TV, "the most formidable alternative yet to the traditional cable TV bundle."
• Entertainment Weekly spotlights the trailer for Dark Places, a movie based on a Gillian Flynn novel that features Christina Hendricks and opens in France on April 8.
• Deadline reports that Kiernan Shipka has joined the English voice cast for When Marnie Was There, which will be released May 22 in New York and Los Angeles and expand to all major markets in the following weeks.
• 2Paragraphs checks out the character Kevin Rahm's playing on CBS' Madam Secretary, noting that the actor "certainly has the TV chops for the role."
• Discussing the L.A. Noire video game, PCGamesN.com says Aaron Staton "gives a phenomenal performance of a desperately angry detective."
To stay up-to-date with all the latest Mad Men news, sign up for the Mad Men Social Club.
Read More