Uncategorized
Q&A – Doug Brod (Editor-in-Chief, TV Guide Magazine and TVInsider.com)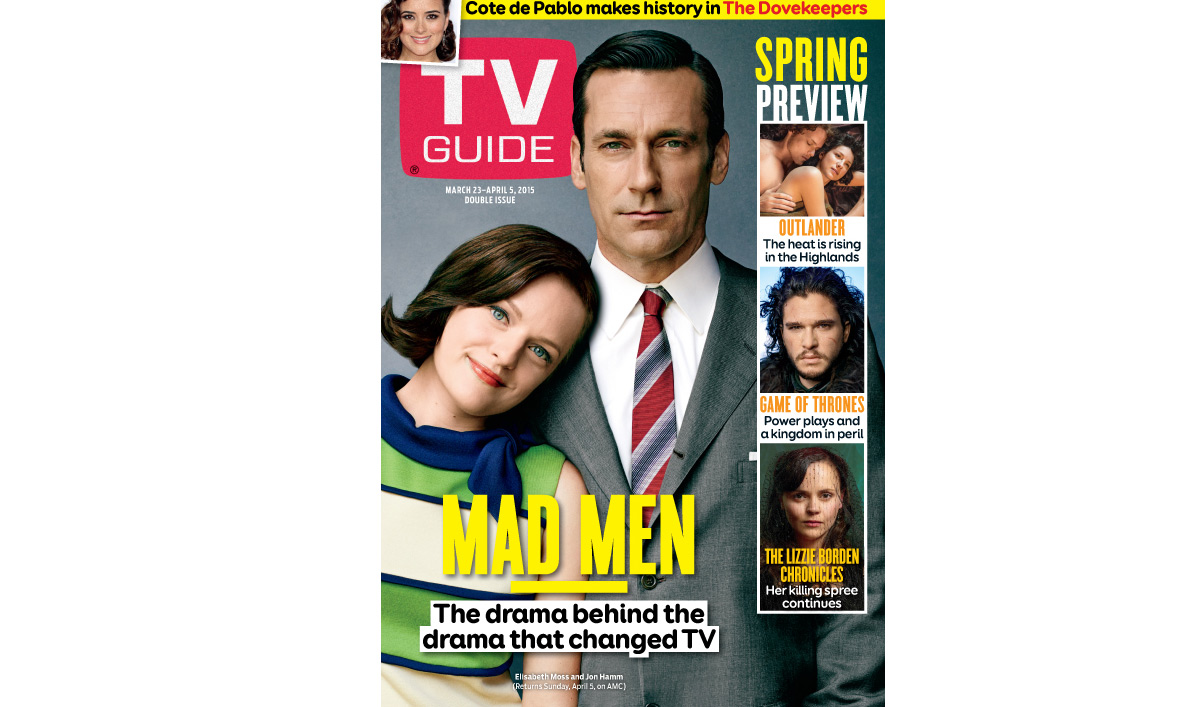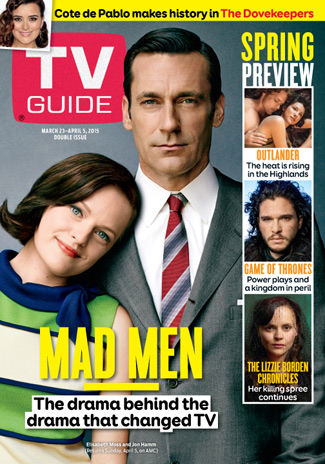 Doug Brod, Editor in Chief of TV Guide Magazine and TVInsider.com, talks about Mad Men's impact on television history; working on a special cover for the publication; and how he's similar to Roger Sterling.
Q: Do you remember watching the pilot episode? What were your predictions when you saw it? Did you think the show was going to become the phenomenon it's become?
A: I actually caught up with the show after it had already become a phenomenon. People had told me about the show and knew that I really love that era and depictions of that era – Manhattan, Madison Avenue, advertising – I just love that milieu. I finally caught up with the first three seasons on DVD that I borrowed from a friend and then I began watching the show live with Season 4.
Q: What's your favorite thing about the era?
A: Totally, superficially, I love the clothing. [Laughs] I love the way the guys dress, I love the cars. I was born in the '60s, so I remember a little bit from my very early life. I really like the way things looked back then.
Q: How do you think Mad Men has evolved over the years, and what do you think are some of the influences it's had on television history?
A: It's one of those shows, like The Sopranos and Six Feet Under, that really up the quality of drama on television. Obviously Matt Weiner came from The Sopranos, but I think this was a show that really showed people that TV could do long narrative programming frankly better than movies; and deliver that kind of quality week after week and episode after episode. I think on Mad Men in particular, the characters on the show have gone through a lot. There were some arcs during which Don [Draper] was really unlikeable and that's a big risk when you're asking people to devote many hours to characters they may even grow to hate. It's risky in terms of storytelling, but he grew to earn your sympathy.
Q: What's your all-time favorite scene? Favorite pitch? Favorite episode?
A: I don't think I have a favorite moment or episode, but I'll tell you: I love the relationships on this show. Every time Don and Peggy [Olson] are on screen together or any scene featuring John Slattery as Roger Sterling, I find fascinating. He's my favorite character on the show. I love the story arc of Megan in California. It took the show out of New York City for a bit and showed you the turmoil of the '60s was happening outside of New York City. There was one story arc I really enjoyed with the comedian Jimmy Barrett who perfectly embodied some of the lousy comics of that era. Another one of my favorite characters was Sal Romano. He was a pretty fascinating character who was gone too soon.
Q: Which Mad Men character do you relate to the most — and why?
A: I would say I relate to Roger Sterling the most because he's constantly amused by what's going on around him and doesn't seem to take things too seriously. He's also full of quips and I like to think I'm the same way. He wants to have fun at his job because he thinks it's an extension of his being, not his entire being. I also aspire to dress like him. I don't aspire to be a philanderer like him, though! [Laughs]
Q: As a fan of the show, what was it like working on this week's cover? Was it bittersweet knowing that the show is coming to an end?
A: It was totally bittersweet knowing, but for this particular story, it was fun going through photos of past episodes and reading the actors' and creators' remembrances. I was surprised by some of the revelations in our oral history. It was interesting to read that John Slattery originally wanted the role of Don and there was a bit about how Robert Morse, who plays Bert Cooper, originally mistook Matt Weiner for a production assistant when he initially went in to read. Those were some of the fun, interesting morsels that came out of the cover story.
Q: What are you most looking forward to in the final season? Are there any unanswered questions you're hoping get addressed?
A: I'm actually not looking for closure, but I am looking to say goodbye to some favorite characters I've grown fond of. I don't think they have to wrap the show up with a neat little bow, but I hope to be left with a sense of where the characters are in their lives and, above all else, I hope there are some surprises or maybe a twist or two.
Q: Any big plans for watching the series finale?
A: I'll likely watch it at home with my wife, like a date night, with popcorn and club soda. No martinis and Old Fashions for us!
Click here to to check out TV Guide Magazine and their special cover for Mad Men.
Click here to check out TVInsider.com's Mad Men feature and exclusive commentary from the cast and writers.
Mad Men returns on Sunday, April 5 at 10/9c.
Read More