Press
Jon Hamm Appears on GQ Cover; TV Guide Talks Up Mad Men's Return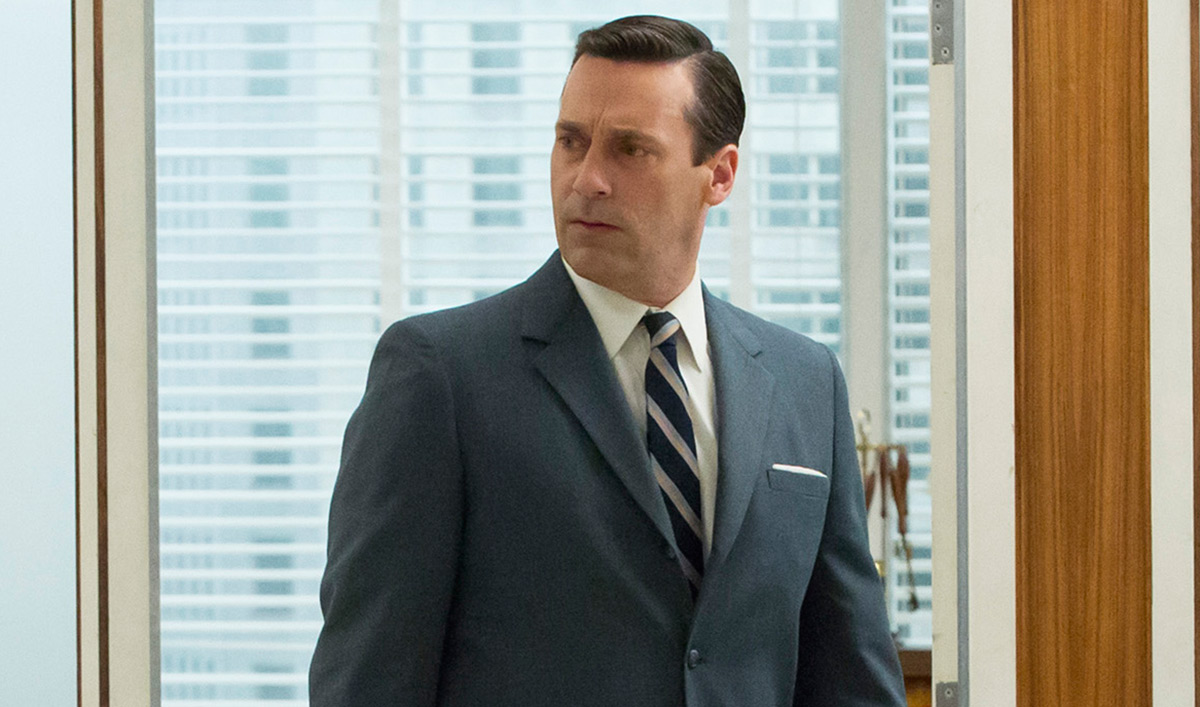 This week, Jon Hamm appears on GQ's cover, while TV Guide talks up Mad Men's Apr. 5 return. Plus, January Jones and Christina Hendricks go on the late night talk show circuit. Read on for more:
• Jon Hamm poses for GQ's cover and shares the advice that Breaking Bad's Bryan Cranston gave him on ending a show: "It's hard, man. It's hard to let it go. It'll hit you a couple of different ways at different times." Also, GQ shares an exhaustive list of every outfit "the most dapper Mad Men gent has ever put on, from pinstripes to pj's," checks out Don's 10 best looks and lionizes Jon Hamm's "legendary style." In addition, GQ gets Hamm's memories of his first job ever (as a dishwasher).
• Anticipating April 5, TV Guide declares that the series "returns from hiatus with a sexy, soul-searching, altogether satisfying episode." [No Link] And The Hollywood Reporter adds, "The acclaimed series heads into its final seven episodes as impressive as ever, with Don's existential angst wafting in the air."
• Meanwhile, MTV shares what it can about the first episode and asserts, "In short, it's all pretty great."

• And Esquire marvels, "Mad Men smashes history, desires, dreams, and life's mundanity together like Douglas Sirk's Large Hadron Collider. It's a classic."
• According to the New York Daily News, January Jones visits Jimmy Fallon, tells him she "cried the last few weeks of shooting" Mad Men and plays Pie Golf with Fallon and golf's Bubba Watson.
• On Late Night With Seth Meyers, Christina Hendricks reveals of Mad Men's ending, "I thought, how on earth could I possibly like the ending of Joan because I love her so much and I don't want to say goodbye. Nothing's good enough. She's Joan. And I read it and I went, oh that's good."
• Matthew Weiner and Mad Men's cast convene on TODAY and talk about whether the ending will define the show, with Weiner declaring, "I hope not. There's 92 hours of it; I'd hate for one hour to undo that. But that is your worst nightmare."
• Jon Hamm and Elisabeth Moss grace the cover of TV Guide Magazine, which talks to the show's stars, executives, and producers about "how the world went mad for Men."
• Ahead of the final episodes, Jon Hamm speaks to CBS News about playing Don, how "I've certainly been living in his suit for a while, walking around in his shoes. It's going to be hard. It's, for better and worse, the most defining role that I've ever played."
• The New York Daily News reports on Jon Hamm, Elisabeth Moss, January Jones, Christina Hendricks, John Slattery and Matthew Weiner unveiling a bench featuring Don's now-iconic silhouette in Manhattan.
• Vulture shares the seven things it learned from Matthew Weiner's talk at the Museum of the Moving Image, including his nightmares that "someone other than Jon Hamm had gotten the part."
• At another farewell event attended by The Boston Globe and Vulture, Jon Hamm, January Jones, Christina Hendricks, John Slattery and Matthew Weiner screened their favorite clips at Lincoln Center. Broadcasting & Cable also attended the event and reports that the final episodes focus almost exclusively on the core characters according to Weiner, who says, "There is not a lot of going off the road for a certain kind of story. We're right in it the whole time."
• January Jones does a cover photo shoot for Violet Grey and says of the final episodes, "I was surprised. But the show has always surprised me. Each episode is so good and sort of ties up things — not in a perfect bow, obviously — but I think the audience will be happy."
• Entertainment Tonight, eager to watch the final episodes, observes, "This final season of Mad Men is going to be exactly like Breaking Bad, meaning you're not going to want to miss the boat."
• The Week recommends watching Mad Men: "With just seven episodes left, it's going to be hard to say goodbye to Mad Men, but that's no reason to miss a single second of the show's final hours."
• According to Esquire, Matthew Weiner says that "you can't discount the contribution of Jon Hamm to who Don is. Despite this sort of nebulous character in your imagination—which for me was a cross between James Garner and William Holden, assuming qualities of an actor that are based on the roles that they played—he still has a light touch to him."
• The Los Angeles Times examines Peggy's career: "So just how did a simple girl from Bay Ridge rise to the top of Madison Avenue so quickly? Here are lessons other women can learn from Peggy's startling professional ascent."
• Matthew Weiner talks to Vulture about the influence of musicals on Mad Men, saying, "Hopefully from watching the show you can see that I'm not a casual fan — it's not a casual interest in this art form."
• Janie Bryant shares her favorite Mad Men fashion moments — including Betty's blue coat from a Season 1 episode and Joan's black dress with red roses from a Season 3 episode — with the New York Daily News.
• E! Online also gets Janie Bryant's take on her five favorite Mad Men looks, with the caveat that it's "really hard to pick five because I have 500 for sure."
• The Los Angeles Times compiles a list of 18 essential episodes to watch before Season 7 returns, noting, "Think of it as 45 minutes of pop-culture homework a day. Is that too much to ask?"
• Esquire asks Mad Men's advertising advisor about his favorite ads dreamed up by Don, Peggy et al "and how they moved the show forward."
• The Los Angeles Times applauds Mad Men for eschewing violence and "that is something, considering its long sustained dramatic momentum, at which we should marvel."
• Bloomberg interviews Matthew Weiner, who says, "We have, I do think an extremely socially mobile culture still, where accumulating wealth can put you at the top of power no matter what your background is."
• The Journal News interviews the curator of the Ossining (N.Y.) Historical Society about the research help he provided to Mad Men.
• The New York Times review of The Heidi Chronicles calls the revival "vibrant" and Elisabeth Moss "softly radiant" and "a superb actor who possesses an unusual ability to project innocence and smarts at the same time."
• Interviewed by The Daily Beast, Elisabeth Moss says her favorite scene is Peggy leaving the firm and saying goodbye to Don because it was "a real moment of her becoming the person that he wanted her to be and that's exactly what she says. This is what you made me, a person who can do this."
• Speaking with Backstage, Elisabeth Moss compares Peggy with her The Heidi Chronicles character: "Peggy is the generation before Heidi; she's not part of the women's movement. She is unwittingly, but she was never trying to break through any glass ceiling—she just bumped her head on it."
• On the same topic, Elisabeth Moss tells The Hollywood Reporter that "Heidi's story is kind of a progression from Peggy's story. A lot of the stuff that Peggy was fighting for in the 60s, Heidi takes up the mantle and keeps fighting for it."
• January Jones tells People that she auditioned for Fox's Last Man on Earth even though "I really thought I wouldn't do TV for a really long time just because I was coming off the best show ever. I just didn't think I would find a role I would like as much." Speaking with Glamour, she adds, "As much as Mad Men was beautiful and Betty was the best character I could have ever asked for in my career, to go to work and have it be a little lighter is just easier on your psyche."
• Ahead of the show's final episodes, Zap2it recommends 29 essential episodes "that would make an excellent preseason binge for either a newcomer or a long-time fan interested in revisiting the series."
• Janie Bryant shares with The Stir that her "absolute favorite dress" that Joan wore was purple with a sash and a little kick pleat in the back, the same dress that the Joan Barbie doll sports.
• Upstart Business Journal speaks with Janie Bryant, "who thanks in part to the show's success has sewed up a pretty hot brand all her own."
• At Indiewire, Matthew Weiner explains the origins of five fan-favorite moments, from the lawnmower incident to Bert serenading Don.
• HouseBeautiful visits Matthew Weiner's home office, where he thinks Don "would be comfy in this space, because it's clean-lined and organized. Also Joan Harris, because it's luscious."
• Backstage rates Mad Men's seven best acting moments, one from each season.
• The Associated Press puts together a quiz to test your Mad Men knowledge.
• According to The Hollywood Reporter, Matthew Weiner will be a special guest at the Series Mania international television festival in Paris next month.
• Reviewing the last episode of Netflix's Unbreakable Kimmy Schmidt, A.V. Club proclaims that "casting Jon Hamm as the reverend was such a strong move." Bustle discusses what "made Hamm and his involvement with the show about as close to perfect as it gets."
• Jon Hamm speaks with The Daily Beast about The Unbreakable Kimmy Schmidt, how "Ellie Kemper [his former student] is a really nice person, and I felt honored to be able to play in the sandbox with the cool kids again."
• Janie Bryant talks to U.S. News and World Report about designing uniforms for the employees of Washington, D.C.'s soon-to-reopen Watergate Hotel.
To stay up-to-date with all the latest Mad Men news, sign up for the Mad Men Social Club.
Read More