Celebrate Mad Men's Final Seven Episodes in Style With Birchbox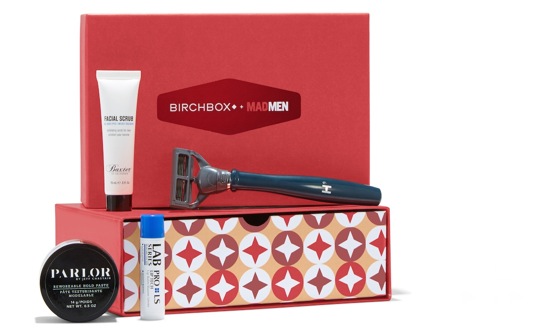 You've selected your Mad Men premiere party menu and picked out the perfect vintage outfit for toasting the end of an era. Now, Birchbox has you covered with hand-picked essentials for all your premiere night styling touches.
For those new to Birchbox, it's a way to discover and sample new beauty and grooming products for men and women, tailored to your personal preferences. And for the month of April, they've partnered with AMC to curate an assortment of products inspired by Mad Men's iconic style.

Women can celebrate the series with a box filled with stellar products that will help you get a polished look that will make Betty, Joan, Megan, and Peggy proud, including:
Liz Earle Eyebright Lotion – Peggy, Joan, & co. are no strangers to pulling late nights at the office. This cooling lotion uses a blend of ultracalming botanicals to soothe, refresh, and depuff tired eyes.
Beauty Protector Protect & Oil – In Manhattan, sleekness is always in style. This hair oil protects against UV rays and heat while keeping hair smooth and shiny.
Whish Shave Cream – Long sleeves and tights have their place, but not while schmoozing with clients in the big city. This shea butter-packed shaving cream is a recipe for smoothness.
Anastasia Beverly Hills Brow Gel – This translucent gel gives brows a professional polish for a defined yet natural look.
Cargo Swimmables Water Resistant Blush in Los Cabos – This waterproof pigment stays put—even through a three-Martini lunch or marathon 12-hour workday.
And there's a box of Mad Men essentials for men as well. Products in each box will vary depending on subscribers' personal profiles and may include:
Parlor by Jeff Chastain Reworkable Hold Paste – Achieve the era's slicked-back, sophisticated style with a soft, flexible hold
Baxter of California Facial Scrub – This exfoliating formula polishes skin for an extra fresh-faced, dapper look
PLANT Body Wash – An all-natural body cleanser with stimulating essential oils of sandalwood, ginger, and cedar
Harry's Truman Razor – An ergonomic handle helps you reach every nook and cranny for that ultra clean-shaven look the show's characters are known for
W&P Mason Stones – A set of natural stone cubes that can chill your Old Fashioned, Don Draper's drink of choice
Royal Rose Three Chiles Syrup – A sweet, smoky and spicy syrup that enhances your favorite cocktail
The Mad Men-inspired boxes are available on Birchbox.com for a limited time only. For more information, follow them @birchbox. Once you've received yours, post your favorite looks below.
Read More