Uncategorized
A Week of Celebration: Mad Men Events in Honor of the End of an Era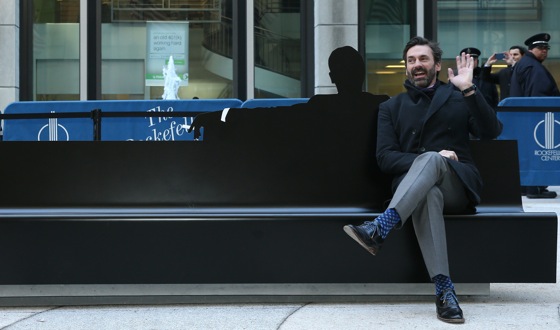 To celebrate the final seven episodes of one of the most iconic series in television history, AMC partnered with cultural institutions from coast to coast to honor Mad Men through exhibitions, screenings, events and discussions. Missed something? Check out our wrap-up of a few of the events below, linked to full photo galleries from each event.
"Mad Men: The End of An Era" Panel
On Saturday, March 21, a full house of enthused Maddicts joined the Film Society of Lincoln Center at a panel discussion with creator Matthew Weiner and stars Jon Hamm, Christina Hendricks, January Jones and John Slattery in attendance. Weiner and the cast took a look back at their favorite clips throughout the series — some funny, some gut-wrenching, and some controversial. One classic scene up for discussion featured Don and Peggy in Season 4, Episode 7 "The Suitcase" where "we learn a lot about the relationship that these two characters developed over the course of four seasons," observed Hamm. "For me, it just showed this incredible mutual respect, that we hadn't really seen, in so many ways."
"Matthew Weiner's Mad Men" Exhibition
On Saturday, March 14, Museum of the Moving Image (MOMI) kicked off an exhibition where fans got a glimpse at iconic props like packs of Lucky Strike cigarettes; large-scale sets like Betty Draper's kitchen; and costumes including Megan Draper's infamous "Zou Bisou Bisou" dress. "Television is supposed to be a lesser art form," said Carl Goodman, the museum's executive director, at a press event. "…it's that much more important for us and our collection, and our programs, to chronicle this transition, this very exciting moment. Ten, 20 years from now, scholars are going to be studying this." The exhibition is still on display and will run through June 14.
The Draper Bench Unveiling
On Monday, March 23, fans gathered around as the Draper bench, featuring Don Draper's silhouette from the series' opening title, was unveiled outside of New York City's Time-Life building, the onscreen home of Sterling Cooper & Partners. Matt Weiner and cast members posed for photos on the bench. The installation, designed by Pentagram, will be stay put through the summer and also features street signs marked "Mad Men Ave." and "Don Draper Ave."
Mad Men Black & Red Ball
On Wednesday, March 25, Matthew Weiner and AMC president Charlie Collier dressed to the nines for a gala at the Dorothy Chandler Pavilion in downtown Los Angeles where the equally-clad cast and crew took a farewell bow to the series. Collier gave praise to the "the incomparable, the wonderful" Jon Hamm; while Weiner stood before a standing ovation and gushed: "I am overwhelmed by this opportunity to turn ideas and American history and a bunch of people that I made up into a party this big, nine years later."
Mad Men returns this Sunday at 10/9c.
Read More