Press
Mad Men Heads to Smithsonian; New Trailer, Photos Released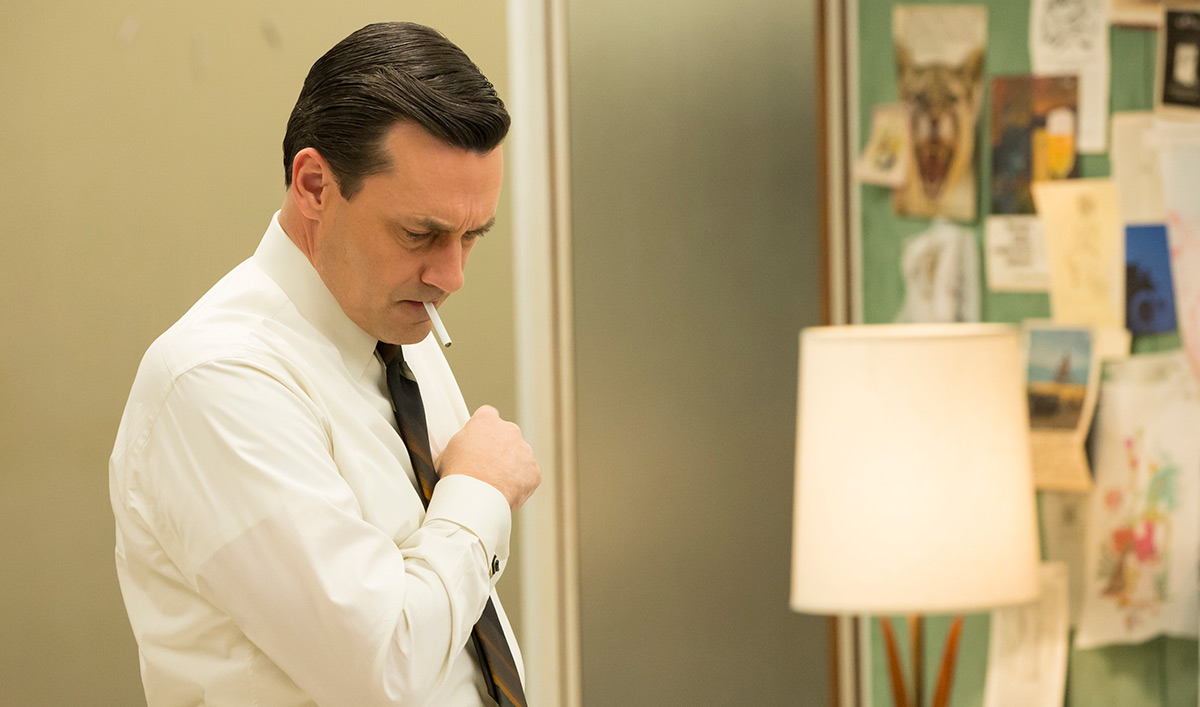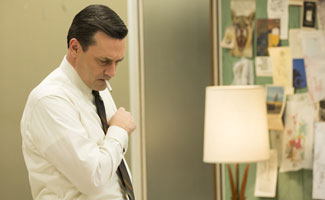 This week, iconic items from Mad Men will head to the Smithsonian, while Elisabeth Moss is profiled by The New York Times. Plus, Matthew Weiner discusses the new Season 7 poster with Vulture. Read on for more:
• According to the Los Angeles Times, the Smithsonian will be the new home of several Mad Men items, including Don's gray suit, fedora and office bar cart and the original script for Season 1, Episode 13, "The Wheel." Also, Vulture reports on the upcoming "ambitious slate of cultural commemorations tied to the end of Mad Men," including events at seven different New York museums and organizations and a major exhibit at the Los Angeles County Museum of Art.
• The Los Angeles Times spotlights a new 60-second ad for the final episodes that aired during the Oscars telecast. Entertainment Weekly says the commercial "effectively uses nostalgia to drum up interest in the series' final episodes," while The Huffington Post thinks the trailer was "better than the Oscars."
• Matthew Weiner gives Vulture his take on the new Season 7 poster, which depicts Don in a car with "a feeling of, I hope, a little bit of a desperate drive." Gothamist looks back at the series' posters for previous seasons.

• AMC releases several videos focused on various characters, from Elisabeth Moss' Peggy at TV Guide, Vincent Kartheiser's Pete at Variety, John Slattery's Roger at TheWrap and Christina Hendricks' Joan at Entertainment Tonight.
• Profiled by The New York Times, Elisabeth Moss reveals that Bryan Cranston, a Tony winner last year for All the Way, "suggested a play might help her adjust to life without Mad Men, just as it had helped him decompress from the finale of Breaking Bad."
• A.V. Club watches the first trailer for Mad Men's final round of episodes, observing that "the mood of this spot is noticeably light and sunny," while Vulture checks out the new Season 7 photos.
• John Slattery talks to Huffington Post about Mad Men's ending, saying, "I think the way that Matthew [Weiner] figured out how to end it for everybody is very satisfying, and that's not easy to do. I mean, there's so much scrutiny on these series finales, and I think he did a great job." He also tells the New York Post that Mad Men "was the kind of experience where it was as good as it could be. There was nothing that I didn't get to do or that I wish I'd gotten to do."
• The Gloss hails Mad Men's "female-dominated writing crew" in its roundup of "talented, accomplished female screenwriters."
• January Jones reminisces to People about her Mad Men audition and how "I almost can't even remember my life before [Mad Men]."
• The New York Post has seven questions for the series' final episodes, including "What happened to Peggy's baby?"
• Talking to Broadway.com, Elisabeth Moss says she wants to play Heidi in The Heidi Chronicles (which started on Broadway this week) "as a modern woman, which is something that I've always tried to do with Peggy on Mad Men."
• Elisabeth Moss tells the Associated Press she didn't know where Matthew Weiner would take Peggy, how "that fact of becoming a strong moral compass and becoming someone who had a voice and telling that story of feminism in the workplace — I had no idea."
• Interviewed by Marie Claire, Elisabeth Moss calls The Heidi Chronicles' title character "Peggy's younger sister, the more realized version of Peggy."
• Christina Hendricks speaks with The New York Post and The Hollywood Reporter about her life as a New Yorker — and how being on Mad Men was "like going to the best acting school ever."
• Vulture examines Mad Men's "odd relationship with transportation: car crashes, plane crashes, identity crises on trains. If you're a character on Mad Men, for the love of God, stay put."
• In a new video at The Hollywood Reporter, Matthew Weiner discusses casting Mad Men.
• Ahead of Elisabeth Moss' return to Broadway in The Heidi Chronicles, Deadline interviews the actress, who "keeps us coming back for more precisely because we know we'll be surprised, exasperated, infuriated or delighted by Peggy's choices."
• Indiewire says Film Independent at LACMA will host a two-part Mad Men tribute on Mar. 26 and 27, featuring screenings and conversations with Matthew Weiner, Jon Hamm and other cast members.
• Footwear News interviews Janie Bryant about designing for Jessica Paré, how she "did everything from sandals and chunky low-heel pumps to mod ankle, knee-length and lace-up boots. I loved the variation in all of the shoes she wore."
• MTV reports that Season 7 will be available on Netflix on Mar. 22.
To stay up-to-date with all the latest Mad Men news, sign up for the Mad Men Social Club.
Read More