Press
HitFix Eager but Sad for Mad Finale; EW Previews Elisabeth Moss on Broadway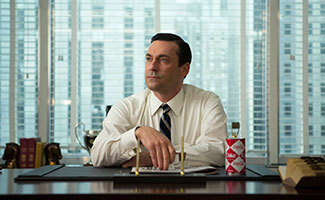 This week, HitFix and others are eager yet wistful for Mad Men's final episodes, while Entertainment Weekly previews Elisabeth Moss' upcoming turn on Broadway. Plus, The Hollywood Reporter puts Mad Men in its top 10 list for last year. Read on for more:
• HitFix calls Mad Men one of this year's most anticipated returning TV shows, lamenting, "Only seven more hours of beautiful writing, fantastic acting, and some of the richest, deepest drama in the medium's history. Only seven."

• The Huffington Post makes a list of 44 pop culture moments to get excited about in 2015 and includes the Mad Men series finale, saying simply, "Goodbye, Don Draper."
• Entertainment Weekly's Bullseye says "Sad to see you go" next to a picture of Jon Hamm as Don Draper. [No link]

• Elisabeth Moss, preparing to star as Heidi in The Heidi Chronicles on Broadway, tells Entertainment Weekly, "I never intended to play Peggy as someone in the '60s. I always wanted her to be really identifiable and really modern and I feel the same way about Heidi."
• Deadline is looking forward to Elisabeth Moss' performance in the revival of The Heidi Chronicles, "one of the most engaging plays of its time."
• Ahead of the debut of the second half of Season 7, The Independent asks, "Will Don Draper (Jon Hamm) meet with triumph or tragedy? And what about those other characters we've grown to love?"
• BBC News spotlights Mad Men's final episodes, observing that "viewers who have followed the inner workings of a New York ad agency, and its mercurial Creative Director Don Draper (Jon Hamm) will be keen to see how his story ends."
• Multichannel News mourns the imminent end of Mad Men, which "has received nearly universal critical acclaim for its storytelling, historical authenticity and style — not to mention terrific acting led by series star Jon Hamm."
• Mad Men is No. 4 on The Hollywood Reporter's best list of 2014.
• Indiewire's favorite TV scene this year was Don and Peggy's slow dance in "The Strategy" since "no single moment on television made me happier, or more melancholy. I don't know what I'll do without Mad Men."
• Forbes ranks Mad Men as one of last year's top series, calling the first half of the final season the "best and most tightly focused seven episode arc since at least season two."
• Mad Men is the New York Daily News' top TV show of 2014 because it "remains a first-rate drama, with flawed characters we care about and an unblinking eye on the moral compass of the America Don Draper and his cohorts are trying to navigate."
• The Huffington Post lists all that was good in pop culture in 2014, including the "continual quality of Mad Men."
• We Got This Covered ranks Mad Men No. 3 on its list of 2014's best TV, saying, "Fittingly, the first half of Mad Men's last hours basked in hope, hysteria, comedy and tragedy, helping to bring the decade (and one of television's great shows) to a terrific close."
• One of the 2014 TV moments that most shocked International Business Times was Ginsberg cutting off his nipple and presenting it to Peggy.
• Moviefone makes a new year's resolution for Don: "Maybe seeing Bert Cooper dancing down the hallway after his death is a sign that I shouldn't drink so much."
• TV.com bids adieu to the major TV characters who died in 2014, including Bert.
• TV.com is anticipating eagerly the Mar. 1 premiere of FOX's The Last Man on Earth, which "feels different and fresh" and features January Jones.
• Wall St. Cheat Sheet spotlights Preservation, starring Aaron Staton, in its roundup of what to watch on the big screen this month.
To stay up-to-date with all the latest Mad Men news, sign up for the Mad Men Social Club.
Read More