Press
Mad Men Honored With WGA Nods, Named to AFI Top TV List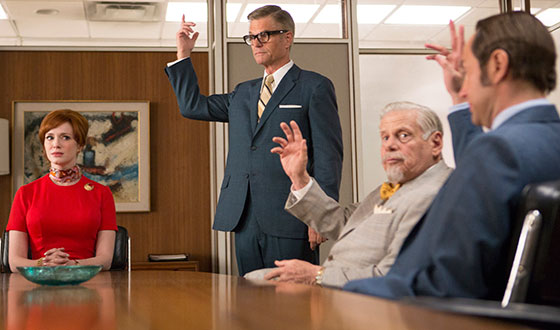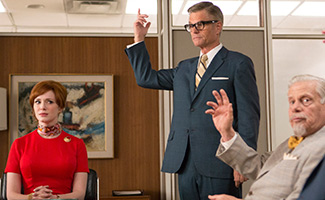 This week, Mad Men receives two Writers Guild of America nominations and is named to the American Film Institute's top TV list for the seventh year in a row. Plus, the show is included on several other year-end best lists. Read on for more:
• The Writers Guild of America nominates Mad Men in the drama series category and Season 7's "A Day's Work" in the episodic drama category, according to the Los Angeles Times.
• USA Today reports that Mad Men is one of the American Film Institute's top 10 TV shows of 2014, making Mad Men the first show to appear on the list for each of its seasons.
• Mad Men — which "remains insightful, confident, and more often surprising than not" — is one of Vulture's top 10 shows of the year.

• HitFix's Dan Fienberg names Mad Men one of the year's top 10 shows, declaring, "From Ginsberg and the Computer to Don and Peggy dancing to Betty and her gumdrops to the worst threesome ever to Bob's proposal don't let anybody tell you Mad Men has lost a step."
• HitFix's Alan Sepinwall puts Mad Men on his top 10 list, citing "how the Don and Peggy material paid off years of conflict between the two of them, how Peggy's pitch to Burger Chef was the show's best since Don met with the guys from Kodak, and how delightful the latest agency restructuring was."
• Bert Cooper's dancing farewell is one of Rolling Stone's best TV moments of the year, declaring, "As Bert himself would say: Bravo." [No link]
• Season 7's "The Strategy" is Indiewire's top TV episode of 2014, observing, "I'll miss Mad Men terribly when it concludes next year, but I'll always have 'The Strategy.'"
• Vulture has a teaser from the Black Mirror Christmas special that stars Jon Hamm and notes, "Just imagine what Don Draper could do with a cell phone."
• Wall St. Cheat Sheet considers Mad Men's title sequence one of the best on TV, saying it's like "the opening to a James Bond flick."
• The Hollywood Reporter has a clip of Vincent Kartheiser in Red Knot, a movie directed by Scott Cohen.
• Blu-ray.com reports that God's Pocket, directed by John Slattery and starring Philip Seymour Hoffman and Christina Hendricks, will be released on Blu-ray on Dec. 26.
To stay up-to-date with all the latest Mad Men news, sign up for the Mad Men Social Club.
Read More