Press
Jon Hamm Talks to NY Times; EW Excited for Mad Men Finale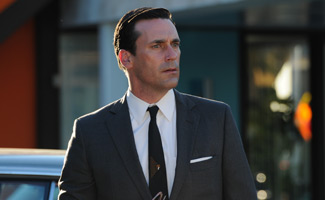 This week, Jon Hamm talks to The New York Times, while Entertainment Weekly and Newsday are excited for Mad Men's finale. Plus, an ad agency chief tells CBS that Mad Men drew people to work in advertising. Read on for more:
• Jon Hamm tells The New York Times that, in choosing roles, it "becomes simply about content."
• Entertainment Weekly, previewing Mad Men's series finale, wonders if viewers might get an answer to this question: "Can Don Draper, whoever he is, be saved? Or will he stay mired in purgatory with a nice view of downtown?"
• Newsday is looking forward to Mad Men's finale, noting, "Sometime in 2015, one of TV's singular triumphs ends."

• Speaking with CBS News, the chairman and chief executive of ad agency J. Walter Thompson credits Mad Men with recruiting people to the advertising industry "'cause they think it's glamorous."
• Reviewing the Black Mirror Christmas special, Yahoo TV calls Jon Hamm's performance "wonderful" and declares "he's not going to have any problem shedding Don Draper" once Mad Men ends.
• The Oregonian picks Don and Peggy dancing as one of the year's great TV moments, deeming it "one of the best scenes in the show's history."
• TVLine's runner-up for the year's "most horrifying sequence" was Ginsberg cutting off his nipple for Peggy.
• The New York Daily News remembers the TV characters that died in 2014, including Bert, who "got the best sendoff of the year when he returned long enough to lead a chorus of hot young tootsies singing 'The Best Things In Life Are Free.'"
• The St. Louis Post-Dispatch places Mad Men at No. 5 on its year-end top 10 list, asserting that the show's "legacy will be a group of characters who defined their era and a story that was both retro and timeless."
• The Tampa Bay Times found Season 7's first half "exquisite, with a handful of beautiful, poignant moments that indicated the end is near: Don and Peggy dancing in the office; Don, Pete and Peggy gathered for dinner at Burger Chef; Bert Cooper's death."
• Ohio's Columbus Alive rates Mad Men one of the year's top 10 TV shows, calling Season 7's first half "a quickly paced set of episodes — a narrative approach Mad Men isn't known for and it was captivating."
• The Lincoln Journal Star cites Mad Men as one of its TV favorites in 2014, asserting, "Elisabeth Moss' Peggy has become the series' most engaging/intriguing character."
• The Orange County Register chooses Mad Men as one of 2014's best TV series, describing the first part of Season 7 as "the best in a couple of years, driven by the return of Don Draper to center stage."
• The Sioux City Journal also appreciated Mad Men's 2014 episodes, observing that Matthew Weiner and his team "amped things up, making the series' finale (slated for 2015) a sure ratings grabber."
• Mad Men is one of Radio Times' top 40 TV shows of 2014 because "the writing remained the most expertly crafted on television and Jon Hamm's performance is so consistently brilliant."
• The Los Angeles Times applauds the rise of the character actor and cites James Wolk — and his roles in Mad Men and The Crazy Ones — as an example.
• BuzzFeed's list of the most badass women on TV includes Sally ("The sass level is high with this one (in the best way possible)!") at No. 16 and Dawn (who "knows exactly how to survive in the white male behemoth of an industry that is '60s advertising") at No. 26.
• According to Forbes, two of the great films that viewers missed in 2014 are a pair from Elisabeth Moss ("who had an absurdly good year here, there, and everywhere"): Listen Up Philip and The One I Love.
To stay up-to-date with all the latest Mad Men news, sign up for the Mad Men Social Club.
Read More