Press
WSJ Spotlights Jon Hamm's Cat Segment; Mad Men Skit on Kelly and Michael Halloween Special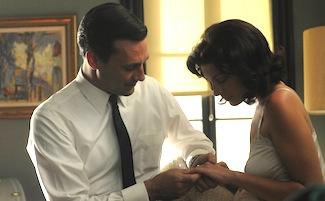 This week, The Wall Street Journal spotlights Jon Hamm's cat-themed appearance on a Comedy Central show, while Kelly Ripa and Michael Strahan performed a Mad Men skit on their Halloween episode. Plus, Hamm talks up Elisabeth Moss' film, The One I Love, to Us Weekly. Read on for more:
• According to The Wall Street Journal, Comedy Central's @Midnight brought together Jon Hamm and cats, with Hamm causing "his own Internet meme by wearing a grey sweatshirt featuring a sunglasses-sporting cat and the slogan 'Live in the Meow.'" Elle remarks, "It's weird. It's more than slightly random. But it's 1000% amazing."
• Live With Kelly and Michael's Halloween episode featured a Mad Men skit, with Ripa costumed as Joan and Strahan as Don.
• Jon Hamm shares with Us Weekly that he's watching The Knick, Last Week Tonight and Elisabeth Moss's The One I Love. He says, "I know the [romantic comedy] stars my friend Elisabeth Moss but I just saw it and liked it a lot!" [No link.]

• Jessica Paré speaks with The Irish Times about Matthew Weiner calling to tell her that Megan would marry Don "when I was in the middle of a nap. So, I was afraid I might be dreaming."
• The New York Times gives Mad Men some of the credit for the revival by Glenfiddich of "a brand of Scotch whisky that was advertised during the Mad Men years in the trade publication Advertising Age."
• Talking to The Sydney Morning Herald, Rich Sommer compares Harry and himself sartorially: "Harry's a little more of an ostentatious dresser than I am. I tend towards the conservative and Harry 'swings for the fences.'"
• Teyonah Parris, chatting with the Chicago Sun-Times, says her Mad Men audition "kind of changed things for me" in terms of her career.
• James Wolk tells MLive about playing Bob without knowing much about him: "I found myself in a position of, this is scary and nervewracking and I don't have much info, but I went in the other direction, where I thought, this is freeing. They're giving me license to make some bold choices."
• ComingSoon.net features six promos for the DVD/Blu-ray of Mad Men: The Final Season – Part 1.
• Crave Online, heralding the release of Mad Men: The Final Season – Part 1 on DVD and Blu-ray, says, there's "no doubt as to the great legacy the stylish and intriguing award winning series will leave when Mad Men draws to a close in 2015."
• The Guardian, commenting on the DVD/Blu-ray release of the first half of Season 7, says that "if any unmerited superlatives have been lavished on this coolly savage dissection of American white-collar mores across the 1960s, I haven't heard them."
• Star Local Media advises binge-watching Mad Men, noting there are "six seasons of brilliance to stream on Netflix for your viewing pleasure."
To stay up-to-date with all the latest Mad Men news, sign up for the Mad Men Social Club.
Read More