Press
Matthew Weiner Wins International Emmy; Jon Hamm Will Return to Parks and Recreation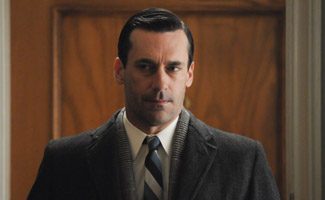 This week, Matthew Weiner wins an International Emmy Award, while Jon Hamm is returning to NBC's Parks and Recreation. Plus, Bustle tells viewers how to bide the time before the final episodes. Read on for more:
• Matthew Weiner, presented with an International Emmy Award by Christina Hendricks and John Slattery, describes his Mad Men cast members as "human vehicles who are so beautiful and so deep and never stop feeling," The Hollywood Reporter says. The Associated Press calls Weiner's award the highlight of the ceremony.
• Entertainment Weekly reports that Jon Hamm will return to NBC's Parks and Recreation during a season seven episode.
• Bustle recommends six ways for viewers to distract themselves before Season 7's second half airs, including re-watching the series, which is "the perfect way to relive the magic of the show all over again."

• TV Overmind wonders if Bert Cooper's season seven midseason finale song-and-dance was the "perfect ending" for Mad Men.
• Matthew Weiner explains that Mad Men is a show about "success", "human behavior" and "regular people in a historic situation,"according to The Hollywood Reporter.
• According to Variety, Matthew Weiner says Mad Men's international popularity is "a vote of confidence for the idea that if you tell a story that's very specific, if it's true about humanity, then it will cross cultural and language barriers."
• Speaking with EURweb, Teyonah Parris says Dawn was special to Mad Men because "we got to see a black woman – she's not representative of all black women in that time – but a black woman in that time period. Her journey."
• Vulture spotlights Vincent Kartheiser's turn in the trailer for Red Knot, a movie that opens Dec. 5 and features Kartheiser "as a normal, modern-day dude with a healthy hairline."
• Digital Spy has photos of Jon Hamm in the U.K.'s Black Mirror special, which will air in the U.S. on Christmas Day.
To stay up-to-date with all the latest Mad Men news, sign up for the Mad Men Social Club.
Read More