Press
Jon Hamm in Christmas Special Black Mirror; Matthew Weiner To Get International Emmy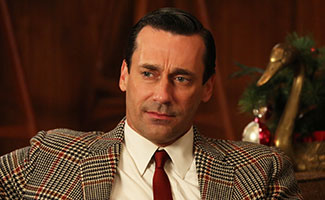 This week, it was announced that Jon Hamm will appear in Black Mirror: White Christmas on Christmas Day, while Matthew Weiner will receive an International Emmy Award. Plus, Jessica Paré discusses how she felt when Mad Men wrapped for good. Read on for more:
• Entertainment Weekly reports that The Audience Network will air the U.K.'s Black Mirror: White Christmas, which stars Jon Hamm, in the U.S. on Christmas Day.
• Digital Spy reports that Matthew Weiner will be presented with an International Emmy Award next week by Christina Hendricks and John Slattery.'
• Speaking with The Canadian Press, Jessica Paré says ending Mad Men was "very teary. We're fortunate that we get to tell the end of our story."

• The Daily Mail has photos of Mad Men stars mingling at the Hollywood Foreign Press Association's holiday press reception, including an epic photobomb by Jon Hamm. AMC has more photos from the event.
• James Wolk talks to Metro about viewer reaction to Bob after Season 7's first half, how "the fans were like, 'How could you?' People became indignant about it, it was amazing. It was really unbelievable. He definitely was beloved, and we'll see what happens."
• Anticipating Mad Men's final episodes, Bustle lists several things "that need to happen before the final season takes its final bow."
To stay up-to-date with all the latest Mad Men news, sign up for the Mad Men Social Club.
Read More