Press
Matthew Weiner Named THR Power Showrunner; Jon Hamm Talks St. Louis Cardinals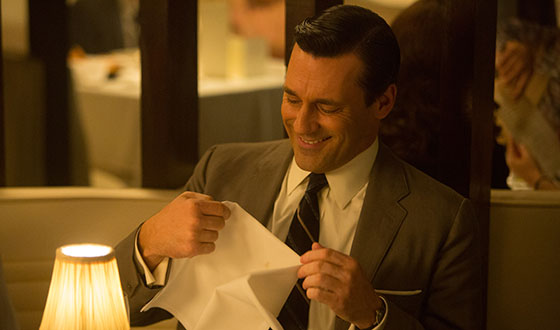 This week, The Hollywood Reporter names Matthew Weiner one of its power showrunners for the year, while Jon Hamm talks about his fellow St. Louis Cardinals fans with Sports Illustrated. Plus, Elisabeth Moss speaks with The Huffington Post about Peggy's Burger Chef pitch. Read on for more:
• Matthew Weiner is one of The Hollywood Reporter's power showrunners because his "retro ad-world drama remains a source of awe among his peers and fans."
• Jon Hamm extols the virtues of the St. Louis Cardinals and its fans to Sports Illustrated.
• Elisabeth Moss talks to HuffPost Entertainment about Peggy's Burger Chef pitch and how, "in a way, there's an argument for that being a great end for Peggy. I love the idea of making this beautiful, poetic, emotional speech about burgers. To me, that was advertising."

• Deadline reports that Christina Hendricks has signed onto Comedy Central's Another Period for an arc on the 10-episode series.
• Time names Kiernan Shipka, 14, one of the year's most influential teens, observing that she's transformed her Mad Men role into "a central, scene-stealing character that may well launch Shipka into superstardom."
• Elle.com learns from Kiernan Shipka that she recently binge-watched all of Mad Men for the first time. Her reaction? "I'm so small! It's weird to see myself. It's like looking at old home videos."
• Teyonah Parris speaks with Vulture about her portrayal of Dawn, how, "If you saw me in the world on a normal day, you probably wouldn't recognize me. My friends call me a Transformer because I can look so different. But I enjoy that part of it, of creating a character."
• Matthew Weiner, participating in Vanity Fair's New Establishment Summit, says, "We've always had good TV and bad TV. I totally disagree that we're in the 'Golden Age of television.' That's just a marketing term."
• The New York Post learns from Teyonah Parris that she took Dawn's nameplate from the Mad Men set, as well as desk photos of her actual grandparents that the production department reprinted in black-and-white.
• Quartz explains why Sunday night's overload of quality TV, including programs such as Mad Men, "exists—and won't be going away anytime soon."
• JB Bernstein, the real-life talent scout who inspired Million Dollar Arm, tells uInterview that it was "awesome" being played by Jon Hamm in the film.
To stay up-to-date with all the latest Mad Men news, sign up for the Mad Men Social Club.
Read More