Press
Elisabeth Moss Speaks With Time; Matthew Weiner Explains Mad Men's Theme Song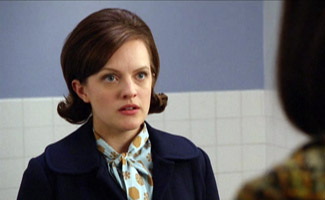 This week, Elisabeth Moss speaks with Time, while Matthew Weiner explains how he chose Mad Men's theme song. Plus, Kiernan Shipka lands a new movie role. Read on for more:
• Time interviews Elisabeth Moss, who calls her Mad Men experience "nothing but great. It's done nothing but open me up to new possibilities. People would kill to be on a show that good, and have a role like that."
• Matthew Weiner talks to WNYC about choosing Mad Men's theme song because "I was looking for something kind of mod and old-fashioned, and I also loved that it had the sound that sounded like falling to me."
• Kiernan Shipka has joined Fan Girl, a movie, also starring Meg Ryan, that will be directed by Paul Jarrett, according to Deadline.

• Rich Sommer shares with Pedestrian memories of his Mad Men castmates, including Jon Hamm, who was intimidating because he's "so handsome and so tall and plays such a brooding character. So for me, my favourite moment was when I figured out that he was a comedy nerd."
• Moviehole learns from Rich Sommer that "seeing Harry grow over the course of seven years was fantastic. He's the same guy he always was, just with a better wardrobe and job description."
• Matthew Weiner talks to The Austin Chronicle about Mad Men following in The Twilight Zone's footsteps by exploring "moral issues of regular people, not written in the first person, no guns."
• MStars News presents five reasons to buy Mad Men: The Final Season (Part 1) on DVD/Blu-Ray.
• We Got This Covered, reviewing the first half of Season 7, remarks, "Matthew Weiner and company managed to create another truly masterful season of television, one filled with captivating arcs and powerful points of culmination."
• Vincent Kartheiser, talking to WABC, says his new off-Broadway play, Billy and Ray, is "the story of how, you know, great work can come from great conflict."
• Playbill interviews Vincent Kartheiser, who says Billy Wilder, his character in Billy and Ray, is "a witty, clever, acerbic man who has a big ego and who doesn't take himself too seriously."
• BuzzFeed interviews Teyonah Parris, declaring that the actress "officially has gone from supporting actor to scene-stealer."
• TVLine reports that Kevin Rahm has been cast in Season 3 of A&E's Bates Motel in a recurring role.
To stay up-to-date with all the latest Mad Men news, sign up for the Mad Men Social Club.
Read More