Press
NYT on Mad Men's Role in the Death of Adulthood; Elisabeth Moss To Star on Broadway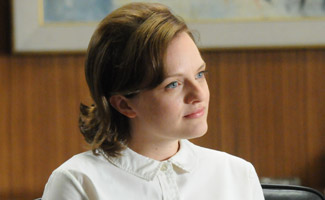 This week, The New York Times cites Mad Men's role in portraying the death of adulthood, while Elisabeth Moss will hit Broadway in The Heidi Chronicles this spring. Plus, Jon Hamm credits Mad Men for his career. Read on for more:
• The New York Times examines Mad Men's role in the death of adulthood in American culture, arguing that Mad Men has "traced the erosion, the gradual slide toward obsolescence, of a power structure built on and in service of the prerogatives of white men."
• Variety reports that Elisabeth Moss will star in a Broadway revival of Wendy Wasserstein's The Heidi Chronicles in the spring.
• Jon Hamm tells Australia's The Daily Telegraph, "I've got a lot of good things to remember Don by, not the least of which is that I have a career because of him. Whether I can parlay that into an actual career… we'll see what happens."

• W names Kiernan Shipka one of the New Royals because she's "come into her own on Mad Men, in which her increasingly sophisticated performance as Sally Draper has made her new royalty."
• EDGE Magazine talks to Vincent Kartheiser about Pete, who's "always eating childish food, like peanut butter and jelly sandwiches and Cap'n Crunch. I think Matthew [Weiner] is making a statement about this boy-man that Pete is—which is something that I can relate to."
• EDGE also interviews Harry Hamlin, who says of Jim Cutler, "I like that he's quirky. It's a chance to play a character that's somewhat eccentric or a little bit off."
• MTV notes that Jon Hamm is a fan of the St. Louis Cardinals baseball team and that his "allegiance to baseball follows him to the big screen" with Million Dollar Arm.
• The Australian touts A Young Doctor's Notebook, starring Jon Hamm, remarking that "this show has my strongest possible endorsement."
• EDGE spends five minutes with Rich Sommer, who says Harry is "a little more groovy now, definitely. The skin is different but the guts are the same. Harry's really the same sort of guy he was…he just has a little bit more license to actually say and do what's going on in his head."
• According to the St. Louis Post-Dispatch, Jon Hamm recorded the narration for Frontline for Hope's Season 2, which follows patient families and caregivers at St. Louis Children's Hospital.
To stay up-to-date with all the latest Mad Men news, sign up for the Mad Men Social Club.
Read More