Press
Jon Hamm Talks to LA Times; Variety Asks Christina Hendricks About Mad Men Ending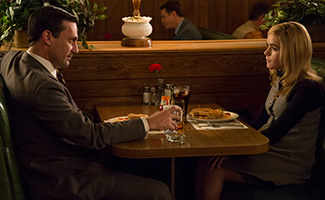 This week, the Los Angeles Times chats with Jon Hamm, while Christina Hendricks says what she can about Mad Men's ending to Variety. Plus, Kiernan Shipka books a movie role. Read on for more:
• The Los Angeles Times speaks with Jon Hamm about his love of British Culture (including Doctor Who), working with Daniel Radcliffe in A Young Doctor's Notebook and his future after Mad Men.
• All Christina Hendricks can tell Variety about the final episodes is that Matthew Weiner "has been extraordinarily consistent in his excellence in writing, and it's a beautiful ending."
• According to The Hollywood Reporter, Kiernan Shipka has been cast in February, a horror movie that Osgood Perkins (son of Anthony Perkins) has written and will direct.

• Joel Murray, speaking with HollywoodChicago.com, says that Freddie's Season 7 opening monologue "did hit me like a ton of bricks – I'm opening the season? Wow. I worked hard at getting it memorized. I had it down, and it was a long spiel."
• Talking to HeraldScotland, Jon Hamm remarks, "I got an incredible opportunity with Don to play a character that has a lot of shades. He's funny at times, dark at times, brooding, romantic, sad, loving, all of those things."
• Jon Hamm, chatting with Ireland's Independent.ie, talks about being stereotyped, saying, "I'm still relatively early on in my career so we'll see if the public is ready to perceive me as anything other than Don Draper."
• Ben Feldman, interviewed by the Chicago Sun-Times, says Ginsberg's nipple "should be in the Smithsonian. Can you imagine that tour?"
• Matthew Weiner, talking to Pennsylvania's The Morning Call, speaks about Mad Men cinematographer and Pennsylvania native Christopher Manley: "There's no one who I can count on to make me look as good as Chris does."
To stay up-to-date with all the latest Mad Men news, sign up for the Mad Men Social Club.
Read More