Press
Jon Hamm Participates in Stand Up to Cancer; Elisabeth Moss Talks Peggy's Burger Chef Pitch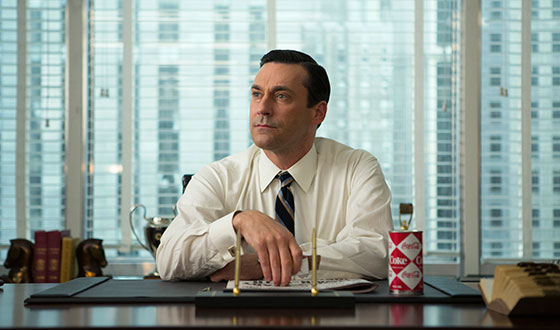 This week, Jon Hamm participates in the Stand Up to Cancer fundraiser, while Elisabeth Moss discusses Peggy's Burger Chef speech with Styleite. Plus, Kiernan Shipka talks to New York about what Janie Bryant taught her. Read on for more:
• The Hollywood Reporter breaks down the details of the Stand Up to Cancer fundraiser, featuring Jon Hamm as a presenter. Hamm spoke about his mother, who passed away from colon cancer when he was 10 years old: "I'm here for all of the other kids and the moms and the dads and the grandpas who hopefully will never have to go through that."
• Elisabeth Moss talks to Styleite about Peggy's Burger Chef pitch, how "it's just a beautiful speech, and I just wanted to do it justice, you know. I really enjoyed it. It's one of those moments as an actor when you're like ugh, thank you. To get one of those, it was so great."
• Kiernan Shipka tells New York what she learned from Janie Bryant, that "style can tell a story. It's not just beautiful clothes, it's actually conveying some sort of message, and I think that's something that's really stuck with me."

• Blogcritics reviews Season 1's "Babylon," deeming it "incredible."
• The Plain Dealer lists Mad Men among the "high-powered" cable dramas available on television.
To stay up-to-date with all the latest Mad Men news, sign up for the Mad Men Social Club.
Read More