Press
Jon Hamm Jokes Around at the Emmys; THR Gathers Matthew Weiner with Top TV Creators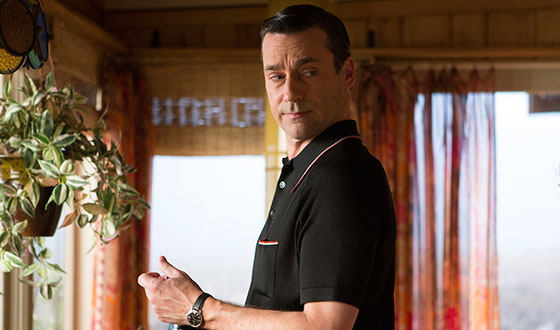 This week, Jon Hamm jokes around at the Emmys, while The Hollywood Reporter interviews Matthew Weiner and other top television creators. Plus, Elisabeth Moss talks Mad Men with USA Today. Read on for more:
• E! Online highlights Jon Hamm participating in an "absolutely hilarious" bit at the Emmys where he asked host Seth Meyers a question and seemingly exulted that he was on TV.
• The Hollywood Reporter gathers 24 of TV's most acclaimed creators for an interview, including Matthew Weiner, who points out that classic TV series like All in the Family and The Defenders (referenced in a Mad Men episode) "really changed the culture."
• Elisabeth Moss tells USA Today what she took from Mad Men's set and what her two favorite lines on the show have been.

• The New York Daily News ranks Mad Men the No. 2 drama of all time (behind Deadwood), noting that the series "illuminates the American dream — its dark side and, in more subtle ways, its promise." Similarly, SundanceTV names Mad Men one of the best dramas ever, remarking, "Perhaps no other show in the history of television has so brilliantly or beautifully evoked a bygone era."
• Matthew Weiner talks to Fast Company's Co.Create about shifting gears after Mad Men and his new film Are You Here to figure out what he'll do next.
• According to Variety, Vincent Kartheiser has been cast as Billy Wilder in Billy and Ray, an Off Broadway play that will be directed by Garry Marshall.
• People.com imagines that Robert Morse's farewell song-and-dance ("a fitting send-off for both character and actor") would win an Emmy for Best Musical Moment if MTV ran the awards show.
• The Hollywood Reporter's Alternative Emmy nominations go to Elisabeth Moss and John Slattery ("It's inconceivable that of all seasons, he's left off after that one"), among others.
• Deadline reports that Jay R. Ferguson has signed a development/talent deal with ABC Studios.
• Refinery29 is a fan of January Jones' Instagram hashtags, e.g. "#safetyfirstwhenlickinganddriving" and "#alwaysposebyatoiletifyouarefeelingsassy."
To stay up-to-date with all the latest Mad Men news, sign up for the Mad Men Social Club.
Read More