Press
Jon Hamm Interviews Elisabeth Moss, Throws Out First Pitch at Cardinals Game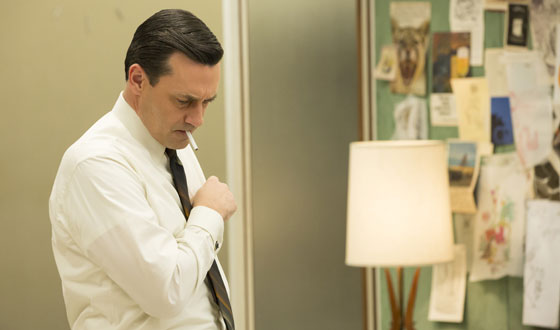 This week, Jon Hamm interviews Elisabeth Moss for Gotham and throws out the first pitch at a St. Louis Cardinals game. Plus, Matthew Weiner tells the Los Angeles Times about ending Mad Men. Read on for more:
• Jon Hamm interviews Elisabeth Moss for Gotham — and pitches her a project, that she refuses, "about a secretary in the 1960s and how she grows and does this whole evolution."
• Jon Hamm throws out the first pitch at a St. Louis Cardinals game, gets his own bobblehead — and talks about how the St. Louis community saved his life, according to USA Today.
• Matthew Weiner tells Esquire what he took from the Mad Men set (such as Don's Clio and Roger's office bar), saying, "Oh my God, I took too much home from the set. I would have taken everything! It's my favorite period. I had emotional attachments to everything."

• Elisabeth Moss shares with Us Weekly 25 things you don't know about her.
• Talking to the Los Angeles Times, Matthew Weiner says, "Ending the series — which now I've done at least on paper, I haven't finished editing the last episode — it was a total revelation to me."
• Matthew Weiner talks to The Huffington Post about audience reaction to Don, saying, "When people do negative things, they are not people's favorite characters. You take Don out of that show and no one's gonna watch the show. He is their favorite character. They are very invested in him, but they don't always like him."
• On Late Night with Seth Meyers, Matthew Weiner says he doesn't want promos at the end of each episode: "I would rather let the song play out over the credits like on Sopranos but they want to remind people that it's coming back the next week."
• During a Nerdist podcast, Matthew Weiner tells Chris Hardwick, "I always said we'll know the show is a success if next Halloween someone is walking down Santa Monica Boulevard dressed as Joan."
• On TODAY, Jon Hamm talks about acting with Daniel Radcliffe in A Young Doctor's Notebook and about taking surreptitious photos of Matt Lauer during a flight.
• Jon Hamm, chatting with the New York Daily News, tries to describe A Young Doctor's Notebook, saying, "It's hard to define exactly what this show is. It's got a little of everything, from tragedy to slapstick."
• Talking to the New York Daily News, Elisabeth Moss talks about the co-star's reaction to the end of the show that affected her the most: "Because I'm such a huge fan of his, when it hit (John) Slattery I was very moved by that. He's been one of my favorite people to work with over the past few years."
• The Creative Arts Emmy ceremony producer tells The Hollywood Reporter that Vince Gilligan and Matthew Weiner were the first pair of presenters because "We thought: Why not kick it off with two iconic showrunners who we anticipate will get a standing ovation?"
• GoldDerby talks Emmys with Christina Hendricks, who says, "We're a very celebratory group, so really win or lose we're going to go out and have fun."
• According to The Hollywood Reporter, Elisabeth Moss appears in Gap's newest "Dress Normal" ad campaign.
• Elisabeth Moss tells Metro what it was like letting go of Peggy: "I loved playing her. That's the big bummer is not being able to play her anymore. But you say goodbye and then you move on. It is just a TV show."
• John Slattery tells Ireland's Independent.ie he's glad Mad Men's success didn't happen in his 20's, declaring, "I'm glad it happened now… all of us have been afforded opportunities we wouldn't if Mad Men didn't happen."
• NPR takes a look at TV's new breed of destructive dads, citing Don as an example.
• Janie Bryant (who's made the clothes on Mad Men "one of the show's main attractions") tells Style.com that her ideal place to spend a summer Friday would be Palm Springs.
• Digital Spy showcases a clip from Million Dollar Arm, which stars Jon Hamm.
• ComicBook.com reports that John Slattery has been cast in Ant-Man (which is set for release in July 2015).
To stay up-to-date with all the latest Mad Men news, sign up for the Mad Men Social Club.
Read More