Press
Jon Hamm Appears on British GQ Cover; Elisabeth Moss Talks Tears on Mad Men Set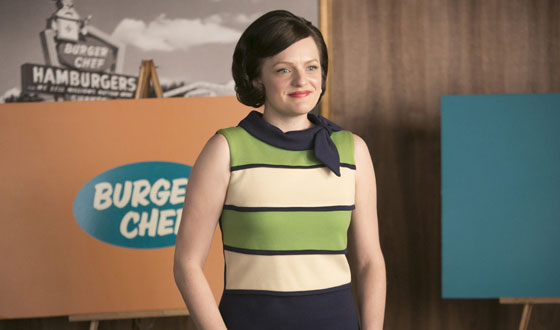 This week, British GQ puts Jon Hamm on its September cover, while Elisabeth Moss talks to The Huffington Post about the weepy last days on Mad Men's set. Plus, Christina Hendricks does a candid interview with The Guardian. Read on for more:
• Jon Hamm, appearing on the September cover of British GQ, muses about Mad Men's ending and how the show "changed our lives so profoundly. And of course the unspoken thing is: what are we going to do next? And no one wants to think about that."
• Elisabeth Moss tells The Huffington Post about shooting the end of Mad Men, how the "last three days were kind of like a funeral. It was just everybody crying all day long — these big, giant men bursting into tears."
• Christina Hendricks talks to The Guardian about viewer reaction to Joan, saying, "I watched what people responded to in Joan, and she's so many things, but I think it's her strength, resilience and confidence."

• Janie Bryant speaks with Variety about Mad Men's vintage style and how Megan, Sally and Harry are the show's most fashion-forward characters, saying, "Some of the characters remain with their classic design, and some move on."
• Deadline learns from Janie Bryant that there are an average of 75 costume changes per episode for the principals, day players and guest actors, plus about 200 additional costumes for background actors.
• Bustle notes the passing of Stan's beard, à la Jay R. Ferguson's Instagram.
• Gold Derby assesses Christina Hendricks' chances of winning a best supporting actress Emmy this year, noting that the highlight scene in her submitted episode, "The Strategy," is "well written and gives her a subtle but moving moment where our focus is squarely on her."
• Rich Sommer will reprise his role on a November episode of CBS' Elementary, TVGuide.com learns.
• The Hollywood Reporter says that Elisabeth Moss has been cast in Queen of Earth, a movie that will be helmed by her Listen Up Philip director, Alex Ross Perry.
• According to the Boston Herald, Elisabeth Moss has also joined the cast of Meadowland, a movie that will be directed by Reed Morano and produced by Olivia Wilde.
• RTÉ.ie reports that Christina Hendricks will be one of the celebrities appearing on Sesame Street's upcoming 45th season.
• The Huffington Post notes that Mark Moses is one of several prominent cast members on WGN's Manhattan.
• Viewers will also be able to catch Mark Moses on Season 4 of Showtime's Homeland in a recurring role, according to The Hollywood Reporter.
To stay up-to-date with all the latest Mad Men news, sign up for the Mad Men Social Club.
Read More