Press
EW Charmed by Roger Sterling; Funny or Die Skit Features Christina Hendricks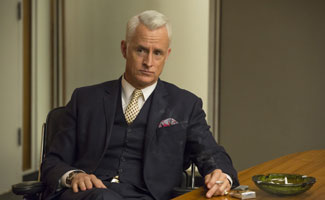 This week, Entertainment Weekly chooses Roger Sterling as one of TV's best characters, while a Funny or Die skit features Christina Hendricks. Plus, Hendricks does an interview with TheWrap. Read on for more:
• John Slattery's Roger Sterling is one of Entertainment Weekly's 25 best characters on TV right now because he "stood out this season as his runaway daughter and lost partner forced him to pivot from hippie hedonism to personal responsibility."
• Christina Hendricks takes on workplace sexism in a Funny or Die skit that's a parody of Mad Men.
• TheWrap interviews Christina Hendricks, who says that TV is "in a much better place than it was. I like to think Matt Weiner helped raise the bar for it with the quality of his writing."

• Entertainment Weekly includes an episode of Mad Men in its 24-hour Emmy binge, advising viewers to "Savor the last moments of Bert Cooper (in the episode 'Waterloo') with a dirty martini in one hand and a mai tai in the other." [No link]
• On Live with Kelly and Michael, Elisabeth Moss says the final days of Mad Men were "pretty dramatic honestly. The last three days of shooting were just like this long Italian funeral, just like everyone crying all day from six in the morning until midnight." [No link] The Hollywood Reporter has a rundown of the interview.
• John Slattery talks to The Telegraph about getting emotional when Mad Men wrapped, saying, "It was about six in the morning, and we were all getting in cabs and going our own separate ways. And I kind of fell apart. We were very close. It was the better part of 10 years."
• The New York Observer supports Robert Morse for the outstanding guest actor Emmy because "Morse was always fantastic. And…I loved his song and dance send-off because I am a huge fan of otherwise quiet or dead serious shows doing off the wall s— like that."
• Christina Hendricks, revealing to TheWrap that she was a huge fan of Breaking Bad, calls Anna Gunn "extraordinary" in Season 5.
• Appearing on CBS This Morning, Matthew Weiner talks about Mad Men ending: "First the writers stopped working. Then the actors and the crew stopped working, and now I'm in post-production with that group. And the ironic thing is eventually I will be back alone with my computer, which is sort of where I started."
• Matthew Weiner will present an award at the Creative Arts Emmys ceremony on Aug. 16, according to TheWrap.
• Robert Morse lent his voice to an episode of Disney Junior's Sofia the First — and Zap2it has a clip.
To stay up-to-date with all the latest Mad Men news, sign up for the Mad Men Social Club.
Read More