Press
Christina Hendricks on Wrap Party with Vulture; Gold Derby on Robert Morse's Emmy Nom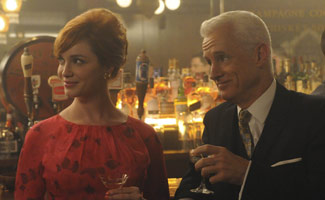 This week, Christina Hendricks talks with Vulture about the Mad Men wrap party, while Gold Derby spotlights Robert Morse for his Emmy nomination. Plus, Breathe Cast has an interview with Kiernan Shipka. Read on for more:
• Vulture calls for a Jon Hamm/John Slattery duet of "Let It Go" after Christina Hendricks reveals that not only was the Mad Men wrap party filled with singing musical theater, including songs from Frozen, but also that John Slattery is actually a very good singer. Bustle has excerpts from Hendricks' interview.
• Gold Derby reports on Robert Morse's Emmy nomination for Best Guest Actor in a Drama, which is his fifth nomination in this category.
• Breathe Cast has excerpts from an interview with Kiernan Shipka, who says "It's been such an amazing run and I've had such a fun time, but to have it end, it's emotional."

• Christina Hendricks talks about the "incredibly emotional week" after filming the final episode and how she wishes more of her co-stars had been nominated for Emmys on KPop Starz.
• To congratulate Robert Morse on his recent Emmy nomination, Sundance lists Morse's "Top 5 Movies from the '60s."

• "What lies behind our fascination with imperfect heroes?" asks Times Higher Education, spotlighting Don Draper.
• Bustle worries about Don Draper's drinking habits and what it might mean for his future in the upcoming final season.
To stay up-to-date with all the latest Mad Men news, sign up for the Mad Men Social Club.
Read More