Press
TV Guide, TVLine Laud Robert Morse; Matthew Weiner to Receive TV Honors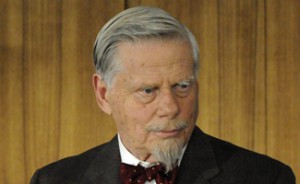 This week, Robert Morse wins praise from TV Guide and TVLine for his midseason finale performance, while Matthew Weiner is set to get awards from the International Academy of Television Arts & Sciences and the Austin Film Festival. Plus, Jon Hamm chooses Elisabeth Moss as his favorite scene partner on the show. Read on for more:
• TV Guide's top moment of the week was Bert Cooper's midseason finale song and dance: "It's hard to imagine a better curtain call than that."
• Robert Morse gets an honorable mention as TVLine's performer of the week because Bert "capped his SC&P days with a sublime performance of 'The Best Things in Life Are Free,' complete with a sock-footed dance number."
• Deadline reports that Matthew Weiner will receive the 2014 International Emmy Founders Award, citing how he "redefined period television and created a global cultural phenomenon that has dramatically changed the television landscape."
• According to The Hollywood Reporter, Matthew Weiner will be honored with the Outstanding Television Writer award at the Austin Film Festival & Screenwriters Conference.
• Jon Hamm tells the Los Angeles Times that his favorite Mad Men scene partner is Elisabeth Moss, calling the Don/Peggy relationship "the deepest relationship that Don has with anyone on the show."
• "Peggy Olson makes a lot of faces, and they're all pretty fantastic — the scoffs, the smirks, the rare grin," comments Vulture, which catalogs many of her expressions.
• HitFix takes a tour through the highs and lows of Season 7.
• Matthew Weiner talks to TV Guide about the midseason finale, including why Julio was so important to Peggy's story.
• The Wall Street Journal interviews Harry Hamlin about the midseason finale and Cutler's pragmatist qualities.
• Harry Hamlin tells Today that he got "so much hate mail" because Cutler called Don a drunk and a bully.
• After a male tennis player said that females shouldn't become tennis players because they have to think about family and kids, Martina Navratilova responded, "Makes Don Draper look like a feminist," Sports Illustrated reports.
• CarterMatt calls Mad Men worthy of a best drama Emmy nomination because this season "may have been the best seven episodes of the show since around season 2 or 3 this year."
• Bustle thinks it's "about time we started talking about when Kiernan Shipka will get that Emmy nomination she's been earning for the past few years."
• The New York Times and Rolling Stone have more from Robert Morse on the midseason finale.
• SheKnows looks back at Bert Cooper's best Mad Men moments.
• Wired is impressed with Mad Men's treatment of the Apollo 11 moon landing, noting "Bert Cooper's impressed acknowledgment of Armstrong and Harry Crane's breathless tears."
• Uproxx asks Stephanie Drake why Meredith still has a job. Her answer: "maybe they see the hard worker in there, that she's willing to keep going and work hard and still have fun in the office and maybe they just don't want to look for a new secretary."
• Forbes looks at Jon Hamm's career, observing, "From a difficult past to getting the lead in the first original series from AMC, Jon Hamm overcame huge odds to achieve his level of success."
• The Daily Beast checks out the TV stars who have guest-starred on Mad Men, commenting, "Whoever's doing the casting for Mad Men has a penchant for digging up some of TV's treasures from the past and putting them on screen for us to see in new and unexpected ways."
• GQ asks John Slattery what advice he'd give to his college-aged self: "I would tell myself it's not impossible. If you want to be in show business, it's almost impossible. But if you believe that, then there's no way in trying at all."
• Commonweal connects the dots from John Cheever to Don Draper, via Matthew Weiner.
To stay up-to-date with all the latest Mad Men news, sign up for the Mad Men Social Club.
Read More