Press
St. Louis Cardinals to Host "Jon Hamm Night"; John Slattery, Talia Balsam Talk Acting Together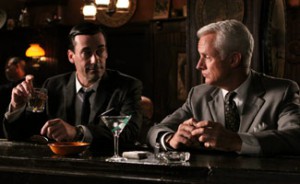 There's going to be "Jon Hamm Night" during a St. Louis Cardinals/Cincinnati Reds game in August, and this week Gold Derby asks John Slattery and Talia Balsam about acting together on Mad Men. Plus, Variety spotlights Christina Hendricks and the role that's made her a star. Read on for more:
• FOX Sports reports that the St. Louis Cardinals will host "Jon Hamm Night" on Aug. 18, in honor of "one of the greatest ambassadors for Cardinals baseball." Vulture points out that the Jon Hamm bobblehead, which will be distributed at the event, is going to be "the handsomest bobblehead doll in all the world."
• Gold Derby chats with John Slattery and Talia Balsam about working together on Mad Men — and about Balsam's Oscar-winning dad, Martin Balsam.
• Variety spotlights actors, like Christina Hendricks, who landed a supporting role that propelled them "into full-fledged stardom."
• According to Deadline, Matthew Weiner says of Bert's midseason finale send-off, where Robert Morse sang and danced, "In Don's mind, that was the inner Bert Cooper."
• Ahead of the World Cup, Jon Hamm joined other celebrities in ESPN's "I Believe" chant in support of the U.S. men's national team. Uproxx deemed him the "Most Handsome" participant.
• The Hollywood Reporter thinks Mad Men and Jon Hamm will definitely nab Emmy nominations.
• One of Entertainment Weekly's top 50 scenes from the just-completed TV season is Don and Peggy's slow dance in Season 7's "The Strategy," an "emotional, elegantly plotted dance that demonstrates how, for better or worse, their souls are inextricably linked." (No Link)
• Erin Levy, one of Mad Men's writers, tells Variety that having an end date for the show means "you're going to throw everything you have left." (No link)
• Den of Geek examines 12 notable summer TV debuts, including Mad Men — which started in July 2007 but is now at "the heart of AMC's spring lineup."
• The Hollywood Reporter has an account of a reading of 1969: A Space Odyssey, or How Kubrick Learned to Stop Worrying and Land on the Moon, which featured Jared Harris (as Stanley Kubrick), Rich Sommer (Buzz Aldrin) and Aaron Staton (Neil Armstrong).
To stay up-to-date with all the latest Mad Men news, sign up for the Mad Men Social Club.
Read More