Press
Matthew Weiner Chats With TheWrap & Vince Gilligan; Christina Hendricks Goes to Washington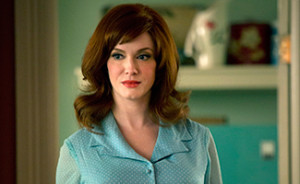 This week, Matthew Weiner has a conversation with TheWrap and Vince Gilligan of Breaking Bad, while Christina Hendricks is part of a White House summit. Plus, Jon Hamm poses for a "hilarious" author photo. Read on for more:
• Matthew Weiner, asked by TheWrap about why viewers still root for Don, responds, "I think that's about casting. That's Jon Hamm – I got nothing to do with that."
• Variety reports that Christina Hendricks, participating in a White House summit on working families, said that ""in the 21st Century, the only place for a story like Joan's should be on TV." The Los Angeles Times has more on Hendricks' remarks at the summit.
• USA Today notes that Jon Hamm posed for the "hilarious" author photo for Poking a Dead Frog: Conversations with Today's Top Comedy Writers, by Mike Sacks.
• John Slattery tells Variety that directing episodes of Mad Men has "made me more loose and relaxed as an actor, not to feel like the whole thing was riding on my shoulders."
• During a Los Angeles Times live chat with John Slattery and Talia Balsam, Slattery says of Roger and Mona, "Just because they can't necessarily find a way to be together on a daily basis doesn't mean they can't have an affection or respect for one another."
• TV Guide's dream Emmy ballot for the lead drama actor category includes Jon Hamm, who "continued to bring the goods and a bittersweet, honest intimacy to Don as the adman actually grew for once."
• Showbiz411 thinks Mad Men, although it only had seven episodes this season, was "hugely impressive."
• HitFix wants Jon Hamm to get an outstanding drama lead actor Emmy nomination because he "once again had a season full of wonderful moments."
• The Star Tribune singles out performers aged 65 and older who "did some of the best work of their careers this past season," including Robert Morse.
• Bleacher Report showcases a Mad Men mash-up where Don pitches LeBron James to return to the Cleveland Cavaliers.
• Monsters & Critics reports that Ovation will air Season 2 of A Young Doctor's Notebook & Other Stories, starring Jon Hamm, starting Aug. 19.
• Digital Spy says that Elisabeth Moss has joined the cast of High-Rise, a film to be directed by Ben Wheatley and based on the J.G. Ballard book of the same name.
• Rich Sommer has been cast in a new Sally Field comedy, Hello My Name is Doris, according to Showbiz 411.
• According to Deadline, the North American rights to Listen Up Philip, a movie starring Elisabeth Moss, have been acquired by Tribeca Film, with an eye toward an Oct. 17 release.
• Fashion & Style calls Teyonah Parris "one to watch," since the actress is "ready to break out big time" with two upcoming projects.
• Screen Daily reports that Umedia has bought the worldwide rights to Red Knot, a drama starring Vincent Kartheiser.
To stay up-to-date with all the latest Mad Men news, sign up for the Mad Men Social Club.
Read More