Press
Jon Hamm Joins LA Times, THR Roundtables; LA Times Spotlights Vincent Kartheiser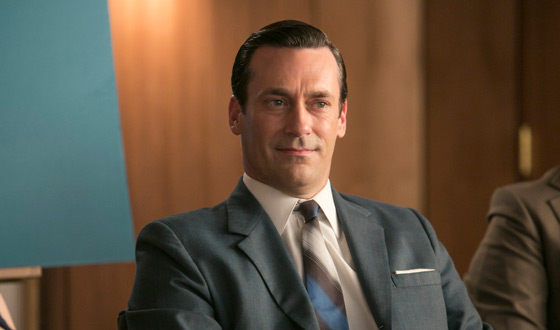 This week, Jon Hamm participates in acting roundtables with the Los Angeles Times and The Hollywood Reporter, while Vincent Kartheiser speaks with the LA Times. Plus, Kartheiser gets some support for an Emmy nod. Read on for more:
• Asked by the Los Angeles Times if he's ever been frustrated by his character's actions, Jon Hamm says Don's entire life is a "continual series of making poor decisions." Hamm also discusses what he learned from his first acting job (on NBC's Providence). Plus, the L.A. Times has the full transcript of the conversation.
• As part of a drama actors roundtable for The Hollywood Reporter, Jon Hamm talks about fear of typecasting: "When you're in people's living rooms every week for however many years as one person, it's a worry that that's all they're ever going to see."
• Spotlighting actors who light up the TV screen in small roles, the Los Angeles Times learns from Vincent Kartheiser that Pete is "a man of ambition and great want, and he has something to prove to every single person — from the girl on the elevator to the pilot on the plane."
• CarterMatt nominates Vincent Kartheiser for a best supporting actor Emmy nod, noting, "We loathe Pete Campbell at times for some of his behavior, but absolutely love him as a character."
• Variety chats with John Slattery, who says he started directing on Mad Men because "everybody is so good at their job. The writing, the material is so good and you know everybody."
• Jessica Paré talks to the Los Angeles Times about Megan and how she used to be "a character who was full of light and optimism and hopefulness, and I think we've seen it slowly eroded."
• Christina Hendricks talks to Cover Media about the disconnect between Joan's professional and personal lives, calling it "the great contradiction in her life."
• The Golden Globe Awards website tours the Mad Men wardrobe department with Janie Bryant, who talks about how the characters' stories influence her costume designs for them.
• Complex suggests how viewers can dress like their favorite TV characters, including Roger with his double-breasted blazer, shirt and suit pants.
• The Dallas Morning News cites Mad Men as an example of TV shows dealing with technology.
• Entertainment Weekly, showcasing the poster for Matthew Weiner's Are You Here, speaks with the Mad Men creator about his film (which will be released Aug. 22). Glamour has the movie's official trailer.
• According to Deadline, Rich Sommer and Aaron Staton have joined the cast of a table read of 1969: A Space Odyssey, Or How Kubrick Learned To Stop Worrying And Land On the Moon. Jared Harris will play Stanley Kubrick.
• SundanceTV looks back at the best dramatic characters of January Jones' career.
• Jessica Paré "boasts some impressive big-screen credits," according to SundanceTV, which has some suggestions of what to watch.
• Entertainment Focus reports that John Slattery's God's Pocket will be released in theaters on Aug. 8.
To stay up-to-date with all the latest Mad Men news, sign up for the Mad Men Social Club.
Read More