Press
Vulture Asks Matthew Weiner About Midseason Finale; Robert Morse Talks Singing & Dancing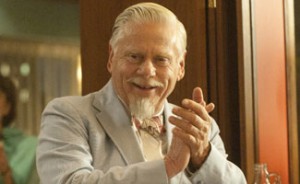 This week, Vulture gets Matthew Weiner's take on the midseason finale, while Robert Morse talks to Vanity Fair and Vulture about his final moments on Mad Men. Plus, The Hollywood Reporter's drama actress roundtable includes Jessica Paré. Read on for more:
• Matthew Weiner explains the midseason finale to Vulture, including Don seeing a deceased Cooper singing and dancing and "what you're feeling is Don's emotional loss and hopefully something bittersweet." Weiner also speaks with Deadline, The Hollywood Reporter and Variety.
• Robert Morse tells Vanity Fair he gets "misty-eyed" thinking about the midseason finale and, talking to Vulture, praises Jon Hamm, who "stood there for seven hours while we did the song over and over again." Morse also speaks with the New York Daily News.
• Jessica Paré is part of The Hollywood Reporter's drama actress roundtable and calls the experience of performing "Zou Bisou Bisou" in front of the cast and crew "horrifying, but they were awesome. I think by take 60, I got comfortable!"
• Don and Peggy's dance to "My Way" in "The Strategy" is the top moment of the week for TV Guide, which says, "Mad Men doesn't get much better than this."
• Paying tribute to Robert Morse's closing number in the midseason finale, Vulture has GIFs of the performance, information on "The Best Things in Life Are Free," a compilation of Morse's greatest hits and a round-up of Mad Men's best song-and-dance moments.
• Vulture examines Don and Peggy's relationship over the years, noting, "More so than with any other pair on Mad Men, the story of Don and Peggy pokes at the show's central question: Who am I?"
• Talking to The Daily Beast about Roger in the midseason finale, John Slattery says, "What's refreshing about episodes like this is just when you think a character is one thing, he tends to be far more competent or able than you would've thought given the way he acts most of the time."
• Elisabeth Moss chats with GQ about filming Peggy and Don's slow dance scene in "The Strategy" and how it was "definitely emotional."
• Now that Mad Men's end is nigh, John Slattery tells Vulture, "At the table reads, the end becomes that much more apparent. You feel the weight of it ending."
• Alison Brie, talking to Vanity Fair about her recurring status as Trudy, compares Mad Men to "that boyfriend that I am, like, way more into than I think he is into me."
• Harry Hamlin speaks with The Hollywood Reporter about Matthew Weiner's advice for playing Jim Cutler.
• Allan Havey talks to Vulture about Lou's haters ("They wanted Lou to die. They wanted Lou to die a very painful death") and what he learned from acting with Kiernan Shipka.
• GQ interviews James Wolk about Bob Benson's return and why Bob proposed to Joan in "The Strategy."
• Check out a GIF of Vulture's favorite moment from the Season 7 midseason finale.
• USA Today lists "some of the biggest defining moments of Season 7," including Betty saying, "I'm not stupid. I speak Italian."
• Similarly, The Hollywood Reporter highlights the "landmark moments" from the first half of Season 7.
• For those missing Jon Hamm already, SundanceTV has a list of his top five movie roles.
• Vulture calculates exactly how much money each SC&P partner stands to make if the sale to McCann goes through.
• Who are Mad Men's best recurring characters? TVLine chooses 15 of them.
• What does dying mean on Mad Men? Vulture details how the show "uses death as a prompt to show us what people are really thinking about."
• The Jewish Daily Forward offers "the definitive guide of Jewish Mad Men moments."
• LAist has the details on where Mad Men re-created a Burger Chef for the last shot of "The Strategy."
• Wired examines how computers have changed advertising.
• Vulture has a quiz about the musical chairs of Mad Men's offices.
• Delaware Online talks to Marcy Patterson, a Mad Men co-producer, about the shout-out she engineered for her native Delaware in "The Runaways."
• SundanceTV has an Elisabeth Moss quiz, to see how well you know the actress' career.
• Moviefone checks out Jon Hamm, Christina Hendricks and Jessica Paré before they were famous. Plus, BuzzFeed has a video of the various cast members pre-Mad Men.
• For recaps and reviews of Season 7, Episode 7, "Waterloo," check out AdAge, The Atlantic, A.V. Club, Basket of Kisses, The Daily Beast, Entertainment Weekly, HitFix, The Hollywood Reporter, The Huffington Post, Los Angeles Times, Time, Tom + Lorenzo, TV Fanatic, TV Guide, TVLine, Vulture and The Washington Post.
To stay up-to-date with all the latest Mad Men news, sign up for the Mad Men Social Club.
Read More