Uncategorized
The Mad Men Fashion File – Valley of the Dolls
Barbie made her first Mad Men appearance this week. Though she was kept (literally) under wraps, it was enough to underscore a major message: Women should be seen — and dressed, and undressed, and dressed again — but treated as objects and not respected as equals. It happened to Peggy in the office. It happened to Joan in her living room. It happened to Trudy when Pete called out her "debutante maneuvers" in the ultimate double standard. And it happened to Megan and Bonnie when each was instructed to "go shopping."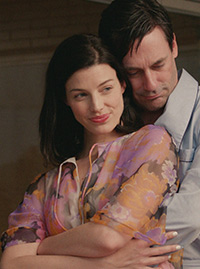 So let's say you were a child in 1969, and you did go shopping, specifically for a Barbie dress. You would have found a popular one called Barbie Flower Wower, which was short, billowy, and covered in acid green, hot pink, and powder blue blossoms. It is unnervingly close to the dress Bonnie wore on the plane, and even more similar to the "mini" robe Megan wears on Don's balcony… And to both men, their partners are merely living dolls.
I'm sure you noticed the color story Mad Men Costume Designer Janie Bryant tells in this particular episode. Every time a woman's power was subverted or undermined, she was costumed in hues of blue. You can trace it like a pulsing line through the story: Joan wears blue when Bob proposes, Trudy wears it when Pete implodes, Peggy and Bonnie sport the shade while being chastised publicly in the SC&P offices. But I think that's only half the idea.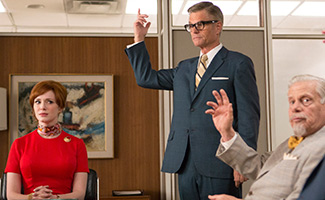 Notice each of these women are flanked by men in red and white, or red and navy — a return to the season's first color story of red, white, and blue. It gets reversed, too — Joan is in a red dress while the male partners wear cobalt and ivory; Megan wears a white-and-red peasant blouse as Don puts on a navy blue polo shirt. (By the way, if you like Megan's look in that scene, it's easy to get it yourself: BCBG, Forever 21, and Shoptiques all have similar styles available now.) The theme of American Dreams (and American realities) is still unfurling like a flag, and you can see it everywhere… even in Pete Campbell's riotous plaid dinner jacket.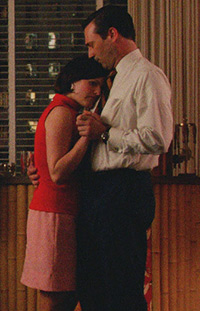 There were some other costumes too fun to ignore: Bob Benson insists, "I'm not of that stripe," to his gay business associate while wearing stripes; Peggy and Stan both wear bright pops of plaid while sparring on the phone; Megan's denim-on-denim ensemble that would look just as drop-dead cool on a girl right now. And, of course, Peggy and Don's father-daughter dance. Set to Frank Sinatra's "My Way," it worked beautifully with their clothes: Peggy in her typical schoolgirl outfit has less power but more potential; Don in his "member of the faculty" suit is in charge but stagnant.
Read More