Uncategorized
The Mad Men Fashion File – Rage Against the Machine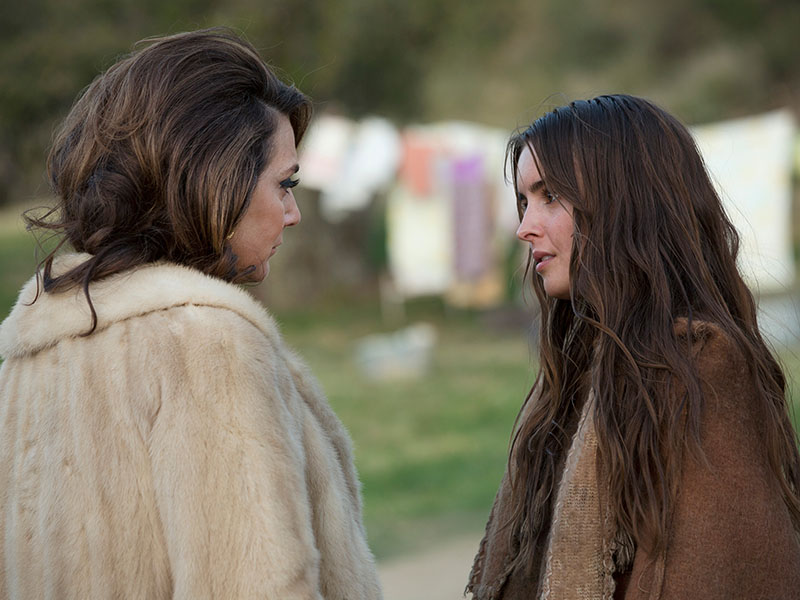 Out with the old and in with the miniskirts?
That type of changing of the guard is what's happening from the get-go of "The Monolith," starting with Pete Campbell learning that his (soon-to-be ex) father-in-law has suffered a heart attack and retired. "It doesn't mean anything," Pete assures Bonnie Whiteside, after he expresses concern in front of a potential client… but we know he's lying. The king is dead — and Pete will be damned if Bob Benson gets the crown.  Bonnie Whiteside's costume helps this theme unfold: With her regal posture, dangling baubles, elaborate collar, and tall, hair-sprayed coif that shimmers in the moonlight, Bonnie recalls Marie Antoinette's giggly, expensive image—which works rather well for Pete's potential coup d'etat.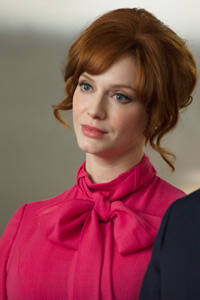 Back in the office, an IBM computer takes over the creative lounge, and Ginsburg loudly gripes, "They're trying to erase us." Somehow, that seems unlikely, at least from a visual point of view—with Peggy's orange take on a sailor dress, Stan's love beads and army work shirt, and Ginsberg's countless clashing patterns, the three are quite unforgettable… as is Joan's lipstick-hued dress, which many women (myself included) would buy right this minute if we could.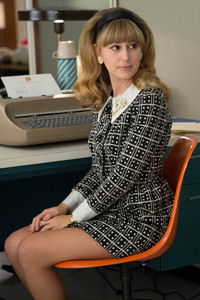 As long as we're in the office: Anyone else obsessed with the new comedy duo of Don-and-Meredith? What a delicious mismatch. Between her relentless cheer and his deadpan stare, there's a wealth of awkward moments (Don: "How was your weekend?" Meredith: "Wouldn't you like to know?"). Their costumes naturally reflect the total disconnect: Meredith wears artificially bright florals, with dandelion yellow hair, daisy earrings, and a brooch to match. Her A-line dresses constantly give her the appearance of an overgrown child, and her perma-grin adds to the illusion. Meanwhile, Don's ash-gray suits and gutter-blue ties ground him in a grim reality—and the "dead man's office that you now inhabit."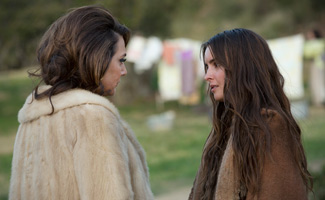 Another great contrast this episode was with Margaret (Marigold?) and Mona. Both wore pelts, but Mona's fur was expensively lush, while M / M was bundled in a buckskin poncho that looked hand-sewn. Both are bitter women, but how they shield their hearts is completely opposite—at least from the literal scope of outerwear. And when Roger falls into the mud in his suit, taking M / M down with him?  That was literal, too—the epitome of airing some dirty laundry.
Finally, since this episode was called "The Monolith," and its themes revolved around machines—actual ones, but also social mechanisms and family units—I did some research on the 1968 film 2001: A Space Odyssey, which features advanced alien machines called (yes) Monoliths. The costumes in the film, designed by Hardy Amies, were extremely focused on the idea of a uniform—the idea being that in outer space, one has less personal space, and therefore needs all-purpose outfits. (The men in Space Odyssey were also deprived of neckties, as they would float upwards in zero gravity!) Amies based many of the women's costumes on stewardess uniforms and secretarial outfits. Men wore actual suits and also space suits.  So when Freddie Rumsen tells Don "get in uniform" and "do the work," it's more of a small step—not a giant leap for mankind—that ties the two together.
Mad Men airs Sundays at 10/9c on AMC.
Read More