Uncategorized
The Mad Men Fashion File – Family Feud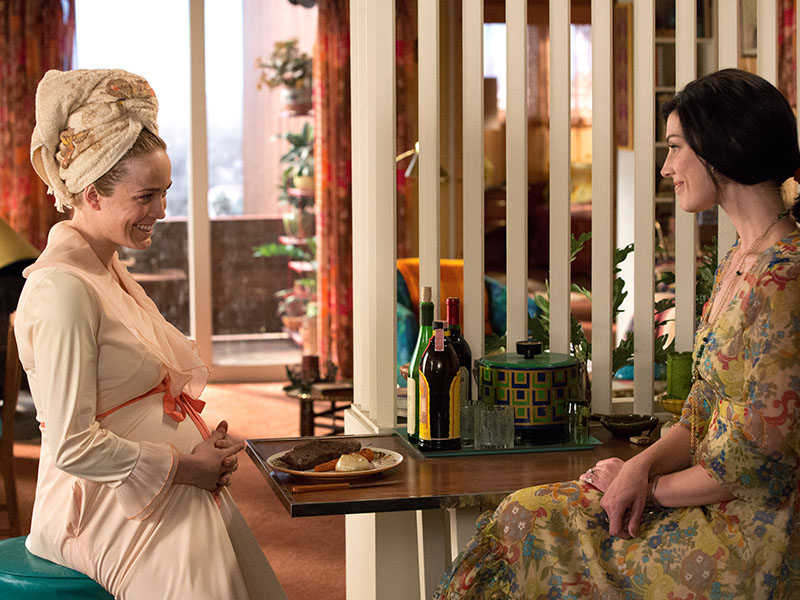 Remember last week's ties to 2001: A Space Odyssey? They're back again this week in the boldest way: The secretary Ginsberg is staring at, the one who "belongs to" the computer… She's in a powder-pink suit in the exact same shade that the space stewardesses wear in Kubrick's iconic movie. When Ginsberg says, "What am I, Cassandra?" he's not exactly predicting the future — he's seeing an imaginary version of it from the movies. He's also going crazy, but we've seen that coming for a while… What we haven't seen is Don and Meredith falling into a clumsy kind of sync — something revealed by both their banter and their color palettes: She's wearing a daisy yellow dress; he's got yellow stripes on his tie like a bumble bee. Shirley has a fun moment, too, in her criminally short minidress that looks almost exactly like Joan's. If Dawn's costumes say Peggy is her career role model, then Shirley has been eyeing the firm's only female partner, right down to the pink lipstick.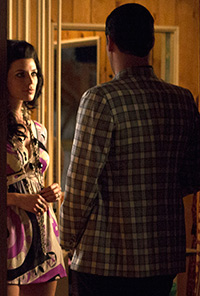 But the real costume story this episode is the contrast between Megan and Stephanie. One is a wealthy second wife playing at being bohemian, sliding turquoise rings next to her engagement diamonds and sporting a psychedelic Pucci-like dress to her house party. The other is an actual "dirty hippie," complete with matted hair, nicotine-stained cuticles, and a conspicuous baby bump underneath her ratty crochet cardigan. "You're so beautiful," Megan tells Stephanie, but her style — not her face — are really what's throwing Megan into a place of deep insecurity.
Besides being pregnant (something Megan cannot be, at least so far…), Stephanie is also young and helpless in a way that Megan will never be — and Stephanie's a real bohemian girl to boot. Megan insists upon reinforcing her importance in Don's life: "You don't really know him," she scolds Stephanie, then later tells her friend Amy, "I know what he likes." And when Stephanie wears Megan's robe, it's the last straw — something painfully clear when Megan emerges from the bedroom in the same thing a few scenes later. She's reclaimed her throne — although it's taken some jealousy-inducing dancing and a slightly awkward threesome to get there. (Also awkward: Don's new plaid blazer, so similar to the one he wore to Pete and Trudy Campbell's dinner party but now sported amongst the Laurel Canyon crowd in Megan's apartment. My, how times change…)
It was nice to see Sally, even for just a few minutes, and her wool poncho — combined with her taped, bruised face — reminded me of a diabolical version of Tiger Lily, the Indian princess in Peter Pan. When Sally talks with Bobby about running away, they lie in the dark with their mismatched prints and truly seem like Neverland's Lost Boys, not grown up but not quite children, and always in a little too much trouble for their own good.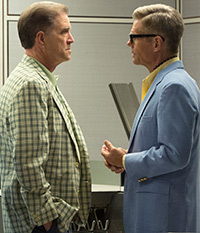 Somehow, their costumes seem tied to Cutler and Lou during their clandestine office meeting inside the computer room. Both execs wore light, pastel hues that seemed to straddle the gap between pajama colors and doctor's lab coats. It was an unsettling effect, for sure.
Of course, nothing was more unsettling than Ginsberg presenting his severed nipple to Peggy in a gift box. (Did I really just write that sentence? Did that really happen? My goodness.) If you look at Ginsberg's white dotted shirt, it looks suspiciously like the print on hospital gowns — so maybe Mr. Ginsberg is Cassandra, after all…
Read More