Uncategorized
Q&A – Vincent Kartheiser (Pete Campbell)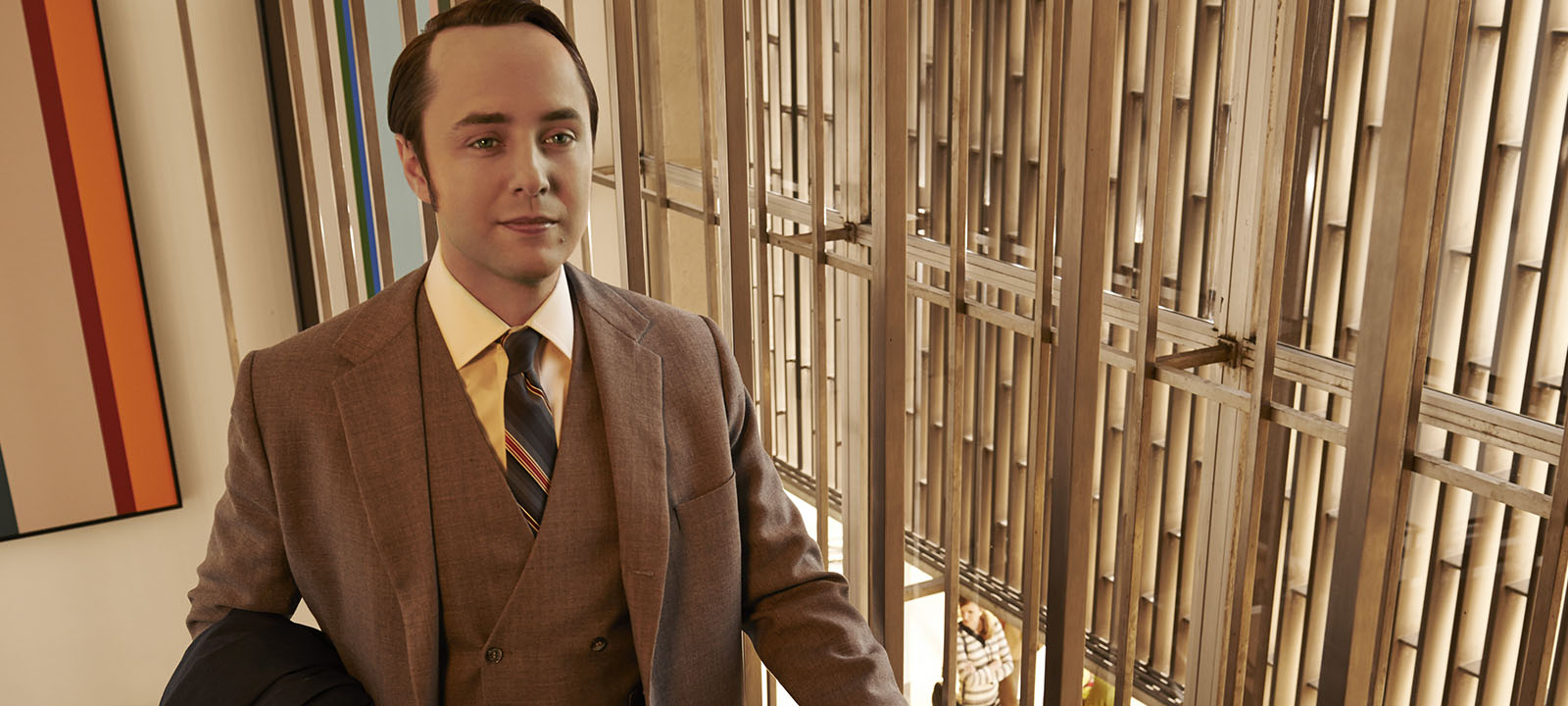 Vincent Kartheiser, who plays Pete Campbell on AMC's Mad Men, talks about Pete's dream office and the difficulties of modern-day communication.
Q: Is it hard adjusting to life at the SC&P L.A. office? You must miss working with the other actors.
A: It's mostly hard because I'm kind of a weird duck, and I've gotten used to everyone realizing that I'm a weird duck and accepting my weirdness. And now there's all these new people who I forget that they don't know that I'm weird.
Q: You live in L.A. Got any advice for Pete on acclimating to the city?
A: Stay off the 405, take Fountain, and don't believe the hype.
Q: That sounds like that Saturday Night Live sketch, "The Californians," that jokes about which highways to take in L.A.  
A: [Laughs] I love "The Californians!" "I'm just going to leave here and hop on the 101 and exit on Western." I love that. It's amazing, amazing.
Q: There are some communication problems between the L.A. and New York office due to '60s technology. Have things gotten any better since then?
A: I still think it's difficult. It's tough to be on speaker phone. I know there's all these things [now] like Skype and video chat, but those aren't really ideal either. I still find all that stuff to be a bit bothersome.
Q: So, you can relate to Pete's frustration at being "stuck" out in the L.A. office?
A: [Laughs] I think the frustration for Pete mostly is that he's completely separated from where the action is, and he feels like he's not being heard. Like he's yelling into a void.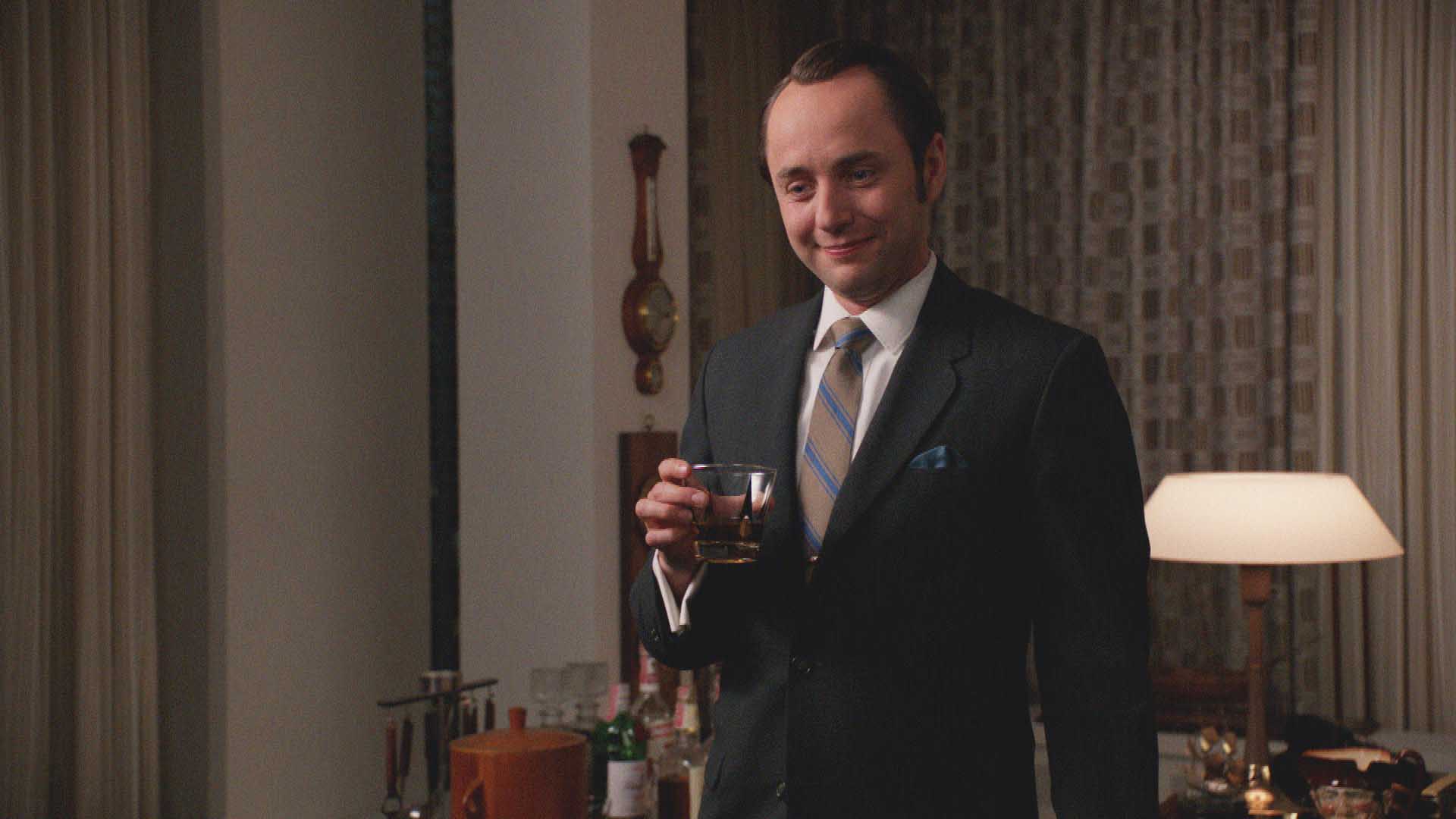 Q: Pete threatens to start a new agency. If you had to imagine what Pete's dream office would look like, what would it be?
A: Ha! I don't know. He's got a very strange design aesthetic. He's a good dresser, but a terrible designer. He has a weird, like, nautical themed office in New York and in L.A. now… And he has that huge fake dog that we usually use to cover up, like plugs and stuff on set.
Q: Fake dog?
A: Yeah, there's a huge dog in the corner of his office if you ever look close enough. It's not easy to see… I think Pete's [dream office] would be like what he would think a "manly man" would have in his office. I think what's he's doing with the nautical theme is imagining himself to be like a real muscly, sailor-type man who does manly type things on the weekend.
Q: Which is hilarious, because sailors don't seem all that masculine these days…

A: That's what we think now, but back then, it was seen as a more masculine thing. And if you ever do go sailing you realize it actually is a very athletic and muscly. Some of the toughest guys I know love sailing, but yeah we do have this idea of a guy in a sailor cap and assless chaps.
Q: We've seen some dark sides of Pete — attempting to blackmail Don, selling Joan to Jaguar. But what do you think has been his most redeeming moment so far and why?

A: He's done some good stuff… Last season I would say probably his most redeeming thing was he was trying to hold the agency together. He was trying to let Don know that these guys were going to come in — they were going to take over this agency — and he was trying to protect who he thinks are his friends and his original bosses. And even though it didn't work, it was a valiant effort.
Read Series Creator Matthew Weiner's backstories on five Season 6 moments, including Pete's "Not good, Bob" line.
Read More