Uncategorized
Q&A – Kevin Rahm (Ted Chaough)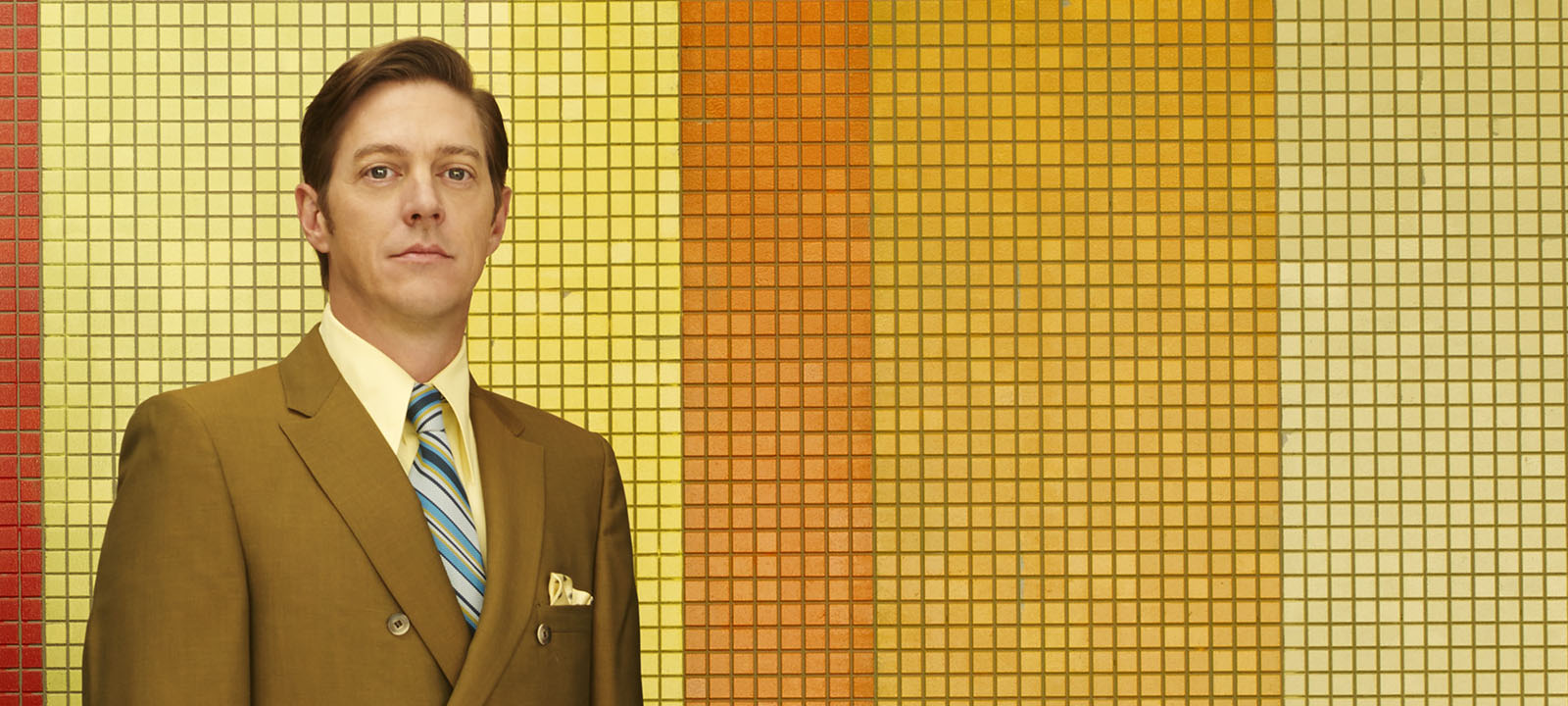 In this interview, Kevin Rahm, who plays Ted Chaough on AMC's Mad Men, talks about kissing Elisabeth Moss (Peggy Olson) and his worst romantic mishap.
Q: In the span of a season, Ted went through a merger, an affair and a move to the West coast. Do you even try to guess what's going to happen to Ted at this point?
A: I don't try to guess at all because there's no telling what they're going to do. I did not see the merger coming… It's funny, Elisabeth Moss knew about it before I did and she said, "When you read that script you're going to be really happy." And then she said, "Wait, wait, not the first thing, the second thing," because the first thing was that I kissed her. She didn't want me to think I was going to be happy because I got to kiss her. She knew I was going to be really happy about the second thing, the merger.
Q: When did you find out that Ted's place in Season 7 was secure? What was your reaction?

A: When I read Episode 12 of Season 6, my concern was, I'm not in the office anymore, and I love working Elisabeth. She's one of my favorite scene partners, so I knew that Ted being in California meant less of that, seemingly… I was also worried because Ted's going to California by himself, so I thought, "Well, that was fun to be on the show for a while." But then when I found out that Pete was going too, I thought, "That helps, that gives me hope." And then I went to Matthew Weiner and said, "So, will I see you guys next year?" And he graciously told me all was good and that I would be around.
Q: What's it been like working so closely with Vincent Kartheiser now that you two are together at SC&P West? 
A: I love working with Vincent, he's great. He is full of energy in a fun way. He likes to shock. When I first met him, I was like, "Who is this crazy person?"… But once I got to know Vincent and realized that nothing coming out of his mouth is truthful and it's all a joke, he became hilarious to me.
Q: Is it strange being separated from the rest of the cast? 
A: It's a completely different sound stage. We have, I think, six different sound stages. The only real dilemma with shooting at that office is that it's the furthest one away… It's just a further walk.
Q: I always thought you guys had golf carts to get around those sound stages…
A: Oh, God no. Jon [Hamm] has a bike from I think 30 Rock; they gave away those little fold-up bikes at the end of 30 Rock. He rides around on it in his suit and tie.
Q: Peggy thinks that Ted sent her flowers (he didn't). Have you ever experienced that sort of romantic mishap?
A: My life has been a series of romantic mishaps… In junior high — I want to say seventh grade — one of my best friends went to a different junior high school, so I went to their Valentine's Day dance with them. I had a crush on a girl at his school, and I bought her, with my lawn-mowing money, a teddy bear…and a card for Valentine's Day. A really sappy, sentimental card. At the dance, I gave it to her…and then later I found the card on the floor of the dance. So, I very passive-aggressively picked it up and took it it to her and said, "I believe this is yours." Luckily I didn't go to that school so I wasn't privy to the mocking, and I'm sure there was plenty.
Q: Cutler implies that he and Ted used to have some laughs together. Was that news to you?
A: No, they've worked together for a long time, and I think Cutler thinks he's funnier than he is. That's my take on it — that Cutler jokes and Ted smiles… They have a similar relationship to the one that Roger and Don have where they battle each other over business versus creative, but they're in the trenches together a lot, so there's a closeness there.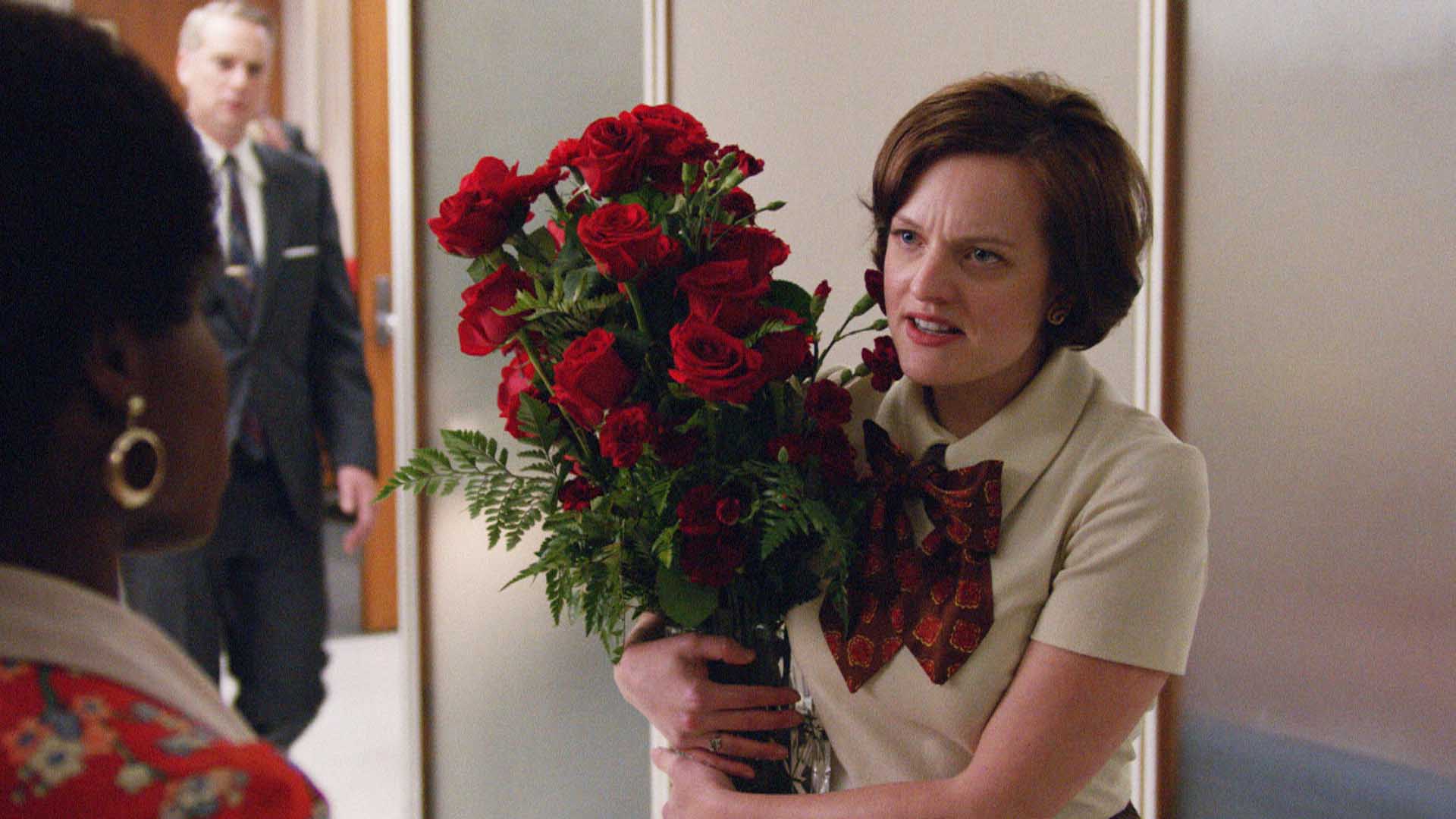 Q: Your L.A. office is so bright and cheery. Do you prefer the new one or your SC&P office? 
A: I love those offices. I think they're really cool and our art department and our set designers are amazing. I'm partial to the old office, just because it's the old office. That's where everyone is. I enjoy working in the fray, with everyone.
Q: How much were you told about Peggy and Ted's storyline before filming Season 7? 
A: Matthew Weiner told me absolutely nothing about Peggy and Ted going into Season 7. I do make jokes at table reads like, "Well, that looks good for them," or, "That doesn't look good for them," and he just smiles at me and doesn't say a word. They are keeping it close to vest at this point.
Q: Do you feel like fans have forgiven Ted for breaking Peggy's heart?
A: Oh, God no. It's so interesting because people hated Ted early on when he first showed up. They thought he was sleazy and slimy and he was going after Don, who everyone loved at the time… And now, they're either like, "How dare you do that to Peggy!" or, "Would you please go back to Peggy because we don't like this side of her."… What I like about Ted is he's always trying to do the right thing, as misguided as he was by having an affair.
Click here to read an interview with Elisabeth Moss, who plays Peggy Olson on AMC's Mad Men.
Read More