Uncategorized
Q&A – The Walking Dead's Josh McDermitt on His Mad Men Appearance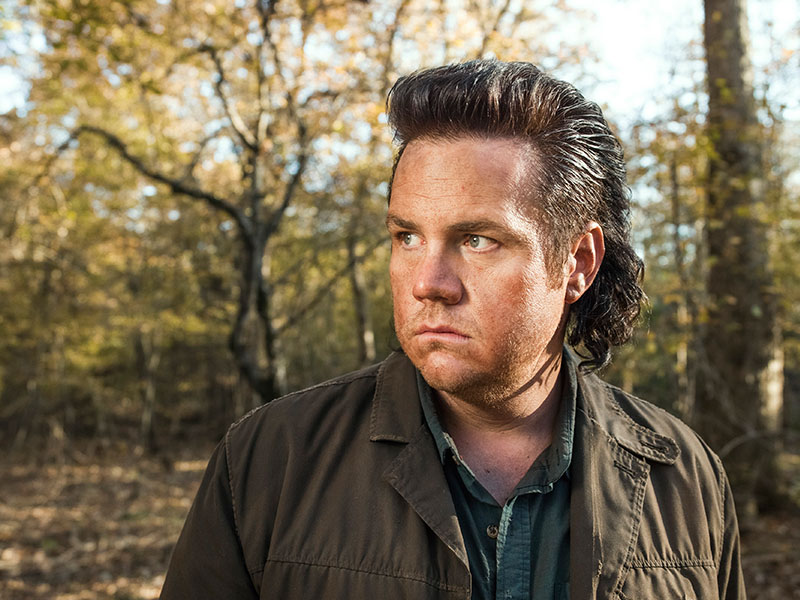 Speaking from the Georgia set of AMC's The Walking Dead, Josh McDermitt, who plays Eugene Porter on that show, talks about his appearance as George Payton on Mad Men and which The Walking Dead character he believes would thrive in the world of '60s advertising.

Q: How did your Mad Men appearance in Season 7, Episode 4 "The Monolith" come about?
A: It was right after we wrapped The Walking Dead. I went back to Los Angeles and I kind of still had my mullet. I got the audition to go in and read for Matthew Weiner and the producers. Everyone else auditioning was wearing business suits and everyone looked like they belonged on Mad Men… It was a little intimidating to sit there looking at these people and just going, "Oh that guy's going to book it," and "Oh look at him, he looks perfect."… Then I went in and just started making jokes about my hair, and Matthew Weiner said he's a really big fan of The Walking Dead, and he was excited I was cast on that show. And, despite having the mullet, they picked me anyway.
Q: Was it hard to keep this Mad Men appearance a secret or are you used to secrecy from The Walking Dead?

A: It was a little easier to keep the Mad Men thing a secret just because, with the mullet, they clip on extensions and things, but I still kind of have a baby mullet when I'm not in full garb [as Eugene]. So all my friends knew something was up with The Walking Dead, but when that was over and my hair got cut short for that '60s time period, it just looked like a regular haircut. Nobody knew. I rarely shave down to my face, which I had to do for Mad Men, so a couple of people were asking about that but no one thought that I'd booked another show, let alone Mad Men.
Q: What was it like acting on an AMC show without a mullet?
A: My neck wasn't as sweaty! It was liberating. It's fun to have a mullet, and then to transform into the character of George Payton [on Mad Men], just having a tighter cut. That helps me as an actor. Instead of having regular old hair, it just helps push me in that direction. With the clothes, they make everyone wear the high-waist dress pants, to go above your belly button. It's a little uncomfortable. The great thing about Eugene is he can just look like garbage and it works perfect. When we're shooting in the heat in the backwoods of Georgia, they encourage you to sweat because it just looks better for the show. But I just sweat naturally, so when we were doing Mad Men, I was a little afraid that they were going to have to come over and clean me up a bunch.
Q: There haven't been too many actors who have been on two AMC shows. Are you going to try for three?
A: That's kind of the goal in my career now, to do the AMC trifecta. If you could somehow get me on TURN, I'd love to do that. Everybody's been very welcoming on these AMC shows. Especially when I came to The Walking Dead, Andrew Lincoln drove an hour south of Atlanta to where we were shooting — wasn't even working that day — just to meet us and have lunch. And then when I stepped on the set of Mad Men, Vincent Kartheiser and I play old friends and instantly he's putting me in a headlock and saying, "Hey, welcome to the show." I'm not getting this on other shows.
Q: Which Mad Men character do you think would fare best in a zombie apocalypse?
A: I'll just say right away, Pete Campbell would be the first to die! I would think Peggy would fare best. If you've watched her character's trajectory throughout the entire series, she adapts and she changes, which is really what you would need to survive in a zombie apocalypse. It's not business as usual. You have to change the way you do things to figure out how you're going to survive… Although I'd love to have Roger there because he cracks me up.
Q: Which character from The Walking Dead would do well in '60s advertising?
A: That's a good question. I would think Michonne would work really well. What little we know about her past life, she seemed to be kind of buttoned-down. She would work well in an office, I would think, as long as she doesn't bring her sword.
Q: Which show setting did you feel more comfortable in, late '60s L.A. or post-apocalyptic Georgia?
A: You know, I feel more comfortable in post-apocalyptic Georgia. This is really home for me. I get to fight off bugs and get dirty and carry weapons and that sort of thing. I just gravitate towards that. If I had to sit at a desk in an office for my day job, I would go stir crazy. I would just go out and start gettin' dirty.
Click here to read an interview with Josh McDermitt about playing Eugene Porter on AMC's The Walking Dead.
Read More