Uncategorized
Q&A – John Slattery and Christina Hendricks Discuss Their New Film, God's Pocket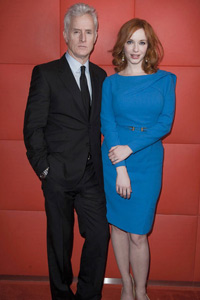 In this exclusive interview with www.amc.com, Mad Men stars John Slattery and Christina Hendricks discuss their latest collaboration, God's Pocket — what drew them to the material, how it compared to working on Mad Men and their fond memories of the film's star, Philip Seymour Hoffman.
Q: John, you adapted the movie from the book. What drew you to the material as a writer and director?
John Slattery: I just thought it was laid out like a film, with the book-ended narration by Richard Jenkins's character, Shelburn. I was taken with the specificity of each character, which kind of collectively created this world that was so vividly described. So I closed the book and literally thought, "This is a film." At the time, I tried to make it happen, really without knowing how to do that yet. Luckily, someone said, "No." Then, five years later someone reminded me about it — and it's probably a good thing it's taken me this long to get it made because in the interim I directed a bunch of episodes of Mad Men. I'd also written another screenplay, which didn't turn out very well. But at least I knew what that was like, so I had experience to realistically give this a try.


Q: And, Christina, what attracted you to God's Pocket, as an actress?

Christina Hendricks: Well, obviously, the first thing is I just wanted to work with John! Then when I read the script, it was so beautiful. To me, the character immediately excited me because this is a woman in a scenario which is very foreign to me as Christina — where you're in this sort of town where you feel trapped. You feel like you deserve more and that you want out. All the while, you're also experiencing the loss of your son and grieving and looking for someone to take care of you and looking for answers. All of these things happening at once, I found that very interesting.
GOD'S POCKET CLIP: "MEAT"

Q: Christina, when and how did John reach out to you about being in the film?
CH: He approached me on [the Mad Men] set. John had been working on the project for a while, so it was really about getting all the pieces together and getting everyone's schedule to work out. Even though he had brought it up to me before, he wasn't quite sure when exactly it was all going to happen. So when he was ready to go, he sent the script over to me and I called him as soon as I finished it. I loved it and said I'd be thrilled.
Q: Having played Joan on Mad Men for so long, did you feel there were any similarities between her and Jeannie in God's Pocket?
CH: I actually found them quite different. I think Jeannie knows her circumstances. I think she knows her lot and her place, and maybe the awareness of that is similar, but to me the circumstances are so dramatically different. Where Joan is an amazing communicator and is very vocal about what she wants, I feel like Jeannie is the opposite.
Q: You've worked together on Mad Men, set in the '60s. Now God's Pocket, set in the '70s. Any plans to conquer the '80s?
CH: We almost got to the '80s. We were on the cusp with God's Pocket. But we're just dying to do the '90s… Yeah, definitely the '90s! John's going to play Kurt Cobain, and I'm going to play Courtney Love. [Laughs]
JS: [Laughs] Oh, no. There it is. The word is out!
Q: John, how does your directing style differ with God's Pocket vs. directing Mad Men?
JS: I don't know that I have a directing style. [Laughs] The difference, really, is Mad Men is Matthew Weiner's vision. The directors on that show are given the script and there's a tone meeting where Matt explains why he wrote the script the way he did and what scenes mean to him, beyond the words on the page. Obviously everybody contributes — the actors, the designers, the producers — but you're facilitating someone else's vision. In this situation, the vision was mine — for better or worse. [Laughs] The structure of Mad Men is very comforting. There's an amazing support group in case you fall down, which you will sometimes, in one way or another. With this film, it was daunting because if I screwed this thing up, it was unlikely I'd get the same people back in the room again. With Mad Men we're signed for a long contract. With this thing, it's all these very in-demand actors who were only available for a short period of time, so you had to do your homework. There was a little more pressure in that regard.
Q: It is a great cast, which also includes Philip Seymour Hoffman, John Turturro, and Richard Jenkins. John, you're known for being quite the charmer. Did that charm play a part in wrangling together such stellar talent?

CH: [Laughs] Oh, yeah, he charmed us.
JS: I wish I could say it was just that. [Laughs] But I was armed with Pete Dexter's words — that sounds so stupid, but it's true. The script, I wrote it with Alex Metcalf, but for the most part, it came directly from the book. That was what people responded to. I gave it to Phil [Hoffman] and he said yes. So the combination of having a script like that and an actor like that in the lead role. Then, Christina and I obviously know each other well and I gave her the script, and she really got it. Then Richard Jenkins called in like an hour-and-a-half after he read it. Then John Turturro — who was busy as hell making his own film — he called me in short order and said he wanted to be a part of it. So after that first obstacle of Phil's schedule was sorted out, everyone wanted to be a part of it. But really it comes down to Pete Dexter's book. So there wasn't a lot of charm necessary from me.
Q: This was one of Philip Seymour Hoffman's last films. What do you remember most fondly about working with him?
JS: He was an extremely funny person —
CH: We had a lot of good laughs on set. It's only filled with fond memories and great thoughts and appreciation of being able to work with him.
JS: One of the things that a person that smart has is a great sense of humor… It was stressful, with the tight schedule and all that, but we had a lot of great laughs. It was a joy.
GOD'S POCKET  TRAILER

God's Pocket opens in New York and Los Angeles on Friday, May 9. For more info, visit godspocketfilm.com
Read More