Uncategorized
Mad Men's 1960s Handbook – MAD Magazine Caricaturist Mort Drucker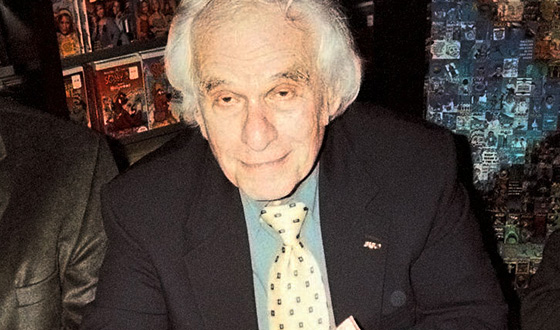 This week's 1960s Handbook takes a look at the MAD Magazine caricaturist Mort Drucker, whom Stan Rizzo confuses with comic-strip artist Mort Walker in Season 7, Episode 5, "The Runaways."
MAD Magazine has entertained several generations of kids and adults with its parodies of movies, TV shows and plays, many illustrated by caricaturist Mort Drucker. Renowned for focusing as much on his subjects' gesture and body language as on their facial features, Drucker scored early successes in the 1960s illustrating spoofs of James Bond, beach-party movies and the TV shows Bonanza and Batman.
Drucker's drawings for "East Side Story," a 1963 Cold War parody of West Side Story, featured a gang-style rumble at the United Nations that revealed Drucker to be equally adept at caricaturing politicians, from Kennedy to Mao to Khrushchev. Three years later, Drucker illustrated the "MAD Musical" satire on Lyndon B. Johnson's presidency to the tune of My Fair Lady.
MAD and Drucker had turned to My Fair Lady for inspiration before, for "My Fair Ad-Man," a 1960 parody of Madison Avenue in which Cary Grant bets rival ad man Charles Laughton he can turn beatnik scribe Frank Sinatra into an advertising copywriter. The caricatures for "My Fair Ad-Man" were less gritty than the ones Drucker supplied for a 1957 send-up of a real-life television advertisement touting all the "free gifts" Raleigh smokers received for collecting the brand's coupons. In Drucker's parody, the ghoulish last panel depicts a customer holding up X-rays revealing a final freebie: lung disease.
In a recent video interview, Drucker credited MAD's writers with choosing a satire's slant and setting its tone — with the artists simply responsible for communicating them. However, with Drucker's "201 Min. of A Space Idiocy," (1969) his visuals add verve and extend the jokes' pleasure. In one of many sight gags in this takeoff on 2001: A Space Odyssey, the cartoon character Fred Flintstone mingles with the apes from the film's opening scenes. On the final page of "201," Drucker's drawings heighten the punch line — that the "black Monolith" is actually a gigantic book titled How to Make an Incomprehensible Science Fiction Movie & Several Million Dollars.
A book published in 2012 celebrates Drucker's five decades of work for MAD. In the foreword, actor Michael J. Fox recalls telling talk show host Johnny Carson that he knew he'd made it in show business when "Mort Drucker drew my head." Judd Apatow, Steven Spielberg, and other familiar faces have expressed similar sentiments over the years.
Read More