Uncategorized
Mad Men's 1960s Handbook – I Am Curious (Yellow)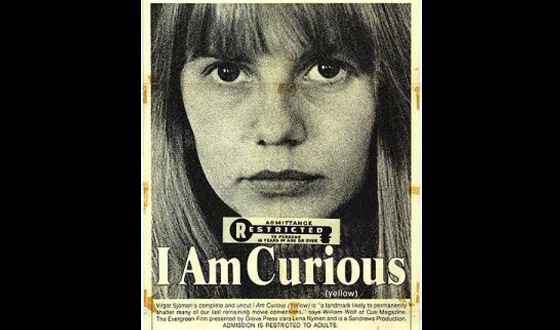 This week's 1960s Handbook takes a look at the film I Am Curious (Yellow), which left Don Draper "scandalized" in Season 7, Episode 6, "The Strategy."
I Am Curious (Yellow), a 1967 Swedish film about sex and politics, became a media sensation – and the catalyst for a groundbreaking court case – after the U.S. Customs Service confiscated it on obscenity grounds. Shot in black-and-white in a quasi-documentary style, the film tells the story of Lena (played by Lena Nyman), an inquisitive young actress whose director-boyfriend (played by the film's director, Vilgot Sjöman) records her political, intellectual, and sexual explorations.
The film's opening sequences revolve around people-on-the-street interviews Lena conducts about topics that include the class system in Sweden and nonviolence as a political strategy. Olof Palme, later elected the country's prime minister, appears briefly to address the class issue, and Martin Luther King Jr. discusses nonviolence.
However, it was not the political section of the film that prompted an obscenity case which ultimately reached the U.S. Supreme Court. Lena's chance meeting with a man named Börje results in a love affair that turns stormy when she discovers he is married. The couple's sex scenes feature full frontal male nudity, rare for the era. In I Am Curious (Yellow)'s first federal trial, Sjöman testified that Lena's lips came within "a millimeter" of Börje's penis but did not make contact. The jury nonetheless deemed the film obscene.
I Am Curious (Yellow)'s U.S. distributor was a division of publisher Barney Rosset's Grove Press. Rosset had prior experience in this arena, notching wins in obscenity battles involving Lady Chatterly's Lover, Tropic of Cancer and other books. Explaining his satisfaction with I Am Curious (Yellow)'s initial obscenity ruling, Rosset's lawyer, Edward De Grazia, stated that he structured the defense case "to win on appeal," not in the lower court, because a favorable appellate-court ruling would apply to other films as well.
Grove indeed won its appeal, and I Am Curious (Yellow) opened in Manhattan theaters in March 1969 and nationwide shortly thereafter. The film became an instant hit, but despite the federal (and box-office) victory, challenges arose in state courts. In a clever alignment of the legal, distribution, and publicity strategies, De Grazia hired local lawyers on a contingency basis. Those who successfully defended the film were paid out of the ample resulting box-office receipts.
By the time the case against I Am Curious (Yellow) reached the U.S. Supreme Court, the ruling only involved screenings in Maryland. Grove lost that battle, but it didn't hurt the film's record box-office take. Adjusted for inflation, it remains among the U.S. market's highest-grossing foreign pictures. Many film and legal historians credit the appellate victory with easing the way for future films such as Midnight Cowboy, Last Tango in Paris, and Deep Throat.
Read More