Press
Mad Men No. 1 on THR Power Rankings; Jon Hamm Talks Challenge of Playing Don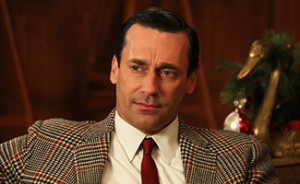 This week, Mad Men sits atop The Hollywood Reporter's weekly power rankings, while Jon Hamm tells USA Today about the challenge of playing Don. Plus, Matthew Weiner pays a visit to Stephen Colbert. Read on for more:
• Mad Men tops The Hollywood Reporter's power rankings for the week, with an episode where a "beautiful final scene in Burger Chef brought it all home. Well done."
• Jon Hamm tells USA Today that playing Don is challenging because "he's not a great guy. And it's hard to be in that world … for this long."
• Matthew Weiner jokes around with Stephen Colbert on The Colbert Report and explains that Don is about the "split message that the American male gets."
• TV Guide's top moment of the week is Michael Ginsberg's breakdown: "Perhaps we should have seen it coming from a guy who claimed two seasons ago to be from Mars."
• Gawker has Jon Hamm and Amy Sedaris acting out a pivotal Don and Peggy scene from Season 4's "The Suitcase."
• Entertainment Weekly's best sound bites of the week includes Betty in "The Runaways," saying, "I'm tired of everyone telling me to shut up. I'm not stupid! I speak Italian." (No link)
• Ben Feldman and Rich Sommer talks to Vulture about auditioning for TV pilots and what post-Mad Men life might be like.
• Yahoo argues that John Slattery does a masterful job of playing Roger as "occasional comic relief without diminishing his seriousness and standing as an often unpleasant man."
• Vulture looks at Mad Men's idea of family, observing that "Peggy and Don and Pete are bonded to each other, and we can imagine them excising biological relations before we can imagine them excising one another."
• Time delves into the history of Burger Chef, which was "very much a player in the fast food industry" in 1969.
• The Denver Post observes, "Early computer technology is having its moment in some of the best current dramas," including Mad Men.
• Advocate.com notes that "The Strategy" provided "a well-executed glimpse into the lives of gay men in the late 1960s."
• How well do Mad Men's fans know Don's pitches? Vulture has a quiz.
• Business Insider points out how Mad Men "depicts landmark developments in the advertising industry," such as the importance of television and the rise of media buyers.
• The Telegraph highlights 10 "great late bloomers," including Jon Hamm, who was "still working as a waiter when he was 29, and was 36 when he was cast in the role that would make him a star."
• Jon Hamm does several interviews about his new movie, Million Dollar Arm, with The Huffington Post, Cinema Blend, The Arizona Republic and Orange County Register.
• The Plain Dealer's Pop 10 is topped by Million Dollar Arm, starring Jon Hamm.
• Variety reports that Kiernan Shipka has booked a role in The Greens Are Gone, a movie that will be directed by Peer Pedersen.
• Also, Screen Daily says that Very Good Girls, a movie featuring Kiernan Shipka, will be released in the U.S. in June on VOD and in theaters on July 25.
• The Hollywood Reporter's gallery of TV shows ending during the 2014-15 season includes Mad Men.
• Matthew Weiner speaks with the Jewish Journal, which observes that it's Mad Men's "ability to make its characters seem like real people, even like real Jews, that makes it so vivid."
• According to MLB.com, Jon Hamm will play in the Celebrity All-Star Game in July, as part of baseball's All-Star Week.
• For recaps and reviews of Season 7, Episode 6, "The Strategy," check out A.V. Club, Basket of Kisses, Boston.com, Entertainment Weekly, HitFix, The Huffington Post, New York Daily News, Rolling Stone, Time, Tom + Lorenzo, TVLine, Variety, Vulture, The Washington Post and Zap2it.
To stay up-to-date with all the latest Mad Men news, sign up for the Mad Men Social Club.
Read More