Press
Jon Hamm Talks "Biblical" Emotion for Mad Men's End; NY Times, Paris Review Interview Matthew Weiner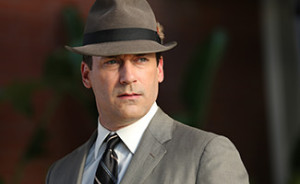 This week, Jon Hamm says his emotions upon Mad Men's end will be "Biblical," while Matthew Weiner talks writing with The New York Times and The Paris Review. Plus, The Hollywood Reporter gets Jay R. Ferguson's take on Stan and Peggy. Read on for more:
• Ireland's Independent talks to Jon Hamm, who predicts he'll be a mess when Mad Men's over: "There will be tears, there will probably be fistfights and hair-pulling and every expression of emotion that you can imagine. It will be Biblical in its emotion."
• Matthew Weiner, speaking with The New York Times about his literary influences, says John Cheever has informed his approach to Mad Men because his "short stories present themselves as episodes of TV do — with plenty of story and flawed characters presented without judgment."
• Matthew Weiner is interviewed for The Paris Review by a Mad Men writer, Semi Chellas, and says, about Mad Men, "I don't think people always realize the show is super personal, even though it's set in the past." Flavorwire has highlights from the conversation.
• Jay R. Ferguson talks Stan and Peggy with The Hollywood Reporter: "I really appreciate the friendship Stan and Peggy are allowed to have. They are still susceptible to moments that consider going down the other road, but they inevitably bring it back to what they know to be the right way."
• TV Guide chats with actor and stand-up comedian Allan Havey (Lou), who says that, on Mad Men, "I don't have to work on my comedy chops because their writing is so good. I just have to deliver the line and the laughs will come."
• Jon Hamm appears in the final minutes of the Parks and Recreation season finale, and, according to HitFix, it's unclear if he'll show up again next season.
• Ben Feldman talks to Vulture about Ginsberg's wardrobe, saying that " if Janie Bryant doesn't laugh at me, then that outfit doesn't make it to air."
• The Hollywood Reporter gets Joel Murray's insights on "Field Trip," including his nominations for the episode's best fashions: Roger Sterling's smoking jacket and Megan's agent's mood ring cufflinks.
• Vulture imagines what Betty's "Got Milk?" ad would look like.
• "Tick tick tick, Don Draper," writes Vulture as it examines the time motif in "Field Trip."
• Kiernan Shipka tells Scene that she's never taken acting classes and that "Mad Men in and of itself has been an acting school for me."
• Talking to Cover Media, Jessica Paré says Megan "represents a new generation and someone who wanted to be part of the changes that are taking place in society."
• To make up for a Pete-less "Field Trip," Vulture posts "outtakes" from its conversations with Vincent Kartheiser, including his reasons for missing Pete when Mad Men ends: "He gets great dialogue, he can be a scoundrel and he can be petulant, and he can be a hero and sensitive. He's a real human being and he's flawed."
• Interior Design tours Mad Men's sets with Matthew Weiner and learns that his favorite one is Don and Megan's apartment because it's "very sexy. There's texture, wood. It's open, but you feel protected. It's very cosmopolitan. You feel smart there. You feel handsome."
• Refinery 29 discusses the ingredients for a hit TV show and cites an example from Mad Men.
• AdAge returns to 1969 to find out what was really happening in the world of advertising that year.
• FiveThirtyEight takes a comprehensive look at every client that Sterling Cooper (and its later iterations) has had so far.
• TV.com looks back at Mad Men's top 10 secretaries, "ranked for their contributions, both professionally and entertainingly."
• Hypable and Zap2it's best quotes from last week both include Sally saying to Don, "Happy Valentine's Day. I love you." Meanwhile, Entertainment Weekly's favorite line from last week was Don saying, "I didn't know I was gonna be interrogated by the Hooterville telephone operator." (No link)
• Deadline reports that The One I Love, a movie starring Elisabeth Moss that premiered at the Sundance Film Festival, will be released on Aug. 15.
• For recaps and reviews of Season 7, Episode 3, "Field Trip," check out AdAge, A.V. Club, Basket of Kisses, Entertainment Weekly, Esquire, Forbes, Gothamist, HitFix, Los Angeles Times, Newsday, The New York Times, Slate, Time, Vulture, Wall Street Journal and The Washington Post.
To stay up-to-date with all the latest Mad Men news, sign up for the Mad Men Social Club.
Read More