Press
Jon Hamm on Vanity Fair Cover; Jared Harris to Direct Season 7 Episode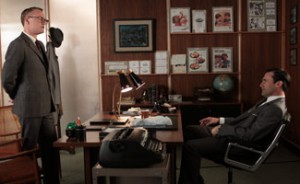 This week, Jon Hamm shows up on the cover of Vanity Fair, while Jared Harris is set to direct an episode during Mad Men's final season. Plus, NPR speaks with Matthew Weiner about Don Draper and his journey. Read on for more:
• Jon Hamm, appearing on Vanity Fair's June cover, says that Mad Men is "the best job I've ever had and maybe ever will have in my life—it's so fun to play all of this."
• TVLine reports that Jared Harris is returning to Mad Men to direct an episode in the second half of Season 7.
• Matthew Weiner talks to NPR about his fortuitous decision to hire Jon Hamm: "Sometimes I wake up in the middle of the night and I think, 'Oh my God, what if I didn't cast him?' You know? Well, I wouldn't have a show."
• Jon Hamm talks to Bill Simmons about Mad Men approaching the finish line, saying, "It's been fun this last chapter. It's nice to be able to get to tell the end of the story too."
• ESPN The Magazine chats with Jon Hamm, who says, about Mad Men ending: "What happens when you're not Liz Lemon, or Walter White, or Don Draper anymore? I don't know, but there will be something. And hopefully it'll be less painful and more joyous."
• Elisabeth Moss tells The Hollywood Reporter that Season 7, Episode 2, "A Day's Work" was one of her favorite scripts because "I love doing the sad clown material. That's so much fun for me."
• Slate examines the 2001: A Space Odyssey themes in "The Monolith" and how the episode "represents potential epochal change in the world of Mad Men."
• Vulture traces Freddy's trajectory over the years and concludes, "Freddy's been Don when Peggy needs another Don, but in 'Monolith,' he's Peggy when Don needs another Peggy."
• Glamour names Kiernan Shipka its style icon of the week since she "possesses a stellar sense of style way beyond her 14 (14!) years and rocks the perfect mix of top-notch taste, sophistication, and a youthful (read age-appropriate) sense of fun."
• The Huffington Post interviews John Slattery, who says scenes between him and Jon Hamm have been "as least as much fun to act in as they are to watch. The two of us bouncing off each other has really been something. Since day one. Since the first scene we ever did together."
• John Slattery also talks to the Associated Press about how he came to make his directorial debut on Mad Men.
• The Ellen DeGeneres Show hosts Christina Hendricks, who talks about Mad Men's impending end and how she's "trying to keep busy but I'll probably lock myself in a room and cry for awhile."
• Elisabeth Moss visits The Late Late Show With Craig Ferguson and talks about taking a beach vacation once Mad Men is finished.
• Jessica Paré appears on Conan, talking about Mad Men's sexiness and the politeness of Canadians.
• Harry Hamlin tells The Wall Street Journal he likes Jim Cutler because he's "a distinctive character. He is different from other roles I have played."
• Tavis Smiley also talks to Harry Hamlin, who speaks about auditioning for Mad Men and how he thinks his glasses "might have gotten me the job."
• Rich Sommer and Ben Feldman talk to Vulture about waiting to see whether their post-Mad Men pilots get picked up next week.
• The Los Angeles Times examines Mad Men's embrace of L.A. style, including the "flower-power bohemianism" of Megan's Laurel Canyon bungalow.
• Uproxx has Allan Havey (Lou) talking to Keith Olbermann about Jon Hamm recognizing him on set and telling him he was a huge fan of Havey's work.
• John Slattery and Christina Hendricks talk to The Hollywood Reporter about working with Philip Seymour Hoffman in God's Pocket, Slattery's feature film directorial debut.
• Meanwhile, E! Online speaks with Christina Hendricks about why she went brunette for God's Pocket and how she's celebrating her birthday.
• Screen Daily reports that Elisabeth Moss will star in There Are Monsters, a horror movie directed by Bryan Bertino.
• The Guardian explores the best musical surprises from TV dramas, including Vanilla Fudge's "You Keep Me Hangin' On" in Mad Men's Season 7 premiere.
• And, Stereogum nominates The Spencer Group's "I'm a Man" (the "perfect song to introduce us to the Don Draper we now see" in the Season 7 opener) as one of April's best TV soundtrack moments.
• TheWrap and Deadline attend the National Cable & Telecommunications Association Cable Show and hear Matthew Weiner talking about HBO's The Sopranos as the progenitor of TV's current golden age.
• The Irish Film and Television Network reports that Magnolia Pictures International has acquired the worldwide rights to Standby, which stars Jessica Paré.
• Bustle takes a look at Burger Chef and whether you can eat there anymore. Eater also looks into Burger Chef's history.
• For recaps and reviews of Season 7, Episode 4, "The Monolith," check out A.V. Club, Basket of Kisses, Boston.com, CarterMatt.com, Collider, Entertainment Weekly, Forbes, Gothamist, HitFix, The Hollywood Reporter, The Huffington Post, Los Angeles Times, Time, Tom + Lorenzo, TV.com, TVLine, Vulture and Wall Street Journal.
To stay up-to-date with all the latest Mad Men news, sign up for the Mad Men Social Club.
Read More