Press
Don Draper Immortalized at Madame Tussauds; Ben Feldman Talks Ginsberg's Mental Health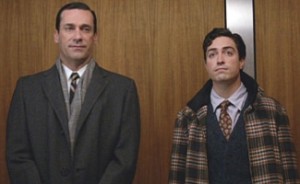 This week, Madame Tussauds unveils a wax figure of Don Draper, while Vulture asks Ben Feldman about Ginsberg's mental state. Plus, The Hollywood Reporter invites Matthew Weiner to its showrunners roundtable. Read on for more:
• The Associated Press checks out Jon Hamm checking out the new wax figure of Don Draper at New York's Madame Tussauds.
• Ben Feldman tells Vulture he has no theory about what exactly is wrong with Ginsberg, except that "he's never fit in in any kind of world; everything's just been, you know, he's strange. He's kind of crazy."
• Meanwhile, speaking to Entertainment Weekly about Ginsberg's nipple removal, Ben Feldman says, "I would expect nothing less crazy, ridiculous, twisted, or brilliant to come out of Matt's head."
• The Hollywood Reporter's showrunners roundtable features Matthew Weiner, who talks about the difficulty of writing and how "you have to find a way to not become incapacitated by the pressure. What I found is that I am a person who feels better when I'm writing — as hard as it is." THR has photos too.
• The Huffington Post learns from Christina Hendricks that her favorite episode is Season 1's "Babylon" because "it was a very rich episode that encompassed everything. It also encompasses everything I'll miss about it." Hendricks also talks to Vulture about working with Philip Seymour Hoffman in God's Pocket and what she wishes for Joan.
• Jon Hamm speaks with The New York Times about Million Dollar Arm and how the few lines of "Meet the Mets" that Don sang in last week's episode might end up on a Jumbotron. And, USA Today learns from Hamm that Don would never be a New York Yankees fan because that's "a frontrunner. He's an underdog guy if he's anything."
• John Slattery, interviewed at length by The Huffington Post, says about Mad Men that the "best part of the show is you think you know where it's going, but you don't know where it's going."
• Vincent Kartheiser, speaking with The Hollywood Reporter, says of Pete that he "needs there to be a competition. He needs someone to be the bad guy, and it's never going to be him."
• Vulture points out, "Ginsberg's been a wreck for a long time, it just never seemed like a problem before." In light of his self-mutilation, Vulture gets a psychiatrist to analyze Ginsberg and looks back at Mad Men's most shocking moments, season by season.
• Regarding Mad Men's conclusion, Entertainment Weekly says, "I am hoping for the best for Don — and I am resisting the want for the worst."
• The Los Angeles Times says that the "modern notion of television as high art may have begun on HBO with The Sopranos… but Mad Men launched the popular revolution by bringing that art to the masses."
• The Hollywood Reporter showcases AMC's Mad Men campaign that features the drama's main players in 1960s-era ads for products like hair dye, sunglasses and pomade.
• Zap2it interviews Kirstin Ford, who plays a stewardess, about her Mad Men experience. She says, "From the auditioning to the costuming to interacting with the cast, the whole process was awesome."
• According to E! Online, Empire, from Danny Strong and Lee Daniels, has received a series order from FOX.
• For recaps and reviews of Season 7, Episode 5, "The Runaways," check out A.V. Club, Boston.com, Collider, The Daily Beast, Entertainment Weekly, Forbes, The Hollywood Reporter, Rolling Stone, The Star-Ledger, Time, TV.com, TV Fanatic, TVLine, Vulture and Wall Street Journal.
To stay up-to-date with all the latest Mad Men news, sign up for the Mad Men Social Club.
Read More