Press
Time Spotlights Mad Men; TV Guide Learns Matthew Weiner's Season 7 Thoughts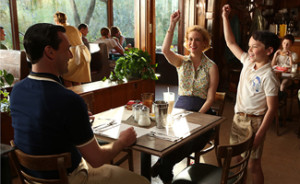 This week, Mad Men is featured in Time, while Matthew Weiner shares his Season 7 thoughts with TV Guide. Plus, Jon Hamm talks about his new movie, Million Dollar Arm. Read on for more:
• Time showcases Mad Men, noting that "the end of Mad Men will be the end of an era." (Indiewire and Jezebel have excerpts from the feature.) Also, Time goes behind the scenes and spotlights some favored props. Matthew Weiner talks to Time as well, commenting that the end of Season 6 was about Don saying to his kids, "I want you to know who I am. I'm willing to risk you rejecting me because I'm so ashamed of this."
• Matthew Weiner teases Season 7 to TV Guide, commenting, "I can say that all of the repercussions of last season, that's what this season is about." TV Guide also has behind-the-scenes photos taken by Christina Hendricks and Elisabeth Moss.
• According to The Hollywood Reporter, Jon Hamm introduced his new movie, Million Dollar Arm, at CinemaCon and said he's "intensely proud of this film — and not just because I have to be."
• January Jones visits The Tonight Show With Jimmy Fallon and talks about a prank she played on a high school boyfriend.
• Variety points out that Matthew Weiner has made the careers of many members of Mad Men's production team, including its writers and directors. Some of them speak with Variety about getting their Mad Men gigs.
• One of Rolling Stone's best TV moments last year was the last Season 6 scene, when Don shows his kids where he grew up ("a real heartbreaker").
• Talking to Net-a-Porter about Joan's fate, Christina Hendricks says, "I want her to do the Thelma & Louise thing with Roger. Just go out with a bang."
• An actor speaks with TV Guide about playing an extra, a secretary, on Mad Men.
• The New York Post checks out Mad Men's "exciting sartorial direction" for the main characters in Season 7.
• The Huffington Post looks back at its 10 favorite Mad Men styles.
• Digital Spy thinks Don sabotaging Ginsberg's pitch in Season 5 was "not his most disturbing or morally dubious moment, but it sticks out as a true low."
• The Business of Fashion, noting that Janie Bryant is focused on building her brand beyond Mad Men, argues that the show's costume designer is "in many ways the breakout star of the series."
• The Richmond Ballet's New Works Festival featured a work inspired by Mad Men, the Richmond Times-Dispatch reports.
To stay up-to-date with all the latest Mad Men news, sign up for the Mad Men Social Club.
Read More