Press
THR Asks Teyonah Parris About Dawn; Jon Hamm Suggests Dating Ken, Not Don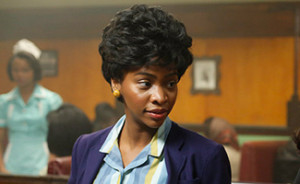 This week, Teyonah Parris talks about Dawn's big episode with The Hollywood Reporter, while Jon Hamm tells Glamour it's best to stay away from dating Don. Plus, Vulture speaks extensively with Vincent Kartheiser. Read on for more:
• The Hollywood Reporter talks to Teyonah Parris, who says about Dawn's arc that the "way she's matured professionally and personally, to be able to have her stand up for herself, it was awesome." Parris also tells Vulture that Dawn's loyal to Don because he's "always treated her well at a basic level. I do think Dawn thinks he's a good guy who's going through some things."
• Glamour speaks with Jon Hamm, who says definitively that Don is not the guy you should date and instead "You wanna date smart, good-looking, talented Ken Cosgrove. That's who you want to be with."
• Vulture interviews Vincent Kartheiser and notes that the way Kartheiser plays Pete with exasperation has "transformed a once-loathsome character into an oddly endearing one." Plus, Vulture shares what Matthew Weiner had to say about Kartheiser for the article.
• TV Guide's top moments of the week gives Don the award for Best Restraint since he gives up a chance to sleep with the character ("a widow and boy, is she ever Don's type") played by Neve Campbell.
• Chatting with The Washington Post, Christina Hendricks characterizes Joan as "someone who gets dressed up and embraces her femininity and that can be distracting for the men."
• In a Q&A with The Hollywood Reporter, Joel Murray discusses channeling Don in the Season 7 opener: "I toyed with the idea of imitating [Jon] Hamm a little bit, but I kind of just stole his cadence from his bigger pitches over the years. It was a bit monotone in a way."
• Vulture compares "A Day's Work" with Mad Men's other Valentine's Day episode, Season 2's "For Those Who Think Young."
• WNYC thinks Dawn and Shirley's stories in "A Day's Work" constituted "a big step forward for Mad Men beginning to take the kind of interest in the way flawed people dealt with race."
• Jon Hamm talks to HitFix about his experience in India while shooting Million Dollar Arm — and reveals the scene in Frozen that made him cry.
• Alison Brie discusses Trudy's changes over the years with InStyle, saying, "We definitely saw real growth as she struggles with trying to conceive and start a family, which makes you realize that she has more at stake in this life, and has deeper wants and needs than it appeared."
• Vincent Kartheiser tells Adweek that he doesn't do social media and shares, "I just don't understand Twitter."
• Elisabeth Moss visits Ellen DeGeneres and tells her how obsessed the Mad Men cast is with "Heads Up!" (a game Ellen created) — and even plays a round that requires her to perform various dance moves.
• SundanceTV reviews Elisabeth Moss' most impressive roles such as Peggy, noting, "It took a trip back to the '60s for wider audiences to come to appreciate Moss' extraordinary talent."
• Bustle thinks Bonnie, Pete's new realtor girlfriend, "might just be the best thing that ever happened to SC&P's favorite pesky pipsqueak."
• Fast Company spotlights Herman Miller, the furniture company that "helps to visually represent the cultural evolution at the heart of Mad Men."
• Playboy reveals the ads from its February 1969 issue that Don was looking at in the Season 7 premiere.
• The Oregonian calls Mad Men "as mesmerizing as ever."
• Hypable's best TV quotes of the week includes Don, in the Season 7 premiere, saying, about Megan, "She knows I'm a terrible husband."
• Outbrain compiles an infographic that shows which U.S. states are the most and the least interested in Mad Men.
• InsideHook takes a look at the sunglasses and spectacles of Mad Men.
• Aaron Staton can be seen at Twitch in a clip from Preservation, a movie that was recently screened at the Tribeca Film Festival.
• For recaps and reviews of Season 7, Episode 2, "A Day's Work," check out The Atlantic, A.V. Club, Basket of Kisses, Elle, Entertainment Weekly, HitFix, The Hollywood Reporter, Los Angeles Times, New York Daily News, The New York Times, NPR, Slate (here and here), Time, Tom + Lorenzo, TVLine, Vulture, Wall Street Journal and The Washington Post.
To stay up-to-date with all the latest Mad Men news, sign up for the Mad Men Social Club.
Read More