Uncategorized
The Mad Men Fashion File – I Believe in Yesterday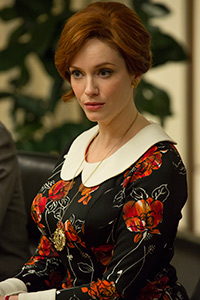 "I'm wearing boots," Joan announces upon entering Cooper's office, and if there's ever been a moment where costume, dialogue, and theme collide on Mad Men, this might be it. Until now, Joan has been basically immune to trends. Megan inhales them, Sally acknowledges them, and even Peggy dabbles in hemlines and patterns. But Joan's silhouette stayed steady, and her luscious figure remained reined in by pencil skirts and smartly subdued silks — until now. Here is Joan 2.0 in a minidress with bright red floral print, a wide white Peter Pan collar and a tamer version of Sally's verboten go-go boots. And still Don Draper, sitting in the next room, remains the same.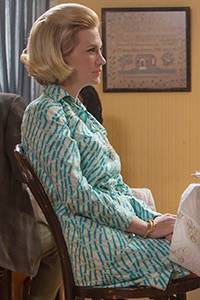 There were many cringe-inducing moments in Don's return visit to SC&P, but if you need any more reminders that the office and its players have moved on without him, just look at the costumes — especially Joan's homage to the Youthquake. Peggy has a nifty wardrobe trick here, too: Her turquoise suit is the same hue as Betty's aqua dress, which ties the characters together. The two women serve as opposite forces in the show's "work vs. motherhood" theme, but both are bitterly disappointed in Don — and also in themselves.  When Betty asks Henry why the kids don't love her and Peggy fumes about her missing Clio nomination, both are in the same color and feeling similar pangs of insecurity.
As for Megan, well… You know those girls who wear $500 jeans and cashmere sweatpants? I think Megan's doing the same thing with her wardrobe here. On the surface, it's all very bohemian and free-spirited. But look closer at her ensembles, and you'll notice luxury details that set her costumes apart from the other hippies and beach babes in California — and even from more sophisticated working women like Bonnie Whiteside. This episode has Megan appearing in a bright, beautiful crocheted ensemble that seems far too intricate and tailored to come from the Rose Bowl flea market.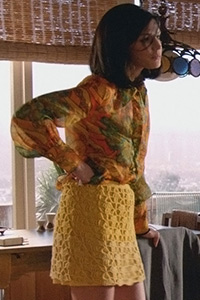 In 1969, top fashion designers like Pierre Cardin and Yves Saint Laurent were creating clothes for a wealthy but oh-so-cool clientele, and Megan would have had access to them, along with the blue jeans sold at Fred Segal, which opened as a denim-only store in 1960. Megan may have also crossed paths with LA designer Rudy Gernreich and his muse, model and actress Peggy Moffitt, who embodied the mod movement for magazines like Vogue and movies like Blow Up and Qui êtes-vous, Polly Maggoo?
I loved Bobby Draper's little team jacket, didn't you? It's still a very popular style today, both for kids and fashionable adults. Rag & Bone sent similar outerwear down their last runway, complete with old-school monograms on the front and back! In addition to being currently trendy, the style is quite classic, and emblematic of male Americana — much like the suits Don wears. So when Bobby sighs, "I wish it was yesterday," at the dinner table, you get the sense that it's a like-father-like-son sentiment with costume cues to match.
Read More