Uncategorized
The Mad Men Fashion File – American Dreams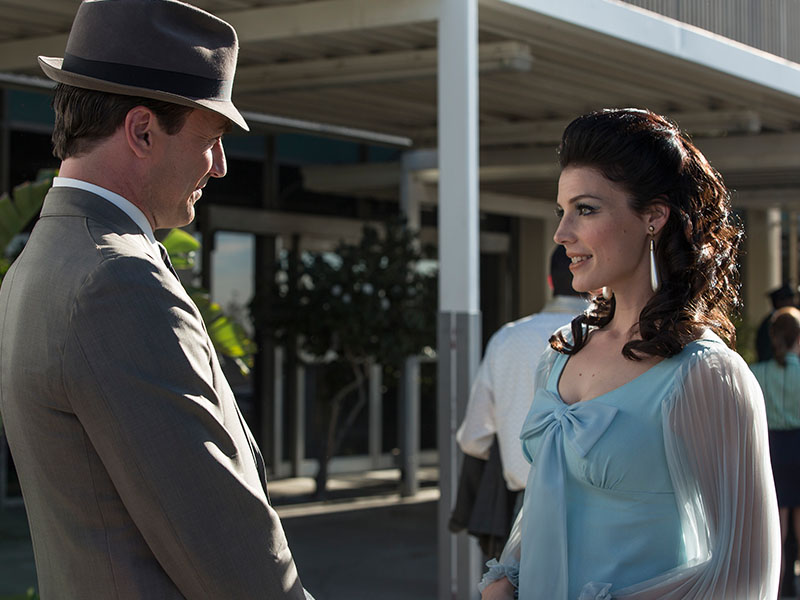 In his 1969 inaugural address, Richard Nixon said, "We find ourselves rich in goods but ragged in spirit." That sentiment might apply to Don Draper and Megan's new mega-TV, and it isn't the only thing Nixon's ceremony shares with the Season 7 Premiere: They're both draped from start to finish in red, white, and blue:
• Ken's first office tantrum frames him in white, Joan in royal blue, and Clara in blood red.
• Megan's casual Canyon costume is a men's tuxedo shirt (braless), a lipstick-red scarf, and a turquoise necklace with bell bottom blue jeans.
• Peggy and Stan's coffee-pot pow-wow puts them in maroon and white (her) and red and indigo (him).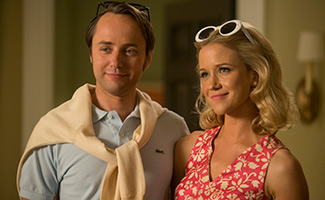 • Pete's Lacoste polo is baby blue, and his over-the-shoulders sweater is cream with cherry red and navy striping. His checked trousers match.
• Bonnie Whiteside (a ringer for Betty Draper) is in a hot pink and white printed jumpsuit.
• Roger's brunch tie features an appropriately psychedelic paisley print in red, white, and blue.
• On the plane, Lee Cabot (in a precursor to Diane von Furstenberg's 1974 wrap dress) is draped in navy and beige. Her plane blanket is the color of Warhol's Campbell's Soup can.
• Peggy's final outfit is a perfect match for the American flag — and it's even got military detailing on the front!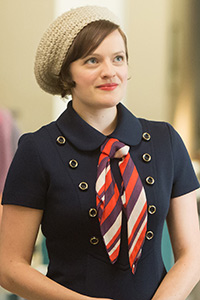 Let's stay on Peggy for a second. We haven't seen that exact costume before, but we've seen two very similar pieces. The first was a blue dress with red pleats — often dubbed "the military dress" by fans — that Peggy wears in Season 4, Episode 8 when she fires a copywriter for sexually harassing Joan. Instead of backing her up, Joan growls, "All you've done is proved to them that I'm a meaningless secretary and you're another humorless bitch." The second corresponding costume is a suit — navy with red piping and gold military buttons — that Peggy wears twice: Once when interviewing for (and getting) a new job with Ted and CGC, and once in the Season 6 Finale, when Ted sleeps with her, then leaves her for California (and his wife). "Aren't you lucky," she hisses at him, "To have decisions."
Now Peggy wears a military-style dress when her career has stalled, her apartment is barren (except for a dried-up Christmas tree — did you all spot that?!), and her new boss isn't just "immune to her charms," he's telling her to not be spectacular. "You don't need to parachute in through the ceiling," Lou Avery chuckles, but actually she does, because it's 1969 and Peggy's ceiling is made of glass. It may be a "free country" but at this moment — like in the moments when she wore those other two costumes — Peggy is trying to break free of some serious social chains.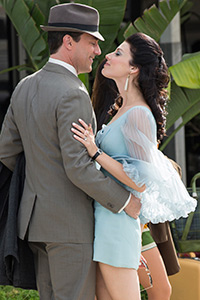 On to Megan: That aquamarine costume she wears when picking Don up from the airport is everything — so glamorous, so sexy, and such a bookend to her "Zou Bisou Bisou" mini-dress. The birthday party piece was almost inappropriate, since Megan wore it to what was essentially a work party (and sat on Don's lap in front of his business partners!). This new dress has the same criminal hemline and flirty vibe, but it's also a symbol that she's "arrived." Megan has a house — a lonely, glass-walled one that seems straight out of the pages of Helter Skelter, but a house nonetheless — and she's already planning for the next one. She has a car. She has rules about where you can smoke. She's in charge now — at least until the coyotes (real or figurative, take your pick) come howling at her door. Her dress has changed from midnight black in Season 5 to sky blue this season, and with it, so have her circumstances… somewhat.
In another scene, Megan's men's white tuxedo shirt next to Don's white undershirt and underwear was such a beautiful and calm pairing, evoking innocence, dreams, or angels. It's easy to get a blouse with the same look now: H&M has a great one from their eco-friendly Conscious Collection for $35, and you can find any turquoise jewelry you might want on Etsy.com. Those still searching for a Zou Bisou Bisou dress might want to check out this Free People version, with a slightly more hippie spin but the same short length and bell sleeves. For the full effect with either look, don't forget the white nail polish and the giant, super-thin hoop earrings!
As for Don, well… Don's costumes, much like his situation, haven't really changed. He's still gorgeous. He's still pretending to be someone else (now it's not just a dead man, it's also a mad genius version of Freddie Rumsen). And he's still wearing the blue and black plaid robe he's had since his suburban days in Rye, New York. Only now, quite literally, he's stuck out in the cold.
Read More