Press
Season 7 Premiere Gets an "A" From EW; Diane Sawyer Interviews Matthew Weiner and Cast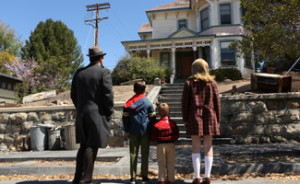 This week, Mad Men's Season 7 opener is awarded an "A" from Entertainment Weekly, while Diane Sawyer spotlights Matthew Weiner and some Mad Men cast members. Plus, Roddy Doyle's story in The New Yorker features Mad Men. Read on for more:
• Entertainment Weekly awards Mad Men's Season 7 premiere an "A," calling it "as buoyant as it is deep, light as it is layered. It is many things at once, including absolutely fantastic."
• ABC News shares a clip of Diane Sawyer's peek behind the scenes of Mad Men with Matthew Weiner and members of the cast.
• Mad Men (and Breaking Bad) make appearances in the opening paragraphs of Roddy Doyle's short story, "Box Sets," in The New Yorker.
• Matthew Weiner tells Rolling Stone that Mad Men's story derives from Don, yet "I always kind of see the world as being Sally Draper's story in a strange way. We see so much of it through her eyes."
• CBS News interviews Matthew Weiner, who says his goal for Mad Men's ending is "to leave the characters in a place where they're going to be in viewers' imaginations forever."
• Conan O'Brien learns from Christina Hendricks that she once caused a bike accident and that she's not really after a part on HBO's Game of Thrones.
• Jessica Paré shows up on Jimmy Kimmel Live and talks about how she found out that Megan would be marrying Don.
• John Slattery talks to Entertainment Weekly about his new movie, God's Pocket (starring Philip Seymour Hoffman), and regarding Mad Men says, "I was there in the beginning on day 1, and I'd like to be there on the last day."
• Mad Men's stars express their sadness about the show ending to The Hollywood Reporter,  and share what they'd like to steal from the set.
• Talking to E! Online, Jon Hamm and Elisabeth Moss reflect upon the imminent end of Mad Men.
• Kiernan Shipka chats with the Chicago Tribune about watching the non-Sally parts of Mad Men for the first time: "Going back and seeing why my character was saying certain things and how it all played out, it was cool to look back and get the full picture."
• The Huffington Post updates "where we left the complexly flawed inhabitants of Matthew Weiner's universe as well as what we can expect from Season 7."
• The Washington Post discusses why the Mad Men opening credits sequence is so effective.
• The San Antonio Express-News says the final season "promises to be appointment television of the most enticing kind."
• The Austin American-Statesman ranks Mad Men's previous season premiere episodes.
• The Los Angeles Times and Variety filed reports from Mad Men's Season 7 premiere party.
• Allure obtains some "surprising beauty scoops" from Mad Men's makeup artist, Lana Horochowski.
• Zap2it calls Mad Men's new Season 7 teaser "a little more explicitly '60s-flavored."
• Indiewire thinks Christina Hendricks is assured an Emmy nomination for best supporting actress in a drama, and that Jon Hamm is a shoo-in for a best actor in a drama nod.
• Buzzfeed unearths footage of Jon Hamm not getting picked on a dating game show called The Big Date.
• Elisabeth Moss, Bello's April cover girl, tells the magazine that the final season is like a painting: "You're putting the last of your strokes on it, and then it's a complete work of art, and then it's done."
• Jared Harris, interviewed by The Independent, says he still watches Mad Men and that seeing a cast member is "like running into someone you've been in the trenches with and I always give them a big hug."
To stay up-to-date with all the latest Mad Men news, sign up for the Mad Men Social Club.
Read More