Uncategorized
Q&A – Matthew Weiner (Series Creator and Executive Producer)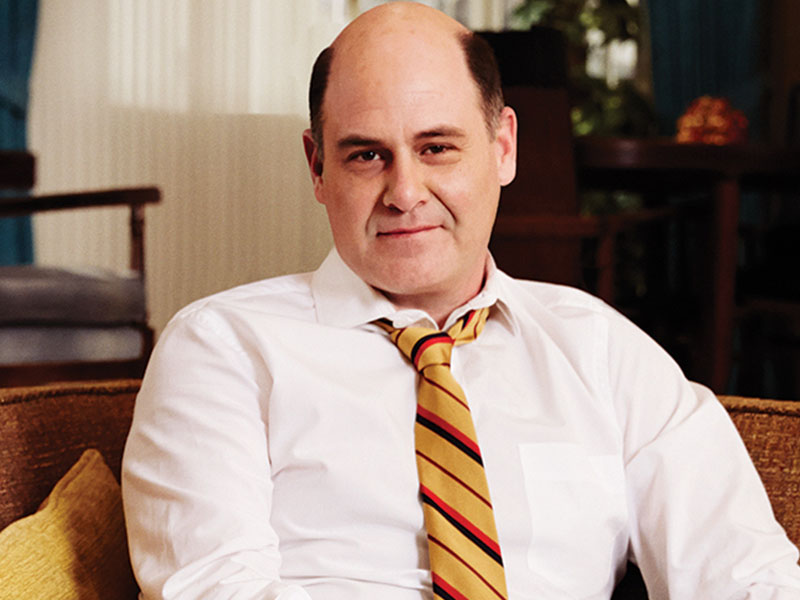 In this interview with www.amc.com, Matthew Weiner, the Series Creator and Executive Producer of AMC's Mad Men, talks about watching the cast's audition tapes and reveals his process for writing the series ending.
Q: A lot of fans are re-watching the entire series to get ready for Season 7. What did you do to prepare?
A: I planned to watch the entire show before I started writing Episode 7 [the finale of Season 7: The Beginning] and did not make it. It is a lot of hours.
Q: How far did you get? And how did it strike you watching it back again?
A: I made it through the end of Season 4, and my children are watching the whole thing right now, which is interesting because Martin, who's in it, and Charlie's been in it too (two of my boys), they hadn't really seen it because it wasn't really appropriate for them. I'm really proud of it… I'm proud of the commitment to change on the show… There's a respect for the audience. If Sal gets fired, Sal is fired. Don is starting a new agency, we're going to build a new set. If Betty has a new life, her husband is going to be a character.
Q: What's your favorite obscure character or character who was only on the show for a short time?
A: There are some clients we've had that are just in one or two episodes. Obviously, Conrad Hilton. That was really a pleasure to watch Chelcie [Ross] again. I loved Ho Ho, who's the jai alai client. In the first season, there's Walter, the guy from Bethlehem Steel. It's interesting to me to look at these actors who are not necessarily famous and even though I cast them and wrote it and even directed some of them, they feel like those real guys to me.
Q: Do you have any coping strategies to deal with stress when you're writing?
A: There's something about this season — I'm trying to actually savor it while it's happening. I've been taking a lot of pictures and I've been a cheerleader… The weirdest thing about my anxiety is that I've reached a point where, strangely enough, the greatest outlet for my anxiety is writing. And that is a very lucky thing, that whenever I'm really uptight and feeling stressed out, if I have writing to do… it really takes the edge off of things.
Q: Is there a sense of finality in filming the final season?
A: I don't think it's set in yet. When I directed Episode 7 [of Season 7]… it felt like a dress rehearsal for the very end. The actors and production were shutting down for a month so the writers could work 24 hours-a-day to get us some more scripts. [Laughs] There is a lot of reminiscing going on; there is a lot of anxiety about the future. People testing for pilots; writers getting their specs in shape. And underneath all of that is, "Hey, remember that? Remember the pilot?"
Q: You recently showed the cast their audition tapes. Tell us about that.
A: At the beginning of the season, I showed the cast — the regulars — their auditions. That was saying, this is a big moment in our life. There will be before and there will be after this. They're amazing auditions… I was really worried about showing them, and they really enjoyed it. And the thing that came out of it was a lot of respect. They don't get to see each other do that, and it's a big part of their job… January Jones's audition is still to this day one of the top five auditions I've ever seen.
Q: You've said that you've known how the series was going to end for a while. Is that still true?
A: Every season, I come in, and I know basically what the last images of the show are going to be of each season… But the process that I don't reveal is that when I get to the finale, I usually don't want to do it anymore. Like you want to fire Don, really? Betty wants to divorce Don, really? You want to leave Sterling Cooper and start a new agency? You want Pete and Trudy to end in shambles? It's pretty scary trying to commit to those things. I usually start to try to back out of it, obviously, and I get talked into doing it again. [Laughs]
Q: Last we saw Don, he was put on leave from SC&P. How different is his storyline going to be for this season?
A: There are consequences to what happened last season. That's all I can say. Just because Don had a breakthrough with his daughter and that office, doesn't mean that the world is going to jump up and say, "Hurrah for Don." There are consequences to the last six seasons of what he's done… So let's say you want to change, what does that have to do with everybody else?
Q: What else can you tell us about Season 7?

A: Last season to me was about anxiety and about the world being in revolution and telling the story of someone whose anxiety was overwhelming them because they could not maintain their façade anymore. The United States could not maintain its façade, and Don could not maintain his façade… I was showing that the culture was like Don. It was carnal, it was anxious, it was having a huge self-confidence problem… And now I want to look at the material and immaterial world. Things that are of this world — ambition, success, money, and time to some degree — and the contrast of what we can't see, the spiritual, the internal life… When your needs are met, when you have a roof over your head, things that Don Draper doesn't take for granted because of where he's from, and at a certain point those needs are met, what else is there?
Q: Season 6 had some hilarious, absurdist moments. Were there any cast members who surprised you with their sense of humor?
A: All those actors — whether you realize it are not — are really funny. It took the world about two years to realize how funny Jon Hamm was, but they are all really funny, and they play the stuff straight, and it's funny. I've always tried to make the show funny… I look at Pete Campbell returning the chip 'n dip, and it's a comedy scene. Him waiting in line and coming back with that gun. I feel that same way about Danny Strong (who plays Danny Siegel), when Roger went out there and got punched in the balls by Danny…. But a lot of the things that I think are going to be funny, turn out to be very sad. [Laughs]
Q: Can you give us an example?
A: People who've been in advertising always run into me and tell me some stories from the business. And the most repeated story — besides the story of what happened with Joan and the Jaguar guy…
Q: Wait, Joan sleeping with the Jaguar client was based on true stories of women who actually did that?!
A: Oh, yeah. This is the world we live in. And a lot of people started telling me that it was still happening now, after the episode aired. Anyway, so the story that I hear most is about somebody peeing in their pants at a meeting. We wrote the scene for Freddy Rumsen, and I just thought it was going to be hilarious… And we shot it, I was like, "Oh my God, this is the saddest thing I've ever seen." [Laughs]
Click here to see sneak peek photos from the Season 7 Premiere.
Read More